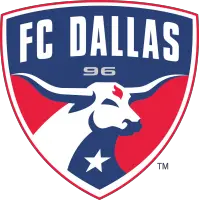 FC Dallas Falls to Chicago Fire 4-0
September 14, 2019 - Major League Soccer (MLS) - FC Dallas News Release



Bridgeview, Ill. - A slow start costs FC Dallas as it falls 4-0 to the Chicago Fire at SeatGeek Stadium on Saturday, Sept. 14.
Game Summary
First Half:
7' - A backpass by Reggie Cannon was picked off by C.J. Sapong, who rounded Gonzalez and tapped it into the empty net.
16' - Brandt Bronico cut inside off the left flank and his whipped cross was smashed home by Przemyslaw Frankowski at the back post.
29' - Nicolás Gaitán's inswinging corner was met by Sapong at the near post, whose bullet header flew past Jesse Gonzalez to give Chicago a 3-0 lead.
33' - Zdenek Ondrasek picked up the ball on the edge of the box and slid in Dominique Badji, but Kenneth Kronholm closed the angle and pushed the shot wide.
37' - Frankowski found space on the edge of the box yards, and he hit a rocket that Gonzalez was somehow able to tip the ball onto the post
39' - A deflected cross was flicked back into the six-yard box by Frankowski, and Nemanja Nikolic was wide open and converted the tap in.
Second Half:
52' - Michael Barrios whipped the corner in, and Matt Hedges rose highest but could only head over.
62' - Gaitán took a quick free kick, and a cross was deflected to Dax McCarty whose side-footed effort went wide.
63' - Francisco Calvo's header hit the post, and the rebound bounced to Sapong, whose shot also rattled off the post.
88' - Santiago Mosquera turned his defender inside out, but his shot from 20 yards was blocked.
Lineups:
FC Dallas - Jesse González; Reggie Cannon, Matt Hedges, Reto Ziegler, Ryan Hollingshead; Paxton Pomykal, Edwin Cerrillo, Jesús Ferreira (Brandon Servania - 46'); Michael Barrios (Jacori Hayes - 76'), Zdenek Ondrasek, Dominique Badji (Santiago Mosquera - 66').
Substitutes not used - Jimmy Maurer, Bressan, John Nelson, Ricardo Pepi.
Chicago Fire - Kenneth Kronholm; Johan Kappelhof, Bastian Schweinsteiger (Djordje Mihailovic - 66'), Francisco Calvo (Marcelo - 80'), Jonathan Bornstein; Brandt Bronico, Dax McCarty, Przemyslaw Frankowski, Nicolás Gaitán, C.J. Sapong (Aleksandar Katai - 73'); Nemanja Nikolic.
Substitutes not used - Richard Sánchez, Micheal Azira, Jeremiah Gutjahr, Fabian Herbers.
Scoring Summary:
CHI: C.J. Sapong - 7'
CHI: Przemyslaw Frankowski (Brandt Bronico) - 16'
CHI: C.J. Sapong (Nicolás Gaitán) - 29'
CHI: Nemanja Nikolic (Przemyslaw Frankowski) - 39'
Misconduct Summary:
FCD: Paxton Pomykal (caution) - 5'
Weather: Sunny, 80
Attendance: 12,874
Referee: Jair Marrufo
Assistant Referees: Jose J. Da Silva, Chris Elliott
4th Official: Silviu Petrescu
VAR: Jose Carlos Rivero
FC Dallas head coach Luchi Gonzalez
On how to put the result behind them...
We're all disappointed. Very disappointed. I thought we had a pretty good week of preparation. It's not easy missing over nine guys on international duty at different age groups, but no excuses. We have to be better. Firs thing, I have to say sorry to our fans. Very disappointed. We let our fans down and we feel it. It hurts. So we have accept it, we have to own it, but there's some I know about this group is that they respond. We've got a quick turnover in Seattle and what better opportunity than to go over there and to channel everything that we're learning here in the hurt, to bouncing back at the next opportunity.
On the quick turnaround...
We have to. That's life, that's soccer, that's the moment we're in. If there's anything I know about this group is that they're up for it.
On what he's looking for from the team in response...
Obviously, we were opened up defensively today. Chicago took advantage of that and we didn't get ourselves even when we were down 1-0, 2-0, we didn't reorganize to kind of bunker a little bit and find some defensive solidity. And then we were chasing the game the second half. Second half we responded better but Chicago wasn't exactly going for it second half, so it was the nature of the game. So again, very disappointing. This is not what we came here to do. Credit to Chicago, they did well, they did their part. But this is probably, for me as a coach, my biggest lesson. This is my biggest lesson. This is my staff's biggest lesson. I know that this is the players' biggest lesson. We're going to learn a lot from this to be better in the next opportunity.
On watching other results from the Western Conference...
Yeah, it's tight, it's tight. We can't depend on other results if they go our way or not. It is what it is, we have to be steady and take care of our business- control our business. That's what we're up against and we want to take the next step and try to win the next moment.
FC Dallas midfielder Santiago Mosquera
On what the team has to do to prepare for Seattle on Wednesday...
We need to rest well. We know it's a game where people are angry, but we have to lift our heads up because we only have a few days to recover and we already have a definitive match against Seattle. We need to try to improve things internally, get strong and see how we can turn this situation around to find ourselves in the playoffs.
On coming back from injury after missing a few matches...
Difficult, it's always difficult. But one has to be as strong as possible on and off the field following an injury. I am nothing but grateful to God to have the chance to enter the game. It wasn't the best because we already had an adverse result, but I'm feeling better. We're ready for the next match.
FC Dallas midfielder Edwin Cerrillo
On starting for the first time since June...
I felt good. I'm thankful or the opportunity that I was given again. It's been like two months since I haven't played. Playing with the second team really boosted my confidence to go out there and be ready. We didn't get the result we wanted, there's a lot of stuff to learn, but just thankful to be out there on the field again.
On the quick turnaround...
A lot of us are going to say we're going to put this game behind us, but we still have to look at the video and learn from our mistakes. We know there's a quick turnaround from here to Wednesday. We have to have the right mentality to learn from this game but also put it behind us and look forward for the next opportunity.
On if international break affected the slow start vs. Chicago...
First, I think it's done a lot of good for the guys to learn from their opportunities with the national team. We were gone for about 10 days, but it's not an excuse. We had two or three days for us to regroup and come play today. Overall, we were happy with the opportunity we were given with the national team, but it could've played a factor. We're not using that as an excuse.
• Discuss this story on the Major League Soccer message board...


Major League Soccer Stories from September 14, 2019
The opinions expressed in this release are those of the organization issuing it, and do not necessarily reflect the thoughts or opinions of OurSports Central or its staff.