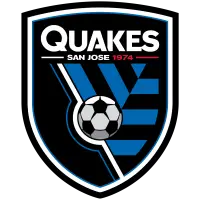 Chris Wondolowski scores goal No. 158 of his MLS career in loss
September 14, 2019 - Major League Soccer (MLS) - San Jose Earthquakes News Release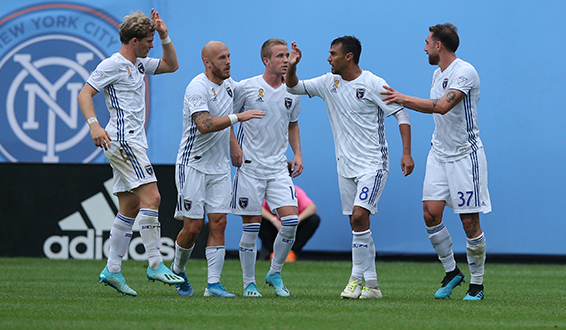 The San Jose Earthquakes celebrate the match's opening goal by Chris Wondolowski
(San Jose Earthquakes)
NEW YORK CITY - The San Jose Earthquakes fell to New York City FC 2-1 on Saturday afternoon at Yankee Stadium in the Bronx. Head coach Matias Almeyda returned to the sideline for the first time following a three-match suspension.
San Jose took the lead in the 20th minute through Chris Wondolowski, who extended his league scoring record to 158 goals. NYCFC, the top team in the Eastern Conference, responded with a pair of goals in quick succession just prior to halftime. The two teams traded chances in the second half, but neither were able to alter the scoreline before the final whistle.
The Earthquakes now take on Atlanta United FC in their third of three consecutive road matches on Saturday, Sept. 21 at 12:30 p.m. PT (Univision, 560 KSFO, 1370 KZSF).
MATCH NOTES:
San Jose now holds a 13-12-5 record this season and are in fifth place in the Western Conference, just two points out of second.
Forward Chris Wondolowski scored his team-leading 14th goal of the season and MLS-record 158th of his career. His 14 goals this season are his most in a single season since 2015 (16). Wondolowski has now scored at least 14 goals six times in his career.
Midfielder Jackson Yueill made his 50th start in MLS and for the Earthquakes.
MLS Regular Season
New York City FC 2 - 1 San Jose Earthquakes
Sept. 14, 2019 - Yankee Stadium in New York City, N.Y.
Attendance: 20,679
Scoring Summary: SJ - Chris Wondolowski (Vako, Magnus Eriksson) 20; NYC - Keaton Parks (unassisted) 40; NYC - Alexandru Mitrita (Ismael Tajouri-Shradi) 43.
Misconduct Summary: SJ - Shea Salinas (caution) 47; NYC - Alexander Callens (caution) 55; SJ - Magnus Eriksson (caution) 76; NYC - Sean Johnson (caution) 90+4.
NEW YORK CITY FC: Sean Johnson; Ronald Matarrita, Alexander Callens, Anton Tinnerholm, Maxime Chanot; Keaton Parks (Tony Rocha 77), Alexander Ring, Alexandru Mitrita, Ismael Tajouri-Shradi (Ebenezer Ofori 61), Gary Mackay-Steven (Sebastien Ibeagha 84); Valentin Castellanos.
SHOTS: 13, SHOTS ON GOAL: 8; SAVES: 6; FOULS: 15; CORNER KICKS: 4, OFFSIDES: 1.
SAN JOSE EARTHQUAKES: Daniel Vega; Marcos Lopez (Shea Salinas HT), Guram Kashia, Florian Jungwirth, Tommy Thompson (Danny Hoesen 69); Judson (Andy Rios 69), Jackson Yueill; Vako, Magnus Eriksson, Cristian Espinoza; Chris Wondolowski.
SHOTS: 15, SHOTS ON GOAL: 7; SAVES: 5; FOULS: 11; CORNER KICKS: 4, OFFSIDES: 5.
SAN JOSE EARTHQUAKES HEAD COACH MATIAS ALMEYDA
On the match:
"I feel positive. We played against the team, that in my understanding, plays the best soccer with a well-defined style. A young team with dynamic [players] and mobility. And they try to play the soccer that I personally like. That makes me think that our team was at the same level. We have a few games left, we have to keep going with this system and our mentality. Keeping in mind the opponent we played against, it was a competitive game and maybe a draw would have been more fair. But results aren't about justice, it's more taking advantage of the opponent's mistakes or getting the benefits out of a team whether is collective or individual."
On if there is a sense of urgency with the playoffs around the corner:
"No, when I joined this team, they had a complicated year. The first thing we wanted to achieve was maintaining a style of play and have the team be competitive. Now the team is competitive, we have four games left against difficult opponents. And we'll insist up until the last minute as long as the math allows it."
On the challenge of playing on a smaller field:
"From my experience of seeing football around the world, I think it is a point they should have in consideration. Because there are regulations for measurements and if you don't have a regulation field, you don't play. The system of play changes. And we play soccer, we don't play baseball or basketball, so we need soccer stadiums. The measurements are different. It is a great stadium, but it is a small-sided field, it's not real. It stops being realistic before the game even starts. If this league wants to be the best in the world, they cannot allow this to happen especially when there are very nice structures. I have been accepting this since the moment I signed a contract, but these are the details I have noticed within the first nine months that could improve. I still congratulate the team for beating us and celebrate that soccer is played the way they play it. I told the coach and assistant, when you analyze this team is the team that plays the best soccer in the league because they don't have big-name players, they have collective game, players that are technically very good, they have youth, that is the future this league deserves. If it was a larger field the spectacle would have been better."
SAN JOSE EARTHQUAKES FORWARD CHRIS WONDOLOWSKI
On the match:
"NYCFC is at the top of the Eastern Conference for a reason. They are a solid team and play a nice style, they played well. We had a five-minute lapse and got punished in the first half. We need to start learning from our mistakes and stop making them."
On the five-minute lapse in the first half...
"We have to track back. We have to get back fast, get behind the ball. We need to cut in, granted it was a great pass, especially for the second goal. It was a good goal. At the same time, we had a hold of the game. The first 30, we came out and played well, we executed our game plan, we need to take a little bit more control."
On sense of urgency with playoffs approaching:
"We had a nice calmness about us and calmness about how we wanted to play but also we have the urgency of the way we play. The urgent pressing style that wants us to keep going and keep pushing."
Images from this story
• Discuss this story on the Major League Soccer message board...


Major League Soccer Stories from September 14, 2019
The opinions expressed in this release are those of the organization issuing it, and do not necessarily reflect the thoughts or opinions of OurSports Central or its staff.