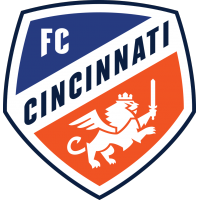 Allan Cruz's early goal leads FCC over Montreal in shutout win
September 14, 2019 - Major League Soccer (MLS) - FC Cincinnati News Release



MONTREAL - Allan Cruz struck early again and the defense held tight as FC Cincinnati earned a 1-0 win over the Montreal Impact on the road at Stade Saputo on Saturday night. The Orange and Blue recorded their third shutout of the season as they snapped a nine-game winless run that dated back to their last victory on July 21 at Chicago.
Cruz put FC Cincinnati (6-21-3, 21 pts.) ahead in the first minute, notching his second goal of the year within a game's first minute. From there, the defense kept Montreal (11-16-4, 31 pts.) at bay as Przyemslaw Tyton was called on for a single save in his first FCC shutout. Only one of Montreal's 17 shots was on frame, while Cincy managed three of eight on target.
FC Cincinnati will their next host three straight games at home at Nippert Stadium. The team next plays on Wednesday, Sept. 18, when the Orange and Blue host defending MLS Cup champions Atlanta United FC at 7:30 p.m. during "Noche Latina." First kick is set for 7:30 p.m. and the game will be televised live on WSTR 64, streamed on FloFC (in-region) and ESPN+ (out-of-region), carried on the radio on WDJO with an audio stream on TuneIn (WDJO) and fccincinnati.com.
Individual-game tickets and group options are on sale for all remaining FC Cincinnati games at fccincinnati.com/tickets or by calling 513-977-5425 (KICK). The team will then host the Chicago Fire (Saturday, Sept. 21) and Orlando City SC (Sunday, Sept. 29) to close its home slate.
For up-to-the-minute information about FC Cincinnati, visit the team's official website at fccincinnati.com, or follow the team on Twitter, Instagram and Facebook at @FCCincinnati.
FC Cincinnati 1, Montreal Impact 0
Stade Saputo | Montreal, Canada
September 14, 2019
SCORING SUMMARY
CIN - Allan Cruz (unassisted) 1'
FC Cincinnati: Przemysław Tytoń, Mathieu Deplagne, Maikel van der Werff, Kendall Waston ©, Greg Garza, Leonardo Bertone, Allan Cruz (Fatai Alashe 70'), Frankie Amaya (Nick Hagglund 89'), Joseph-Claude Gyau, Emmanuel Ledesma, Darren Mattocks (Rashawn Dally 85')
Bench: Jimmy Hague, Corben Bone, Tommy McCabe, Andrew Gutman
Stats: Shots 8, Shots on goal 3, Saves 1, Corner kicks 3, Offsides 1, Fouls 12, Possession 39.4%, Passes 277 (69.7%)
Montreal Impact: Evan Bush, Bacary Sagna, Rudy Camacho, Jukka Raitala, Daniel Lovitz, Orji Okwonkwo (Ballou Tabla 69'), Bojan (Lassi Lappalainen 76'), Ignacio Piatti ©, Samuel Piette, Saphir Taïder, Maxi Urruti
Bench: Clément Diop, Jorge Corrales, Victor Cabrera, Shamit Shome
Stats: Shots 17, Shots on goal 1, Saves 2, Corner kicks 8, Offsides 1, Fouls 13, Possession 60.6%, Passes 406 (80.3%)
MISCONDUCT SUMMARY
MTL - Daniel Lovitz (caution) 45'
MTL - Orji Okwonkwo (caution) 50'
CIN - Kendall Waston (caution) 60'
MTL - Rudy Camacho (caution) 68'
CIN - Kendall Waston (caution/ejection) 88'
Referee: Ramy Touchan
Assistant Referees: Brian Dunn, CJ Morgante
4th Official: Armando Villarreal
VAR: David Barrie
Weather: 67 degrees and cloudy
Attendance: 17,159
HOW IT HAPPENED
1' | CIN GOAL - Emmanuel Ledesma lofted a cross towards goal, but it was headed away and Joseph-Claude Gyau collected the clearance and his attempt at goal was deflected by Samuel Piette. The loose ball then bounced over to Allan Cruz who capitalized on the opportunity and gave the Orange and Blue the lead.
40' | After a lofted ball into the box found Bacary Sagna, he headed the ball back towards the spot, where Maxi Urruti volleyed the ball to the bottom left corner of the net through traffic. Przemysław Tytoń palmed the ball away with the quick reaction save to preserve the lead and send FCC into the break ahead.
78' | Ledesma intercepted the ball from Cincinnati's defensive half and unleashed Darren Mattocks who dribbled through the right flank of the field. As he approached the 18-yard box, Mattocks cut inside and tapped the ball over to to an unmarked Gyau. Gyau ripped a shot towards goal, but his shot was parried over the crossbar by Evan Bush.
GAME NOTES
With tonight's win, the Orange and Blue move to 6-21-3 through 30 MLS matches ... in addition, FC Cincinnati improve to 3-11-2 in away contests ... FC Cincinnati's all-time, all-competition record against Montreal Impact sits at 2-0-0 ... Cincinnati is now 4-12-2 against Eastern Conference opponents
Allan Cruz became the first player in MLS to record multiple first-minute goals this season ... the Costa Rican scored in the first minute of FCC's match at Chicago on July 13 ... Cruz is now tied with Emmanuel Ledesma for most goals among FCC players with six ... of Cruz's six tallies, four have come within the first 10 minutes of a match
Tonight's match was FC Cincinnati's first shutout since the Orange and Blue blanked the New England Revolution, 2-0, on March 24 ... Przemyslaw Tyton made one save in his first career MLS shutout ... FC Cincinnati have recorded three shutouts on the year, including two by Spencer Richey.
Ron Jans made six changes to the starting lineup from the match against Toronto FC on Sept. 7... Kendall Waston, Maikel van der Werff, Leonardo Bertone, Allan Cruz, Emmanuel Ledesma and Darren Mattocks replaced Nick Hagglund, Andrew Gutman, Tommy McCabe, Caleb Stanko, Roland Lamah, and Rashawn Dally
Four FCC players were available for selection in tonight's match after returning from international duty from h their respective national teams: Allan Cruz (Costa Rica), Derrick Etienne Jr. (Haiti), Alvas Powell (Jamaica) and Kendall Waston (Costa Rica)
Fanendo Adi (calf), Roland Lamah (illness), Caleb Stanko (knee), and Derrick Etienne Jr. (hamstring) were unavailable for selection because of injury
Midfielder Kekuta Manneh was unavailable for selection in tonight's match after he received an addition one-game suspension from the MLS Disciplinary Committee following his initial red card at FC Dallas on Aug. 31.
Tonight's victory snapped the team's nine-game winless run - and four-game losing streak ... FCC's last victory was July 21 at Chicago (2-1)
FCC has matched its home win total (3) with three road wins (New England on March 24 and Chicago on July 21).
Kendall Waston will now be unavailable for Wednesday's game against Atlanta after being shown a pair of yellow cards in the game.
POSTGAME QUOTES
FC Cincinnati Head Coach Ron Jans
"... It's always good to win. It's so good for Yoann (Damet) and Jack (Stern), but also for the players because they've lost so many times and now it's all about results. And what I said at halftime, it's not about the beauty of the game. There are lucky moments, but we could've finished the game off, too. So we're very happy."
On recording his first win
"Mixed Emotions. Happiness that I am so glad for. In six weeks time I realized how much the team and the staff had to suffer this season because of losses and changes. Now, everything came out. We had a little bit of luck. We could've killed the game with a second goal, I think. Happiness is the first emotion today."
On whether the win was anticipated
"I felt we had a really good week. We sat together on Monday because we lost in Dallas, 3-1, we lost, 5-1, at home against Toronto. You're bottom of the table and you have to play five more games. We said we need to find a common thing. It was about confidence and when you score in the first minute you get confidence. We kept into the game. We had some lucky moments in the first half. (Przemysław) Tytoń saved us a few times. I think in the second half we had at least the same amount of chances as Montreal did. So, did I see it coming? No, but I thought the team was ready and they showed it."
FC Cincinnati midfielder Joseph-Claude Gyau
On tonight's win
"We just executed the game plan very well. We trained hard during the week, and we just came out. We tried to give it our all these last five games of the season, and everybody just put it all out there and it came together well."
On whether the team played with confidence
"Yeah, I would agree very much so. We came out very strong in both halves. It was great to get the first goal early. Since I have been here, a lot of the times we have gone down early and it's been an uphill battle. But, it was good to get that first one in. Then, we were able to roll in with confidence."
On how to build off the win
"Short memory. Short memory. We've got to forget this game and then look forward to Wednesday."
FC Cincinnati midfielder Emmanuel Ledesma
On tonight's win
"It feels amazing. Everyone is happy, but the important thing is everyone gave their all. Every single player here gave everything, so that's the most important part. It's another clean sheet and I'm so proud."
On how the team played, even late in the match.
"I think we played 10 minutes of stoppage time? I think if we continued more minutes, they're not going to score. Everyone is hungry and that's what we need now. I said during the week this was going to be a battle and we showed it. I'm so proud of this team."
On playing against Wednesday against Atlanta United FC
"We have to keep the same mind and mentality and spirit. Wednesday we're going to be there with the same mentality, focused all on the same page again."
FC Cincinnati defender Mathieu Deplagne
On tonight's win
"It's a big win for us after a long period of not winning. We have a clean sheet today, so it's good for the mindset to finish this season strong."
On the importance of winning after the recent matches
"It gives us a lot of confidence and we needed that. We've conceded a lot in the last games, so a clean sheet and a win on a team that's trying to make the playoffs, that's good. Now we have four games to finish the season in a positive way."
• Discuss this story on the Major League Soccer message board...


Major League Soccer Stories from September 14, 2019
The opinions expressed in this release are those of the organization issuing it, and do not necessarily reflect the thoughts or opinions of OurSports Central or its staff.