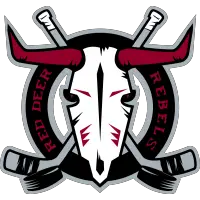 Douglas Grew as a Player and Person During Four Plus Years with the Rebels
May 8, 2021 - Western Hockey League (WHL) - Red Deer Rebels News Release



Living in the Centrium day and night was a novelty that eventually wore off for the Red Deer Rebels, but the bond between the players was something that will always exist for Chris Douglas.
"This was a year I will never forget probably for the rest of my life," Douglas said on Saturday, referring to a 10-week, 23-game season that included regular COVID tests while eating, sleeping, practising and engaging in recreational activities inside the Centrium.
"Living in the rink had its downfalls and its benefits, but the only people who truly understand what we had to go through the entire year are each other," he added. "It was a huge learning experience for everyone and I'm just proud of all the guys and how they handled the whole situation.
"Staring at the rink 24/7 was not exactly an ideal situation for everyone mentally. It took a lot of courage from everyone to get through that and still have a good mindset."
Douglas, whose WHL career and those of teammates Ethan Anders and Josh Tarzwell ended with Tuesday's overtime loss to Calgary, joined the Rebels in January of 2017 after being listed by the club roughly four months earlier.
He was in the midst of an outstanding season with the major midget Greater Vancouver Canadians with 12 goals and 37 points in 26 games at the time of his promotion to the WHL.
While the Richmond, B.C., native never became a prolific scorer with the Rebels he had a work ethic second to none and became an effective team leader.
Douglas, a six-foot-two, 190-pound centre who served as an alternate captain during his final two seasons, played for the front of his jersey and never backed down from anyone, including six-foot-eight, 240-pound Calgary Hitmen defenceman Jackson van de Leest, whom he engaged in a scrap in early March.
"I hope I kind of showed some of the younger guys what should be done," he said. "When I was younger I had older guys setting a good example for me and I hope I did the same for the younger players."
The Rebels, partly due to a slew of injuries, won only four times in the abbreviated season but looked like a different team over the past few weeks, winning two of their final four games while losing the other two in overtime.
Douglas, who will celebrate his 21st birthday in July, sees better times ahead for the team.
"There's a lot of good players there. They have a bright future moving forward, especially when all the guys are back from injury," he said.
"They'll have a deeper lineup with everyone coming back and I'm excited for them to see what they can accomplish over the next few years."
Douglas, who drove back to B.C., on Wednesday with teammate Arshdeep Bains, a Surrey product, will attend the University of British Columbia in the fall and suit up with the Thunderbirds.
One of his UBC teammates will be Anders, while two other former Rebels - Rylan Toth and Austin Glover - will be entering their fourth year.
Douglas will be enrolled in the university's Sauder School of Business.
"I was really lucky to be able to get in," said Douglas. "I spent a lot of time on my application and making sure my resume was as good as I could possibly make it. I was lucky to get in my first time applying. I'm excited."
Douglas joined the Rebels the season after the team hosted the Memorial Cup. The Rebels were never a true championship contender during his time in Red Deer but he insisted it was a valuable and highly enjoyable period in his life.
"For sure it was a positive experience. Some of the best memories I've made in my life were in Red Deer," he said. "Playing in Red Deer helped me develop as a player and as a person. It really molded me into who I am and what my values are moving forward in life."
• Discuss this story on the Western Hockey League message board...


Western Hockey League Stories from May 8, 2021
The opinions expressed in this release are those of the organization issuing it, and do not necessarily reflect the thoughts or opinions of OurSports Central or its staff.