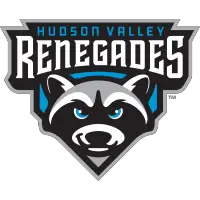 All Pitch, No Hit, Gades Whipped
August 15, 2019 - New York-Penn League (NYPL) - Hudson Valley Renegades News Release



NORWICH, CT-Despite 12 shutout frames of two-hit ball from its starting pitchers, a lack of hitting and struggles from the bullpen doomed the Hudson Valley Renegades Thursday evening as they lost both games of a doubleheader to the Connecticut Tigers at Dodd Stadium. The scores of both contests were 2-1 in eight innings
In game one, the Renegades had ample opportunities to score but could not push a run across as they left 10 on base for the game. A one-out double in the first from shortstop Greg Jones was followed by fly outs from rightfielder Hill Alexander and first baseman Jacson McGowan. In the second, two walks and a single loaded the bases with two away before centerfielder Garrett Hiott struck out swinging. A two-out double by McGowan in the third was wasted when designated hitter Luis Trevino lined to second to end the threat.
The best chance to score, however, came in the sixth. Singles by McGowan and Trevino started the inning to put runners at first and second with nobody out. Pinch-runner K.V. Edwards came in for McGowan at second. He tried to score when the next batter, catcher Jonathan Embry, lined a single to right. However, Tigers rightfielder Avery Tuck threw a strike to the plate to retire the speedy Edwards as Trevino went to second. Third-baseman Nick Sogard followed with a single to center to load the bases, but leftfielder Pedro Diaz and second baseman Kevin Santiago both struck out to end an eventful half-inning with no runs.
The game moved into extra innings as Hudson Valley finally broke through in the eighth. With Alexander at second to start the frame, new first baseman Mason Mallard took the first pitch he saw and roped an RBI single to left to put the Renegades on top.
However, it wouldn't last as the Tigers stormed back in the bottom-half with second baseman Andrew Navigato starting the frame at second. Tuck fell behind 0-2 against Renegades reliever Joe LaSorsa after fouling off two bunt attempts. He then ripped the next offering to right for a triple to score Navigato and tie the game. LaSorsa followed with a strikeout and intentional walk to put runners at the corners with one out, before shortstop Ryan Kriedler lined an RBI single to right to end the game.
The loss ruined a sensational performance from Hudson Valley starter Edisson Gonzalez who allowed only one hit and struck out seven in six innings of work with one walk. Getting the win for Connecticut was reliever Kory Benhenna (4-1) who allowed an unearned run on a hit in his only inning. LaSorsa (5-2) suffered the loss after allowing two runs, one earned, on three hits over 1.1 frames. He also struck out three.
Hudson Valley had eight hits with McGowan and Trevino registering two apiece, including a double from McGowan. Kriedler collected two of Connecticut's four hits with a double and the game-winning RBI.
Game two featured more of the same as the teams remained scoreless until the eighth inning. The Renegades had runners at first and second with one out in the second until catcher Jordyn Muffley grounded into a 6-3 double play. Hudson Valley again put runners at first and second with one away in the fifth but saw second baseman Cristhian Pedroza and leftfielder K.V. Edwards go down swinging to kill the rally.
Finally, in the eighth, pinch runner Jonathan Embry started at second and moved to third on a sacrifice bunt from shortstop Ben Troike. Pinch hitter Luis Trevino then reached on an infield single to the pitcher, which scored Embry and gave Hudson Valley the lead. Later in the inning though, the Renegades again had runners at first and second with two out, but Alexander struck out swinging to keep the lead at one.
In the bottom-half, the Tigers started with second baseman Jose King at second. Catcher Gresuan Silverio laid down a sac bunt and reached on a fielding error from reliever Jose Roca while King remained at second. Silverio was lifted for Navigato as a pinch runner, and first baseman Jordan Verdon roped a line drive single to center to load the bases with nobody out. After a strikeout, centerfielder Kingston Liniak rocketed a single into center to score King and Navigato to give Connecticut their second walk-off of the day.
Both teams were held to only four hits in game two. The win went to Tigers relief man Bryce Tassin (2-0) who allowed an unearned run on three hits and punched out six in four frames. Roca (2-3) suffered the loss for the Renegades after he allowed two unearned runs on three hits over 1.1 innings with two strikeouts. Again, Hudson Valley wasted a great pitching performance from their starter as right-hander Evan McKendry allowed a single hit over six shutout innings and struck out seven.
The Renegades will try to avoid a sweep tomorrow in the finale of their three-game series with the Tigers in a 7:05 start. Hudson Valley will send southpaw Jacob Lopez (1-0, 3.00 ERA) to the bump against righty Carson Lance (3-3, 3.30 ERA) of Connecticut.
The Renegades return home on Saturday, August 17 when they start a three-game series with the Staten Island Yankees beginning at 6:05. Tickets are on sale and can be purchased online at hvrenegades.com, at the Dutchess Stadium ticket window, or by calling the ticket office at (845) 838-0094.
• Discuss this story on the New York-Penn League message board...


New York-Penn League Stories from August 15, 2019
The opinions expressed in this release are those of the organization issuing it, and do not necessarily reflect the thoughts or opinions of OurSports Central or its staff.