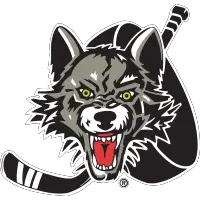 Wolves Glide By Aeros 5-1
December 30, 2009 - American Hockey League (AHL) - Chicago Wolves News Release



ROSEMONT, Ill.---The Chicago Wolves offense struck five times and goaltender Peter Mannino shut the door the rest of the way to help the Wolves pick up a 5-1 victory over the Houston Aeros at the Allstate Arena Wednesday night.
Defenseman Chris Chelios (2A) and right wing Anthony Stewart (G, A) led the way with two points each, while forwards Andrew Kozek, Joey Crabb and Tim Stapleton and defenseman Nathan Oystrick potted goals.
Mannino (6-2-0) thwarted 22 of 23 shots for Chicago - which includes blanking the Aeros for the first 46:44 of the contest - in picking up his third straight win.
"We had everybody on board tonight," said Wolves Head Coach Don Lever. "When we play like that, we're better than a .500 hockey team. Now we need to play like that consistently."
After a scoreless first period, Chicago (16-15-0-2) pulled ahead, 1-0, when Kozek's shot from the circle beat Houston netminder Anton Khudobin, 2:12 into the second period.
The Wolves increased their lead to two at 14:14 of the middle frame. Oystrick took a pass from center Rylan Kaip and flung a long shot toward the net, which escaped beneath Khudobin's pads and trickled between his legs and over the goal line.
Stapleton increased the Wolves' lead to three 19 seconds into the third period when he cranked a shot up over Khudobin's glove for his 15th marker of the season.
Jean-Michel Daoust got Houston (17-15-2-1) on the board at 6:44 of the third period when he sent a shot saucering through the air toward Mannino, which slipped right between his legs and into the net.
Crabb regained the three-goal lead when he picked up the puck near the blue line and raced in to the Aeros zone before rifling a shot through Khudobin at 10:46 of the final frame.
Khudobin (9-9-1) turned aside 20 shots for the Aeros.
Right wing Anthony Stewart won the puck in the Wolves zone and raced down the ice to ice an empty net tally to finish scoring, 5-1.
The Wolves will close out 2009 with a matchup against the Peoria Rivermen at Carver Arena Thursday at 7 p.m.
Houston 0 0 1 -- 1
Chicago 0 2 3 -- 5
First Period---None. Penalties---Oystrick, Chicago (delay of game), 2:15; Testwuide, Houston (hooking), 9:34; Falk, Houston (roughing), 12:02.
Second Period---1, Chicago, Kozek 6 (Krog, Stewart), 2:12; 2, Chicago, Oystrick 3 (Kaip, Chelios), 14:14. Penalties---Anderson, Chicago (hooking), 15:10.
Third Period---3, Chicago, Stapleton 15 (unassisted) 0:19; 4, Houston, Daoust 12 (Rau, Sifers), 6:44; 5, Chicago, Crabb 7 (Chelios, Kulda), 10:46 sh; 6, Chicago, Stewart 7 (unassisted), 17:05 en. Penalties---Irmen, Houston (fighting), 4:48; Kulda, Chicago (fighting), 4:48; Welch, Chicago (delay of game), 10:18; Sifers, Houston (fighting), 15:58; Doell, Chicago (fighting), 15:58.
Shots on goal---Houston: 4-6-13--23. Chicago: 7-10-7--25. Power plays---Houston: 0-3. Chicago: 0-2. Goalies---Houston, Khudobin (20-24). Chicago, Mannino (22-23). A---6,466. Referee---Jeff Smith. Linesmen---Aaron Mills and Peter Cichy.
• Discuss this story on the American Hockey League message board...


American Hockey League Stories from December 30, 2009
The opinions expressed in this release are those of the organization issuing it, and do not necessarily reflect the thoughts or opinions of OurSports Central or its staff.