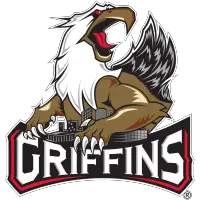 Griffins Ready To Ring In The New Year
December 30, 2009 - American Hockey League (AHL) - Grand Rapids Griffins News Release



Party Like It's 2009: The Griffins will host their 13th annual New Year's Eve Extravaganza on Thursday, when fans are invited to stay after the game to enjoy West Michigan's largest indoor fireworks show and take to the ice for a post-game open skate. A fierce interpretation of Griff will be featured on special jerseys that will be worn by the Griffins and auctioned after the game to benefit the GVSU club roller hockey team, and the first 2,000 fans will receive a 2010 Griffins calendar presented by Delta Imports and Fox Motors. On Sunday, fans can enjoy $1 Pepsi products and $1 Cole's Breadsticks from 3-5 p.m. and take part in a post-game open skate, while the first 1,000 kids ages 12 and younger will receive a Griffins player card strip, courtesy of Play N Trade Alpine. In addition, fans who present their public library card at the Van Andel Arena box office on the night of the game or at The Zone anytime during regular business hours can purchase a lower bowl ticket for just $10, a savings of $7. (Limit four tickets per card per person.)
Auld Lang Syne: The Griffins beat Iowa 6-0 on Dec. 31, 2008 to improve their record in their annual New Year's Eve game to 4-7-1-0. Grand Rapids will carry a calendar-year record of 41-33-2-4 (0.550) into Thursday's affair.
Skeleton Crew: Recent recalls and injuries - both in Detroit and Grand Rapids - have taken their toll on the Griffins' lineup, to the extent that six of the team's top 10 scorers missed Monday's game in Milwaukee. Doug Janik (3-12-15, T9th overall, 2nd among defensemen) and Mattias Ritola (8-7-15, T9th) are both in Detroit, Tomas Tatar (8-9-17, 5th) remains with the Slovakian squad at the World Junior Championship, and three players were forced to sit out due to injuries: Jan Mursak (12-8-20, T3rd), Kris Newbury (7-13-20, T3rd) and Jakub Kindl (2-14-16, T6th overall, 1st among defensemen). Grand Rapids is 1-5-0-1 since losing the services of both Janik and Tatar on Dec. 15.
Going for Gold: Eleven of the 12 men's hockey teams that will compete at the 2010 Winter Olympic Games in Vancouver have announced their 23-man provisional rosters, and three of them will be counting on former Griffins in their medal quest. Niklas Kronwall (2003-06) and Stefan Liv (2006-07), both of whom won gold with Sweden in the 2006 Turin Games, will look to repeat, while Slovakia's Pavol Demitra (1996-97) and Tomas Kopecky (2002-06) and Finland's Valtteri Filppula (2005-07) will try to dethrone the defending champs. The United States will be the final country to announce its roster, during the NHL's Winter Classic on New Year's Day.
Stop the Bleeding: The Griffins have allowed five or more goals in four consecutive games for the first time in franchise history. On six previous occasions - most recently Nov. 2-10, 2007 - they had surrendered at least five goals in three straight games...With Monday's 5-2 loss at Milwaukee, Grand Rapids is now winless in its last eight visits (0-7-1-0) to the Bradley Center, with its last victory coming in 1-0 fashion on Dec. 2, 2007...The Griffins have lost four straight games for the first time since Oct. 10-18, immediately after which they went on a 9-0 tear...Grand Rapids has dropped three consecutive home games in regulation for the first time since Nov. 10-21, 2007, getting outscored 15-6 in the process.
The Meek Shall Inherit the Earth: The Griffins' five worst games this season for goals allowed have come against the cellar-dwellers of the Western Conference, as they've surrendered seven to Chicago (11th with 32 points), seven twice to San Antonio (13th with 30 points), and six twice to Lake Erie (14th with 29 points). The Griffins are just three games shy of tying the single-season franchise record for most games allowing six or more goals (eight in 1998-99), and they've already tied the mark for most games allowing seven or more goals (three in 2009-10, 2006-07 and 1998-99).
Reinforcements: The Griffins on Sunday signed Muskegon Lumberjacks and former University of Michigan right wing David Rohlfs to a pro tryout. He made his Grand Rapids debut against the Rivermen and is scoreless with a minus-one rating in two appearances...On Monday, the Griffins recalled forward Francis Lemieux from ECHL Las Vegas and signed ECHL Toledo defenseman Ryan Stokes to a professional tryout. Lemieux is in his third tour of duty with Grand Rapids this season, showing two assists in nine games, while Stokes, a veteran of 233 AHL games, made his Griffins debut against the Admirals, picking up an assist.
Rissmiller an AHL All-Star: Griffins center Patrick Rissmiller has been selected to play for the PlanetUSA AHL All-Star Team at the 2010 Time Warner Cable AHL All-Star Classic, which will be held Jan. 18-19 at the Cumberland County Civic Center in Portland, Maine. Since being reassigned to the Griffins by the New York Rangers on Oct. 22, the 31-year-old Rissmiller has registered points in 18 of 29 games to rank among the team's leaders with nine goals (3rd), 15 assists (1st), 24 points (T1st), four power play goals (T3rd) and two game-winning goals (T2nd). He has gone scoreless in consecutive games just twice as a Griffin, posting four separate three-game point streaks and registering his 100th pro goal (Oct. 30), 200th pro assist (Dec. 13) and 300th pro point (Dec. 9). Rissmiller is the first Griffins forward to be selected to play in an AHL All-Star Classic since Kip Miller captained PlanetUSA at the 2007 edition in Winnipeg. He will be joined in Portland by five former Griffins: forwards Alexandre Giroux (Hershey), Darren Haydar (Lake Erie) and Ryan Keller (Binghamton), and defensemen Danny Groulx (Worcester) of the Canadian AHL All-Star Team, as well as forward Mark Cullen (Rockford) of the PlanetUSA All-Star Team.
Who's Hot?: Cory Emmerton has three points (0-3-3) in the last three games...John Vigilante has points in three of the last five games (2-2-4)...Jan Mursak's (2-1-3) and Patrick Rissmiller's (2-3-5) three-game point streaks were snapped Sunday...Michael Nylander has points in five of seven games (0-8-8) since rejoining the Griffins and has been held scoreless in only four of his 12 games with the club overall this season.
Tatar Watch: On Sunday, Tomas Tatar tallied two goals, including the game winner, and added an assist to lead Slovakia to an 8-3 win over Latvia in the second game of the preliminary round of the World Junior Championship. Through three games with Slovakia (1-2), he ranks among the team's leaders with two goals (T2nd), three points (T4th) and a plus-two rating (T1st). Tatar led Slovakia to a fourth-place finish at last year's WJC, pacing his team and tying for fourth overall in the tournament with 11 points (7-4-11) and placing second overall with seven goals. Slovakia will conclude the preliminary round against Switzerland on Thursday.
Save the Best for Last: The Griffins have been a dynamic third-period team this season, outscoring their opposition by a 40-27 margin, posting a perfect 10-0 mark when leading after 40 minutes (2nd-best in AHL to Hershey's 21-0), and rallying for an AHL-high five victories when trailing after two periods (5-13-0-1).
Out of Balance: Grand Rapids has played only 11 of its 34 games within the North Division, compared to 23 games against West Division foes, but its 8-3-0-0 intradivisional record (0.727) is the best of any North Division squad. The Griffins play only four of their 15 contests during the month of December within their own division.
Griffins Give Back: Sunday's crowd of 8,519 at Van Andel Arena included 3,600 local unemployed workers and their families who attended at no cost through the "Griffins Give Back" program that was coordinated through the Grand Rapids offices of Michigan Works.
Scouting Report
Thu., Dec. 31 vs. Hamilton Bulldogs (20-8-2-3) - Van Andel Arena - 7 p.m.
Radio: WOOD 1300 AM at 6:35 p.m. Web Casts: Video web cast at AHLLive.com, free audio available through griffinshockey.com. All-Time Series: 20-23-1-0-2 Overall, 11-9-1-0-2 Home. Season Series: First of six meetings overall, first of three in Grand Rapids. NHL Affiliation: Montreal Canadiens. Head Coach: Guy Boucher (1st season). Notes: Grand Rapids logged its first-ever playoff upset last season when the third-place Griffins tamed the second-place Bulldogs 4-2 in the North Division Semifinals...Hamilton sits one point out of first place in the North Division and boasts the highest winning percentage (0.682) in the Western Conference...Bulldogs netminder Cedrick Desjardins ranks among the AHL's leaders with a 1.55 GAA (2nd), a 0.939 save percentage (3rd) and five shutouts (1st), backstopping a Hamilton defense that stands second in the league (2.12 goals allowed per game).
Sat., Jan. 2 at Rockford IceHogs (18-16-2-1) - Rockford MetroCentre - 8:05 p.m.
TV: Comcast Channel 57 (Rockford) at 8 p.m. Radio: WOOD 1300 AM at 7:35 p.m. Web Casts: Video web cast at AHLLive.com, free audio available through griffinshockey.com. All-Time Series: 4-4-1-1 Overall, 1-1-1-1 Road. Season Series: 0-2-0-0 Overall, 0-0-0-0 Road. Third of eight meetings overall, first of four in Rockford. NHL Affiliation: Chicago Blackhawks. Head Coach: Bill Peters (2nd season). Notes: The Griffins have only won one of four games all time in Rockford, but they've earned points in two of their three losses...Former Griffin Mark Cullen (2007-08) is tied for 14th in AHL scoring and leads the IceHogs with 12 goals, 17 assists, 29 points and four power play goals (tied)...Frequent Toledo callup Alec Richards is 2-0 with a 2.01 GAA and a 0.938 save percentage against the Griffins, and 1-2 with a 3.41 GAA and a 0.875 save percentage versus the rest of the AHL.
Sun., Jan. 3 vs. Lake Erie Monsters (13-18-0-3) - Van Andel Arena - 4 p.m.
TV: My43 WUAB (Lake Erie) at 4 p.m. Radio: WOOD 1300 AM at 3:35 p.m. Web Casts: Video web cast at AHLLive.com, free audio available through griffinshockey.com. All-Time Series: 13-6-1-2 Overall, 8-3-0-0 Home. Season Series: 3-1-0-0 Overall, 2-0-0-0 Home. Fifth of eight meetings overall, third of four in Grand Rapids. NHL Affiliation: Colorado Avalanche. Head Coach: David Quinn (1st season). Notes: Each of the Griffins' previous two home meetings with the Monsters this season has resulted in a shootout win for Grand Rapids...Lake Erie has scored six goals against the Griffins in two of the teams' four clashes this season...Darren Haydar, the Griffins' leading scorer last season, currently paces the Monsters with 33 points (15-18-33).
• Discuss this story on the American Hockey League message board...


American Hockey League Stories from December 30, 2009
The opinions expressed in this release are those of the organization issuing it, and do not necessarily reflect the thoughts or opinions of OurSports Central or its staff.