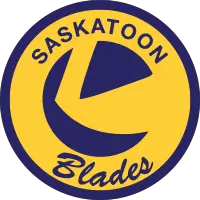 WHL Next Generation: Colton Dach
August 29, 2019 - Western Hockey League (WHL) - Saskatoon Blades News Release



WHL Next Generation is a 22-part series highlighting a handful of the future stars of the Western Hockey League. From first-round bantam draft picks to later-blooming selections, get to know the names of players set to establish themselves as the newest crop of exciting talent to grace the WHL. From August 1 through August 31, get the inside scoop on the incoming rookie class of 2019-20.
Colton Dach
Team: Saskatoon Blades
Position: Centre
Shoots: Left
Height: 6-foot-2
Weight: 170 pounds
Draft: SAS (2018) Round: 1 (#6)
Following in the shadow of an older sibling is never easy, whether it's in sports or not. It's a complicated relationship that many siblings share, but wouldn't change for the world. For Colton Dach, the footsteps he follows from older brother and now Chicago Blackhawks signee, Kirby Dach, are not easy ones. While Colton admits he takes a little bit of flack for it, he wouldn't have it any other way.
"The older guys [in hockey] try to get in my head a lot [about Kirby]," Colton said. "But I think it just helps me elevate my game and use it more as motivation. But at the same time, it's so exciting for him and our family couldn't be happier."While chirping and taunting is second nature in hockey, it's definitely tough to handle the extra pressure of a recently-signed NHL player in your family, let alone when you play for the same WHL club. But as Colton said, turning the situation around to fuel his drive is a great way to channel that energy into something positive. Besides, Colton and Kirby are different players, there isn't a need for direct comparison. While Kirby is well known for his vision, creativity and play-making skills, Colton sees himself as a different type of forward.
"I'm a two-way centre that likes to be in the gritty areas and I like to shoot the puck," Colton said. He's also been described as a tenacious, physical player that fans will enjoy watching in the upcoming season.With Kirby beginning the 2019-20 campaign with the Chicago Blackhawks, there is no certainty when or if he will return to the Saskatoon Blades' lineup, but if he does, it will be the first time Colton and Kirby will play organized hockey together.
"Our family is really excited to watch us play together if we can because it's never happened before," Colton said.
Not only does Colton have the opportunity to play with his brother, but there's also another close friend who will make the transition from midget hockey to major-junior hockey a little bit easier for Colton.
"Eric Florchuk is from Fort Saskatchewan, so we grew up together and it's nice to have him there," Colton said. "The captain, Chase Wouters, is also a really good leader there and sticks up for the young guys so that's nice.
"I know playing in the WHL is a lot faster than it certainly was in bantam, so it was a good step up for me this year in midget to help me get ready for the WHL."
Finishing regular-season action with the Alberta Midget Hockey League's (AMHL) Fort Saskatchewan Midget AAA Rangers, Colton collected 28 points (16G-12A) in 32 games.While his points totals were the top 2003-born numbers registered on the team, Colton understands that there's still plenty of work to be done to earn a spot on the Blades' roster this year.
"I just have to go out there and play my game and play the best I can," the 6-foot-2, 170-pound centreman said. "At the end of the day, it's someone's job, so I need to showcase myself the best I can to put myself on that roster."
• Discuss this story on the Western Hockey League message board...


Western Hockey League Stories from August 29, 2019
The opinions expressed in this release are those of the organization issuing it, and do not necessarily reflect the thoughts or opinions of OurSports Central or its staff.