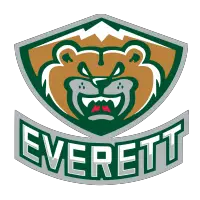 Silvertips Sign U.S. Born Prospect, Junior Silvertips Product, and Forward Brendan Lee to a WHL Standard Player Agreement
August 29, 2019 - Western Hockey League (WHL) - Everett Silvertips News Release



EVERETT, Wash. - The Everett Silvertips (@WHLSilvertips), seven time U.S. Division champion and two-time Western Conference champion of the Western Hockey League, and general manager Garry Davidson announced today that the club has signed U.S. born prospect and forward Jack Lambert to a WHL standard player agreement. Lambert, who spent the previous season competing for the Everett Junior Silvertips 15U squad, is immediately eligible to suit up on the Silvertips roster and will wear jersey #58.
"Jack has rightfully earned the next opportunity of his career in a place he called home last season, and we're excited about his commitment to the Silvertips and Western Hockey League," said Davidson. "The effort and ability he demonstrated in training camp is a direct result of his commitment over the past year, and the fantastic job by Turner Stevenson and Rick Ellison in the Junior Silvertips program to guide his progress. He's a player who manufactures tempo with his speed, has good offensive instincts, and wears his heart on his sleeve. We're looking forward to monitoring his progress now as an individual with plenty of potential."
"Jack has a nice second gear to his game and the explosiveness he carries jumped out to our staff during camp," said Silvertips head scout Mike Fraser. "His hard work is a testament to how the game is growing in Everett, and how great of a job Turner Stevenson and Rick Ellison have done to develop players. To see local talent commit, excel, make our club and have the potential to make an impact with our veterans, it's very exciting."
Lambert, a 2003-born forward, competed for the Jr. Silvertips program (NAPHL 15U) and led the club in points (10), goals (6), and was tied for the program's playoff lead with four points (3g-1a) while pacing Everett with three postseason goals in four games.
The native of Fairbanks, AK was named to USA Hockey's National Development Camp roster (Select 16) in Amherst, N.Y., where he skated with current Silvertips signed prospect and goaltender Braden Holt. Lambert collected three points (1g-2a) in five games for the Team Forest squad, a part of a camp presenting the top 2003-born U.S. players.
Lambert joins Wyatte Wylie (defenseman) and Dawson Butt (forward) with prior experience in the Junior Silvertips program to earn a WHL standard player agreement with the Silvertips. Wylie, entering his fourth full season with the Silvertips, was selected by the Philadelphia Flyers in the fifth round of the 2018 NHL Draft. Butt, a teammate of Wylie when the Silvertips captured the 2017-18 Western Conference championship, is entering his third full season in Everett with 104 career WHL games.
"He works extremely hard not just in practice but also off the ice," said Junior Silvertips coach Turner Stevenson. "He's very attentive with improving away from the rink on his skill set - it's given him a great advantage on scoring goals and being crafty around the net. He's worked very hard off the ice for an opportunity like this, to get listed, and earn a WHL standard player agreement."
"Becoming an Everett Silvertip is what I've worked for and there's nothing better and more exciting for what I could have imagined at this step of my career," said Lambert. "All the guys in the room have been awesome and they make you feel comfortable right away. A lot of credit goes to Rick Ellison and Turner Stevenson with the Junior Silvertips program: they made me into a real hockey player, and were a big help with understanding the game and learning exactly how it was meant to be played. I feel right at home with the city of Everett and I'm looking forward to contributing with effort, speed, getting to pucks first, and making plays."
ABOUT THE WHL SCHOLARSHIP PROGRAM
By signing a WHL standard player agreement, a player is guaranteed a WHL Scholarship at his institution of choice for every year he plays in the WHL. A player is able to attend any career enhancing institution of his choice, including universities, colleges, technical institutes, trade schools, or any other institution which will help the player achieve his academic and career goals. For each season played in the WHL, a player receives a one-year post-secondary scholarship, which includes: Tuition, Compulsory Fees and Required Textbooks. The WHL provides the top young hockey talent in western Canada and the United States with the opportunity to develop their skills on the ice at the highest possible level, without compromising their academic goals. The WHL is committed to recognizing academic excellence.
2019-20 SCHEDULE, TICKET INFORMATION
The Tips full regular season schedule offers full 34-game season tickets, 22-game, and 14-game plans for as little as $215 total per seat. Deposits for $50 will secure a seat for the 2019-20 season, available at www.everettsilvertips.com/season or by calling (425) 252-5100 during normal business hours (Monday through Thursday during the offseason, 9am to 4pm). Seven game packs are now on sale.
The Silvertips will launch the 2019-20 season and raise their seventh U.S. Division banner to the rafters on Opening Night, Sept. 20 at Angel of the Winds Arena against the Tri-City Americans at 7:35 p.m. The Silvertips open the pre-season on Friday, Aug. 30 during the Delta Hotels Preseason Classic in downtown Everett, at 7:00 p.m. against the Tri-City Americans. Preseason Packs, offering all nine games of the tournament, are on sale for $75. "Everett Only" packs (offering all three Silvertips pre-season games in the tournament) are available for only $35 per seat while single-game preseason tickets (general admission) are on sale. To purchase, please visit, www.everettsilvertips.com/preseason.
• Discuss this story on the Western Hockey League message board...


Western Hockey League Stories from August 29, 2019
The opinions expressed in this release are those of the organization issuing it, and do not necessarily reflect the thoughts or opinions of OurSports Central or its staff.