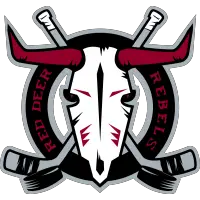 Maric Slipped to Fifth Round of Bantam Draft, But Rebels Confident They Got a Bargain
August 29, 2019 - Western Hockey League (WHL) - Red Deer Rebels News Release



Considering the impressive numbers he put up last season, Justen Maric could have been excused for wondering why he wasn't selected earlier in this year's WHL bantam draft.
The Red Deer Rebels certainly felt they landed a bargain when they picked the 15-year-old netminder in the fifth round of the draft. After all, Maric posted a 2.37 goals-against average and a .915 save percentage with the OHA Edmonton bantam prep team last winter.
"It is what it is. At the end of the day you're going to a great team and a great organization in Red Deer. I was happy with the way it went," Maric insisted Thursday, following a Rebels rookie camp scrimmage at the Centrium.
"It's an honour to get drafted in general."
No doubt Maric's ranking took a dip in April when he failed to land one of the two goaltending berths with Team Edmonton for the season-ending Alberta Cup, which showcases the province's top second-year bantams.
"I felt like two of the three games (Team Edmonton tryout scrimmages) I was really solid, but the last one I gave in a little bit," said the five-foot-11, 155-pound stopper.
"I wasn't as good as I would have liked."
Maric describes himself as a composed and yet highly competitive netminder.
"I'm a very calm goalie that likes to hold the team in games and likes to win a lot," he said. "Kind of like a (Montreal Canadiens star netminder) Carey Price. He's a great goalie and an even better person."
Rebels assistant GM Shaun Sutter remains adamant that getting Maric in the fifth round, 98th overall, was an outright steal.
"He's had a pretty good camp. We feel he's the best (graduating bantam) goalie in Alberta," said Sutter. "A lot of these kids come in and it takes time to get comfortable. Since he's settled in he's been fine. He's shown that he's a good goalie."
Maric will move on to the midget ranks in the 2019-20 season. He won't be returning to the OHA but rather will hopefully play for one of three Edmonton teams - Canadian Athletic Club, Knights of Columbus or Southside.
"There's going to be a three-team draft this year and then one big tryout," he said. "Hopefully I make one of the three teams."
For now, Maric is enjoying his first-ever WHL camp.
"It's been an unreal experience," he said. "I've met a lot of young guys and a lot of the coaching staff and scouting staff. It's been awesome."
The Rebels rookie camp concludes Friday with a 10 a.m. scrimmage.
Rebels rookie camp rosters
(Includes year of birth and hometown; a-draft pick, b-listed, c-invited)
Team A Grey
Goal - a-Merik Erickson, 2004, Delta, B.C.; a-Dylan Lacroix, '03, Calgary.
Defence - c-JR Ashmead, '03, Calgary; a-Kody Norberg, '04, Warman, Sask.; c-Quinton Unreiner, '03, Medicine Hat; c-Connor Klassen, '03, Crooked Creek, Alta.; c-Luke Marshall, '04, Saskatoon; c-Lane Bull, Revelstoke, B.C.
Forwards - c-Caelan Fitzpatrick, '03, Moose Jaw; a-Parker Lalonde, '04, Aberdeen, Sask.; c-Levi Fesyk, '04, St. Albert; b-Connor Poffenroth, '03, Okotoks; c_Benjamin Schmidt, Southey, Sask.; c-Keagon Little, '03, Wymark, Sask.; c-Zakk Makeiff, '04, St. Albert; c-Matthew Perkins, '04, White City, Sask.; c-Rachonne Henry, '03, Woodmore, Man.; c-Josh Fast, 03, East St. Paul, Man.; c-Adam Ingram, West St. Paul, Man.
Team B Burgundy
Goal - a-Justen Maric, '04, Edmonton; a-Zane Winter, '03, Carlyle, Sask.
Defence - c-Alex Serraglio, '03, Langley, B.C.; c-Aiden Dufault, '03, Narol, Man.; a-Logan Wright, '04, Plymouth, Minn.; c-Samuel Lawson, '04, Calgary; c-Samuel Belanger, '04, Edmonton; c-Ranon Joseph, '03, Sherwood Park.
Forwards - a-Dylan Fader, '03, Vancouver; c-Logan Breitkreuz, '04, Regina; a-Declan Cosford, '04, Regina; a-Hunter Brown, '03, Fort St. John, B.C.; c-Carter Sachs, '04, Warman, Sask.; c-Riley Teulon, '04, Rimbey; a-Jhett Larson, '04, Delisle, Sask.; b-Kyle Heintz, '03, Luseland, Sask.; c-Jackson Rowland, '04, Calgary; c-Cameron Hibbert, '03, Winnipeg; c-Liam Gorman, '04, Leduc.
• Discuss this story on the Western Hockey League message board...


Western Hockey League Stories from August 29, 2019
The opinions expressed in this release are those of the organization issuing it, and do not necessarily reflect the thoughts or opinions of OurSports Central or its staff.
Other Recent Red Deer Rebels Stories