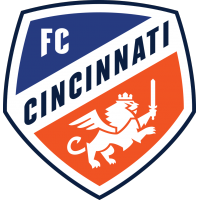 Toronto FC Edges FC Cincinnati 1-0
October 11, 2020 - Major League Soccer (MLS) - FC Cincinnati News Release



CINCINNATI - FC Cincinnati fell to Toronto FC, 1-0, at Nippert Stadium on Sunday night.
Toronto FC (11-2-4, 37 pts.) recorded the lone goal of the match in the 29th minute. TFC midfielder Richie Laryea got in behind the FCC backline and played a pass back to Patrick Mullins, who scored via a right-footed shot.
FC Cincinnati (3-10-4, 13 pts.) appeared to have an opportunity to equalize late in second-half stoppage time when referee Robert Sibiga whistled for a penalty. However, following video review, the call was overturned.
Alvaro Barreal and Saad Abdul-Salaam made their first FCC starts at Nippert Stadium in tonight's match. In addition, Kamohelo Mokotjo made his Nippert Stadium debut as a second-half substitute.
FC Cincinnati will return to the pitch on Wednesday, Oct. 14 when they will play Columbus Crew SC at Nippert Stadium. Kickoff is set for 7:30 p.m. ET, and the game will be televised on WSTR 64, carried on the radio on WDJO (99.5 FM, 107.9 FM and 1480 AM), streamed regionally on fccincinnati.com/stream, out of market on ESPN+, while an audio stream will be available at TuneIn (WDJO) and fccincinnati.com.
For up-to-the-minute information about FC Cincinnati, visit the team's official website at fccincinnati.com, or follow the team on Twitter, Instagram and Facebook at @FCCincinnati. Additionally, fans are encouraged to download the team's official mobile app on the Apple App Store or Google Play for instant access to mobile tickets, team content and match notifications.
Information about seating options at the club's state-of-the-art West End Stadium - which will open in Spring 2021 - is now available at westendstadium.com. Season ticket deposits are now being accepted for traditional reserved seating and The Bailey. For more information about 2021 season memberships, visit westendstadium.com or the stadium's social properties on Twitter, Facebook or Instagram at @WestEndStadium, or by calling the team's sales and service staff at 513-977-5425.
Toronto FC 1, FC Cincinnati 0
Nippert Stadium | Cincinnati, Ohio
October 11, 2020
SCORING SUMMARY
TOR - Patrick Mullins (Richie Laryea, Alejandro Pozuelo) 29'
FC Cincinnati: Przemysław Tytoń (Spencer Richey 81'), Saad Abdul-Salaam, Nick Hagglund, Maikel van der Werff, Mathieu Deplagne (Andrew Gutman 41'), Frankie Amaya (Kamohelo Mokotjo HT'), Haris Medunjanin ©, Yuya Kubo, Joseph-Claude Gyau, Brandon Vazquez (Siem de Jong HT'), Alvaro Barreal (Allan Cruz 64')
Bench: Bobby Edwards, Zico Bailey, Caleb Stanko
Stats: Shots 7, Shots on goal 1, Saves 2, Corner kicks 6, Offsides 1, Fouls 10, Possession 49.9%, Passes 508 (89.2%)
Toronto FC: Quentin Westberg, Eriq Zavaleta, Omar Gonzalez, Auro Jr., Marky Delgado (Pablo Piatti HT'), Alejandro Pozuelo (Laurent Ciman 89'), Jonathan Osorio ©, Richie Laryea (Tony Gallacher 70'), Liam Fraser, Patrick Mullins (Ayo Akinola 59'), Jayden Nelson (Nick DeLeon 60')
Bench: Kevin Silva, Erickson Gallardo, Jahkeele Marshall-Rutty, Laurent Ciman, Tsubasa Endoh
Stats: Shots 9, Shots on goal 2, Saves 1, Corner kicks 4, Offsides 0, Fouls 6, Possession 50.1%, Passes 518 (88%)
MISCONDUCT SUMMARY
TOR - Omar Gonzalez (caution) 9'
TOR - Jonathan Osorio (caution) 21'
CIN - Andrew Gutman (caution) 66'
CIN - Nick Hagglund (caution) 67'
TOR - Laurent Ciman (caution) 72'
Referee: Robert Sibiga
Assistant Referees: Peter Manikowski, Jeffrey Greeson
4th Official: Thomas Snyder
VAR: Sorin Stoica
AVAR: Jason White
Weather: 66 degrees and cloudy
Attendance: N/A
GAME NOTES
With tonight's loss, the Orange and Blue are now 3-10-4 through 17 MLS matches ... FCC are now 0-1-4 in matches played at Nippert Stadium ... FC Cincinnati's all-time, all-competition record against Toronto FC moves to 0-3-0 ... The Orange and Blue are now 3-9-4 against Eastern Conference opponents this season
Alvaro Barreal made his first start with FC Cincinnati in tonight's contest ... The Buenos Aires, Argentina, native played 64 minutes in tonight's match ... the winger made his debut FCC and MLS debut in a second-half substitute appearance at Philadelphia on Oct. 7
Mathieu Deplagne made his first start at left back since Aug. 3, 2019 vs. Vancouver Whitecaps FC ... Deplagne made 17 starts at left back for the Orange and Blue last season
Saad Abdul-Salaam made his first appearance since July 22 against the New York Red Bulls ... Abdul-Salaam started, played 90 minutes and completed 41-of-44 passes for a passing accuracy of 93.2% in tonight's contest ... prior to tonight's match, the outside back last started a match on July 11 against Columbus Crew SC
Following 16 consecutive starts at center back, Kendall Waston missed a match for the first time this season as he was not in the matchday roster for tonight's contest ... Waston was the only player to appear in each of FC Cincinnati's first 16 matches ... the center back picked up an injury in training on Friday
In Kendall Waston's absence, midfielder Haris Medunjanin wore the captain's armband in tonight's match ... it marks the first time someone other than Waston wore the captain's armband for the Orange and Blue this season ... Medunjanin became the fifth player in FCC's MLS history to start a match as captain, joining Waston (40), Nick Hagglund (4), Justin Hoyte (4) and Greg Garza (2)
Goalkeeper Przemysław Tytoń was subbed out of the match in the 81st minute following an injury ... when Spencer Richey replaced Tytoń in goal, it marked the first time FC Cincinnati have substituted a goalkeeper in the middle of a match in the club's MLS history
Head coach Jaap Stam made four changes to the club's most recent match at the Philadelphia Union on Oct. 7 ... Saad Abdul-Salaam, Alvaro Barreal, Nick Hagglund and Brandon Vazquez replaced Allan Cruz, Greg Garza, Jurgen Locadia and Kendall Waston
Greg Garza, Andrew Gutman, Jurgen Locadia and Kendall Waston were excluded from the matchday roster because of injuries
Tom Pettersson did not make the matchday roster because of an illness
POSTGAME QUOTES
FC Cincinnati head coach Jaap Stam
On tonight's match
"They are a good team, everybody knows that as well. A tough team in the league, and they showed that. In bits of the first half, I think we started the game sloppy but that is not the whole game. It was only the passing in the first half. We were not aggressive defending at times, but also (we) were giving the ball away too easy in the first half. This can also be because there is a bit of tension in the players, because of the results. We have spoken about this. We worked on it and they want to do well. That can make it difficult, and you're playing against a good side. The thing is, sometimes by doing that you give them space to play. They scored that one goal. More than that one opportunity that they created, I think they didn't do. In the first half, although we didn't play our best, we still had a couple shots and had that opportunity by a header of Maikel (van der Werff) as well. We could, and needed to score over there. Second half we made a couple of changes. I think, if you look at the game, we dominated a majority of the game. They didn't create anything. We created a couple of moments getting in front of the goal. We should've had, I think, a penalty. Could've scored after that with Nick Hagglund. Saad (Adbul-Salaam) had a shot on target as well, but we were doing a lot better than the first half. Overall, the performance for parts of it, you need to do better, but that also has to do with the opposition cause we don't have to forget we play against top sides. You're always going to give something away. The only thing is that they can make it hard and they scored that goal. Up to now, we haven't. We should've had more out of this game, unfortunately. That's the position we are in now. We need to make our own luck. We need to work hard for it. Nobody's going to give it to us. We have seen that in the past. In this game as well. We need to keep working for these points."
On the overturned penalty call
"Yeah, I think it was a penalty. You know, the only strange thing that I find is that the fourth official is turning here, because he's very close by so he sees it well. So, now he's standing almost on top of it. He sees it, and he gives a penalty. Then afterwards, you get a recall that it's not a penalty. Well, first off, something happened over there, and then you can't say anything about that. So, it's a bit strange, to be honest, and the other referees, in general, are a bit doubtful. But now you don't want to complain about that. We need to score ourselves and we need to create opportunities. That's the main thing. The second half, we did a lot better in terms of being more aggressive, going forward on the ball, being more dominant, which is good, but it's a shame we don't reward ourselves with the goal."
On players stepping up
"You know, we needed to make substitutions as well. We needed to make changes. You can see in the first half everybody was very eager to start, to do well. Sometimes it brings a little bit of tension into plays, in how to perform, because you need to perform. Some of the players, you can see that are tired as well, and then we don't have the depth in the squad as well to rotate as these teams who have played like four or five years together and have a very wide squad there in terms of the amount of players. So, we need to deal with it, but it's not easy because you can see every time we need to push ourselves we need to work very hard to get opportunities or to score a goal. Sometimes against these teams with a lot of ability, you can concede at times and that's how it goes in soccer. We all know that. Everybody's very willing to work very hard and give their best efforts and we all want more. We all understand that. That's for us, the players, for the coaching staff and everybody working with the club. You know, (it's) very obvious everybody wants to win. Sometimes it's difficult as well."
FC Cincinnati defender Nick Hagglund
On his return to the pitch
"I was pretty tired to be honest. The first half was a blow. Once I got my feet under me in the second half and got my second wind, it was a lot better. I only had a couple trainings before the game, so it was a tough one to get through. Glad to get through it."
On playing against his former club
"I think it's fun to get to play your old club, especially because you know all the guys. This was the first team that I ever played for, they helped create the soccer player that I am today. So, it was special to go up against them and see your stuff, see how you've progressed as a player when you play against your old team. Try to thwart what they're doing, and you kind of know the inside job of how they work and how they do things. So, it's a fun challenge."
On the current mood of the team
"It is certainly frustrating for the group to go on a four-game skid here. Ultimately, we had a meeting this week and it's about these last six games now that can determine our season. In MLS, you can catch momentum and anything can happen. You get one win, that builds momentum and begins trending in the right direction. You get a second win, a third win, and suddenly you're in the playoffs. It's about looking at yourself in the mirror, looking each other and fighting for your own pride, your teammates. It's about looking our season in the face during these next six games. You can either lie over and fall down and say that it's over, or you can band together and look at the next game. Next thing we have is practice, we have to practice at 100%. Do that well and ultimately the next day do that well and hopefully those add to a winning recipe against Columbus (Crew SC)."
FC Cincinnati defender Andrew Gutman
On tonight's match
"It was great to be back out there. This was my first real injury of my career, so I was pretty gutted not to play the last two games, because I always want to help the team and do everything I can. It was great to be back out there and hopefully I can stay healthy and continue out the season."
On how the team can stay healthy
"This season, the way it is set up is crazy. It's not only our team, you see across the league guys are going down, just with the amount of games in such a short amount of time. You just got to get recovered as quick as you can, and you got to be doing everything and then some to stay healthy. This season is unlike any other season that anyone will probably play ever again. You just gotta push through it as much as you can, and even if you get injured, the next guy has to be ready to step up. It's a huge team effort this year. You've seen it with us, and you've seen it with every team across the league."
On the opportunities the club created
"Yeah, we played well for most of the game, but you have to play for 90 minutes to get results in this league. There were moments when we didn't play so well and that hurt us in the end of the game. I think the team is making progress but it's not good enough for us and we have to do better, we have to put together a complete 90 minutes. You can see when we do well and we're taking control of the game, we are a very good team. It's just consistency, and right now it's not good for anyone in the team. We need results and we got to figure something out here really quick."
• Discuss this story on the Major League Soccer message board...


Major League Soccer Stories from October 11, 2020
The opinions expressed in this release are those of the organization issuing it, and do not necessarily reflect the thoughts or opinions of OurSports Central or its staff.