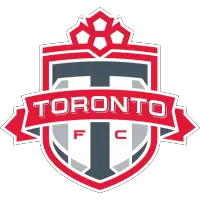 Toronto FC (1) - FC Cincinnati (0) Post Match Summary
October 11, 2020 - Major League Soccer (MLS) - Toronto FC News Release



SCORING SUMMARY
TFC - Patrick Mullins 29' (Richie Laryea, Alejandro Pozuelo)
MISCONDUCT SUMMARY
TFC - Omar Gonzalez 9' (caution)
TFC- Jonathan Osorio 21' (caution)
FCC - Andrew Gutman 66' (caution)
FCC - Nick Hagglund 67' (caution)
TFC - Laurent Ciman 72' (caution)
MEDIA NOTES
With tonight's victory, Toronto FC becomes the first team in MLS to clinch a playoff spot in the 2020 Audi MLS Cup Playoffs
Jayden Nelson made his first MLS regular season start in tonight's match
RECORDS
TORONTO FC: 11-2-4 37 PTS.
FC CINCINNATI: 3-10-4 13 PTS.
LINE-UPS
TORONTO FC - Quentin Westberg; Richie Laryea (Tony Gallacher 70'), Omar Gonzalez, Eriq Zavaleta, Auro Jr.; Jonathan Osorio (C), Marky Delgado (Pablo Piatti HT'), Liam Fraser, Jayden Nelson (Nick DeLeon 60'), Alejandro Pozuelo (Laurent Ciman 89'); Patrick Mullins (Ayo Akinola 59')
Substitutes Not Used: Kevin Silva, Tsubasa Endoh, Erickson Gallardo, Jahkeele Marshall-Rutty
FC CINCINNATI - Przemyslaw Tyton (Spencer Richey 81'); Mathieu Deplagne (Andrew Gutman 41'), Maikel van der Werff, Nick Hagglund, Saad Abdul-Salaam; Frankie Amaya (Kamohelo Mokotjo HT'), Haris Medunjanin (C), Yuya Kubo; Joseph-Claude Gyau, Brandon Vazquez (Siem de Jong HT'), Alvaro Barreal (Allan Cruz 64')
Substitutes Not Used: Robert Edwards, Zico Bailey, Caleb Stanko
GREG VANNEY - HEAD COACH, TORONTO FC
There was a fair bit of excitement in stoppage time. What was your take on the penalty non call and then the somewhat dangerous back pass?
"The back pass was nonsense. I'll just leave it at that. The penalty...the ball was crossed in and Omar had a good line on the ball. His eyes were on the ball and he was attacking the ball. At the same time their player was moving backwards, trying to get to the ball, so I think our guy had the initial position. Their player runs into our player as he's trying to get to it, and he goes down. That shouldn't be a foul on us if we're in the right spot. So that that was my read on it and they must've seen what they saw as well. But it was a little fuzzy there for a few minutes for sure and we definitely had a bit of tired legs. Things weren't super sharp on the turf, a lot of balls bouncing up on us, again, like the other night in New England. Just the weight of the passes sometimes is wrong and or the ball comes a lot faster than we think. And we're not quite prepared for it. Little things like that, but we are playing these games so close together. There's some rotation and the lineup tonight and guys just had to compete and work it out and get the three points. And they saw it out."
What are your thoughts on the significance of clinching the playoffs here at this stage given the long list of challenges you're facing?
"I know the guys are proud of it, but they have their eyes on something a little bit bigger here over this stretch. And so, it's nice to have the playoff spot, but we're in that position where I know our guys ... we don't talk about it ... but they're looking at the fact that they're at the top of the. table and competing every play to try to stay there. But really proud of the group. To stay focused, there's lots of challenges here, not just for us but for everybody. But some special challenges for us for sure and the guys are staying focused. They're giving it every single day for each other and that's huge. When you're getting good results and competing like this, then it makes the difficult times a little bit easier. And so, we've been able to manage to do it the right way. So, we've got a tough two games ahead of us. This was the hump game, if you will, in the middle of this thing and now we've got to turn around in three days and play again, with a little shorter rest. So, we've just got to regroup and keep battling."
Would you say this was a tough, workmanlike performance?
"I'd say so. I mean we weren't fantastic with the ball, for sure. At times we were rushing things. In the first half we were a little all over the place with our movement. We weren't getting the runs and the positioning that we needed to, and we wanted to. It got to be a little bit random and so because of that, and just with the turf, and maybe a little bit of fatigue, we were losing too many balls between our lines that then turned into transitions. And when you lose a ball between the lines you have to transition you have to work double hard in recovery and the field starts to get long. So, I think it starts to wear on us over the course of the game, which really kind of made it a grind. We didn't hold the ball as much as we needed to, and that would have brought the tempo down. There were a few stretches where we were able to, but not enough over the course of the game for us to really manage the tempo the way we'd like to. But we defended hard. We protected our goal. They didn't have a lot of great looks. Obviously, some crosses that we had to deal with. So, we defended well nevertheless."
JONATHAN OSORIO - MIDFIELDER, TORONTO FC
Thoughts on being the first team to clinch a playoff spot...
"It just goes to show how great of a club this is and the mentality that we have here to keep going no matter what's thrown at us. Obviously, there's been a lot of obstacles that have been thrown to every team in the league. Us, here at Toronto, we have dealt with that in the best possible way from top to bottom and it just goes to show on the field when we're getting results. The team has such good character and guys that have experienced so much in the last several years so, we believe here, we know what we're capable of, we have high expectations for ourselves now and I think to clinch a playoff spot so early, to be the first ones in the league to clinch, with everything going on it's a huge compliment and says a lot about this club."
Last three road games were all 1-0 victories what does that say about the team and your ability to find different ways to win games?
"Yeah I think especially in these last two games, there's a lot of different factors that made them both very difficult games whether it was the field condition, little bit of tired legs, guys coming back from injury, guys trying to avoid injury it's been tough but we've been able to grind and like I said just shows the character and mentality we have here. We know that we're able to score goals and obviously we want to score more than one goal in a game, but I think championship DNA you have to be able to win 1-0. This is the way games are sometimes in the playoffs and you have to grind it out and defensively you have to be really sharp, I think this is really good for us right now and this is showing us we can do this and gets us ready for when we go into the playoffs."
Greg gave some guys like Mullins, Zavaleta and Liam a chance to start tonight, what did you think of the way the guys that haven't played a lot played tonight?
"Amazing. I think everybody who stepped in did their part and exactly what was asked of them and more. Amazing by everyone who came in, Jayden also came in and did a great job for us. Zav, Pat and then Liam with me in the middle, all great jobs by them to come in, having not had a lot of minutes and coming into a difficult game and grinding that result, it's not easy and they did an amazing job. Like I said championship teams have depth, when your depth is called upon and they're always ready to perform. We're really happy right now with where we're at as a team and the results we're getting and the performance of everybody who's getting called upon. It's been really good."
You've worn the captain's armband for a few games, do you have a different understanding of what that means to wear the armband now that you've had experience with it?
"Yeah for sure. Like I've said I've been learning every game that I've have it on. Getting put in different situations and trying to get the best of everybody on the team. Now I understand how that feels in that role, it's actually helped me understand more of what Mike has done all these years and it's opened my eyes to how good of a job he's done for this club. Being in that role has made me appreciate even more than I already did of what Mike has done for the club and also has helped me to learn to try and get the best out of your teammates in different situations, trying to find what the team needs and what you need to emphasize in certain games. It's a good learning experience for me and I'll keep learning every time that I get a chance to wear it."
• Discuss this story on the Major League Soccer message board...


Major League Soccer Stories from October 11, 2020
The opinions expressed in this release are those of the organization issuing it, and do not necessarily reflect the thoughts or opinions of OurSports Central or its staff.