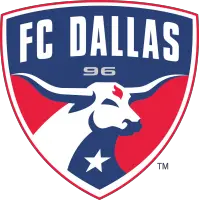 Sixth-Seeded FC Dallas Upsets Third-Seeded Portland Timbers at Providence Park
November 23, 2020 - Major League Soccer (MLS) - FC Dallas News Release



Portland, OR - FC Dallas advances to the Audi 2020 MLS Cup Playoffs Conference Semifinals after Ricardo Pepi scores the game-tying goal in the 90th minute and Jimmy Maurer saves Jorge Villafaña's penalty kick in the PK shootout.
FC Dallas will play the winner of (2) Seattle vs (7) LAFC which is scheduled for Tuesday, November 24 at 9:30PM CT.
Game Summary
First Half:
6' - Jimmy Maurer made an early save after Yimmy Chará headed in a cross from Jorge Villafaña.
11' - Maurer was able to make his second save of the night after he made a dive to save a right-footed shot from Andy Polo at the top of the box.
30' - Franco Jara beat Steve Clark in Portland's goal after receiving a through-ball from Ryan Hollingshead but the goal was disallowed for offside by VAR.
45' - Maurer collected a dangerous cross at the second attempt with two Portland players bearing down on him.
Second Half
49' - Bressan attempted a long-range shot from well outside Portland's box but Clark saved it comfortably.
54' - Maurer made a one-handed save to tip Christian Paredes' first-time volley over the bar.
64' - Maurer made another save to deny Paredes, this time diving to his left to parry it out.
72' - Maurer made his third save in quick succession to deny Felipe Mora's close-range shot.
77' - Bryan Reynolds whipped in a cross from the right flank but it was just out of reach for Ryan Hollingshead.
82' - Jorge Villafaña opened the scoring for Portland from close-range after receiving a pass from Diego Valeri.
90'+3' - Substitute Ricardo Pepi equalized for FC Dallas with a close-range finish to force extra time.
Extra Time
105' - Hollingshead attempted a curling shot from outside the box but his effort went wide.
106' - Franco Jara connected with Michael Barrios' cross but his header was caught by Clark.
Penalty Kicks
FC Dallas Portland Timbers
Reto Ziegler - scored Diego Valeri - scored
Franco Jara - scored Marco Farfan - scored
Bressan - scored Dario Zuparic - scored
Ricardo Pepi - scored Jeremy Ebobisse - scored
Ryan Hollingshead - scored Blake Bodily - scored
Matt Hedges - scored Diego Chará - scored
Tanner Tessmann - scored Marvin Loria - scored
Ema Twumasi - scored Jorge Villafaña - saved
Lineups:
FC Dallas - Jimmy Maurer; Johnny Nelson, Bressan (Ricardo Pepi - 85') , Matt Hedges, Bryan Reynolds; Thiago Santos (Michael Barrios - 86'), Andrés Ricaurte (Ema Twumasi - 80'), Jesús Ferreira (Tanner Tessmann - 61'); Ryan Hollingshead, Franco Jara, Fafa Picault (Reto Ziegler - 110').
Substitutes not used - Phelipe, Bryan Acosta, Santiago Mosquera, Brandon Servania.
Portland Timbers - Steve Clark; Jorge Villafaña, Dario Zuparic, Larrys Mabiala, Pablo Bonilla (Marco Farfan - 94'); Diego Chará, Yimmi Chará (Marvin Loria - 95'); Eryk Williamson (Christian Paredes - 45'), Diego Valeri, Andy Polo (Blake Bodily - 105'); Felipe Mora (Jeremy Ebobisse - 88').
Substitutes not used - Aljaz Ivacic, Bill Tuiloma, Chris Duvall, Andres Flores.
Scoring Summary:
POR: Jorge Villafaña (Diego Valeri, Christian Paredes) - 82'
FCD: Ricardo Pepi - 90'+3'
Misconduct Summary:
FCD: Fafa Picault (caution) - 36'
FCD: Andrés Ricaurte (caution) - 75'
FCD: Ema Twumasi (caution) - 120'+1'
Weather: Rain, 41
Referee: Armando Villarreal
Assistant Referees: Cameron Blanchard, Matthew Nelson
4th Official: Victor Rivas
VAR Official: Timothy Ford
FC DALLAS POSTGAME QUOTES
FC Dallas head coach Luchi Gonzalez
General thoughts on tonight's match
"Proud. Still processing. This is not an easy place to play. I know Portland's had their big challenges this year. We've had our own. Every team has had their own sets of challenges even here in the playoffs. A lot of respect for Gio (Savarese) and his staff. They're a very good team and efficient. They put us in trouble the first 20 minutes. But we were making plays defensively, we didn't concede and as the game went on we found more of the ball, found more space and found the game ultimately. We gave up that goal at the end which was disappointing. But at the same time, this group believed in themselves when a lot of others didn't, and that's always going to be the most important--that internal belief. What a great set of human beings that I get to work with. They just showed today that they can also be warriors on the field. So proud of them, so proud of the staff, so proud of ownership that's always supported us in the ups and downs. We'll process this, we'll rest and this is business because we have another opportunity and we'll take another step. So we'll focus on the next one very soon and see who it's going to be."
On goalkeeper Jimmy Maurer's performance in the shootout
"Drew (Keeshan) is so prepared and such a great professional--our goalkeeper coach. He sits with all the keepers and goes over some habits. He doesn't necessarily tell Jimmy which way to go but these are some trends, trust your instincts but notice these timings and steps. Jimmy made the save later on but he was close on a few. He guessed the right side on a few but some of those PKs were very well taken by Portland and we were fortunate to get that one at the end."
On forward Ricardo Pepi's performance
"He's a young man that's worked really hard through the youth program and Academy. He's always been humble and hard working. He doesn't depend on his natural talent, he tries to show a great mentality to learn and be patient and give everything in his opportunity. And tonight was a product of that and I know he's still going to learn a lot more and he has a great future. He certainly showed that he can step in at the biggest stage in a pressure moment when we need it most and deliver. So I think it's just the beginning for a player who's going to support this club and have a career in this league."
FC Dallas forward Ricardo Pepi
On what this match means for your career
"It's a big game in my career. Obviously, getting the opportunity to help the team stay in the game, score the game-tying goal, stay in the playoffs, continue to the next round, it was a very important moment for me. When I scored the goal, it brought me a lot of joy and happiness. I came into the game thinking I was going to make a difference and I did. A lot of happiness. In the penalty, I had a lot of confidence in myself because I know I'm good at those and I scored it."
On scoring the goal and keeping Dallas' chances alive
"As a team, we knew we were going to have one more opportunity and fortunately that was the chance. We kept fighting even after they scored late in the game in the 82nd minute, we never stopped. We kept fighting for our goal. In the 93rd minute, the goal came, and it brought a lot of confidence to the team to keep pushing and to keep fighting until the very end."
FC Dallas Goalkeeper Jimmy Maurer
What were you thinking about the last play of the game when Valeri's ball hit the post?
"Thank God it didn't go in. After that whole game, if that would have gone in and ended the game off of a mis-hit cross where he was trying to find Jeremy (Ebobisse) on the back post that would have been absolutely our breaking point".
What was going through your head during the penalty kicks?
I was frustrated. I felt like I was getting good reads on the PKs, I got really close on a few, even the one that went down the middle I thought I was going to be able to get my foot on it. It went just barely over like my shoelaces but I just knew that the guys were taking their shots so well that I was like 'I just got to get one, just got to get one and we're going to win it'. I was pissed, to be honest. I was like 'I'm saving this next one' and that will do it.
• Discuss this story on the Major League Soccer message board...


Major League Soccer Stories from November 23, 2020
The opinions expressed in this release are those of the organization issuing it, and do not necessarily reflect the thoughts or opinions of OurSports Central or its staff.