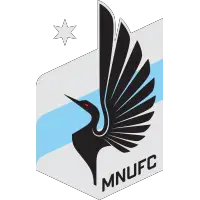 Loons Win First MLS Playoff Game
November 23, 2020 - Major League Soccer (MLS) - Minnesota United FC News Release



SAINT PAUL, Minn. - For the second year in a row, Minnesota United found themselves with the fourth seed in the playoffs, this time facing a surging Colorado Rapids team that won on Decision Day to vault into fifth. With Colorado winning their last three and Minnesota unbeaten in eight, something had to give and the Loons made sure it was the Rapids. While the visitors began brightly, the home side seized momentum in the 22nd minute on a strike by midfielder Kevin Molino. The Rapids regrouped in the second half but found themselves undone by goals in the 54th and 79th minute, with Molino completing his brace on the second of those two. Dayne St. Clair and the defense stood tall through some rugged challenges to keep the clean sheet and send the Loons to a conference semifinal meeting with their old friends, Sporting Kansas City.
Much to Head Coach Adrian Heath's chagrin, the game began with Colorado seizing the moment and pushing the Loons deep into their own half for the first 15 minutes. Lacking both right back Romain Metanire - who couldn't get back from the international break in time - and a fully healthy Osvaldo Alonso, MNUFC began with midfielder Hassani Dotson at fullback and Marlon Hairston alongside Jan Gregus in the double pivot. Initially, this led to a little looseness in defense and some opportunities for the Rapids.
In the fifth minute, goalkeeper Dayne St. Clair - starting his first MLS playoff game - was forced into a tough spot by a ball over the top that caught the Loons' defense flatfooted. Picking the ball up on the left side, midfielder Jonathan Lewis blasted a shot directly at an onrushing St. Clair but the Canadian keeper was up to the task, turning the shot away with an outstretched foot.
With St. Clair standing tall at the back, the home side eventually began to get in some stabbing forays into Colorado's half. Balls forward began finding the attacking four who proved so deadly against FC Dallas in the final game of the regular season. In the 22nd minute, their hard work paid off. Hassani Dotson threw the ball in on the right side to a waiting Kevin Molino, who tapped it through a defender's legs to a cutting Emanuel Reynoso. Reynoso paused and sliced back towards the box but lost the ball. Molino, however, had followed up his earlier pass and slotted the ball confidently with his left foot onto the far post and past goalkeeper William Yarbrough to make it 1-0.
Getting the first goal imbued the Loons with confidence and they proceeded to push their possession advantage up over the back half of the opening stanza, eventually getting it up to 56.2% by the whistle. Minnesota came perilously close to doubling their lead minutes later as midfielder Younes Namli turned the ball over to a pestering Molino. The Trinbagonian got it to Robin Lod - playing the false 9 as he did against Dallas - and the Fin got it to Reynoso with a wide open net in front of him. Somehow, though, his shot struck the right post and rolled harmlessly away, leaving the Loons cursing their luck.
Colorado, though, were not about to lie down on the pitch without a fight. In the 43rd minute, St. Clair was once again called upon to Lewis as the midfielder found himself isolated on the right side of the pitch. St. Clair came rushing out to the edge of the box and slid in to get the ball off the midfielder. With just a minute of stoppage time to play, the Rapids could not pull level and Minnesota headed into the locker room with a goal in hand.
The Rapids came out of the break much as they began the game: aggressive, disruptive, full of energy. Minnesota needed some strong last ditch defending in the second half's opening minutes, including a desperate dive by defender Bakaye Dibassy to redirect a shot from Cole Bassett into the sheltering arms of St. Clair in the 48th minute. Moments later, it was Jan Gregus spearing a shot over the crossbar in the 52nd minute after St. Clair had come out wide to challenge the Colorado attack.
But then in the 54th minute, the home side caught the visitors pushed too far forward. Mirroring the opportunity from the first half, Lod received the ball on the run on the right side and got the ball to his favored left foot before launching a shot that curve in on the far post and doubled the lead for Minnesota to 2-0.
In the 67th minute, Molino missed an opportunity to push it to 3-0 after he skied a shot over the crossbar but 12 minutes later he made up for it. Humming like a well-oiled machine, the Minnesota attack threaded the ball smoothly through Colorado's half before it found Jan Gregus at the edge of the box and straight out from goal. Gregus picked out Molino on the right side and the midfielder danced the ball in over Yarbrough to make it three for the home side in the 79th minute.
Down the stretch, there was work to be done for the Loons to preserve the clean sheet and make the victory authoritative. St. Clair made another quality save in the 87th minute and then forward Diego Rubio missed a good look over the crossbar at the death as the Loons put their first playoff win in MLS to bed with Sporting Kansas City on the horizon.
BELL BANK MAN OF THE MATCH: Midfielder Kevin Molino
GOAL BREAKDOWN
22' | Hassani Dotson throws it in to Kevin Molino, who gets it back to Emanuel Reynoso. Reynoso takes it into the middle and the ball gets away from him but Molino is first to it and slots the ball with a left-footed shot on the left post confidently. Yarbrough had no shot at it. 1-0
54' | Robin Lod gets another opportunity from the right side with the left foot and this time he doesn't miss, sending it curling onto the far post. 2-0
79' | Once again on the break, lovely interplay ends with the ball on Molino's feet on the right side after Jan Gregus sends the ball across the top of the box. 3-0
LINEUPS:
Minnesota United: GK Dayne St. Clair; D Bakaye Dibassy, Brent Kallman, Joe Aja, Romain Metanire; M Jan Gregus, Marlon Hairston, Kevin Molino, Emanuel Reynoso, Ethan Finlay; F Robin Lod
FC Dallas: GK Phelipe; D Bryan Reynolds, Matt Hedges, Bressan, Ryan Hollingshead; M Andrés Ricaurte, Thiago Santos, Michael Barrios, Jesús Ferreira, Santiago Mosquera; F Ricardo Pepi
UP NEXT
Minnesota United @ Sporting Kansas City
Children's Mercy Park | Kansas City, Kansas
TBD | Audi 2020 MLS Cup Playoffs | Western Conference Semifinal
MINNESOTA UNITED QUOTE SHEET
MINNESOTA UNITED HEAD COACH ADRIAN HEATH
On the first playoff win in franchise history and for him as a coach ...
"Pleased for everybody. Pleased for the players. Magnificent effort. I thought we conceded too many opportunities for them in both halves. Certainly, in the beginning. In terms of the commitment of the group, you know, Jan [Gregus] and Robin [Lod], we haven't trained together since the last time they were here. No Romain [Metanire]. Obviously, Kei [Kamara] has been traveling a long way. I thought Hassani [Dotson] was outstanding. I thought the two center backs defended the goal well. Chase [Gasper] looked lively. And, we had a couple of occasions where Dayne [St. Clair] has come up big for us. So, very, very pleased for a lot of different reasons. Pleased for the group. Pleased for our supporters more than anything. Pleased for our ownership group because I think they're starting to see the sort of investment on the field now starting to take shape."
On tonight's win having a little bit of flare, and his take on the creativity the squad showed on the field tonight ...
"Well, I'm being perfectly honest, if Robin Lod, [Emanuel] Reynoso and [Kevin] Molino are fit and healthy and all playing well, I don't think there's many better attacking midfielders behind a striker in the league than them. I really don't. I thought some of our combination play and imagination to play with each other and to get people in on goal. I know they've had chances, but conceivably, we could have had six or seven with the chances we had. You know, I think Kevin could have had four or five on his own. Kei [Kamara] came on. And Robin [Lod] had a couple. Really pleased. I'm really pleased for a lot of people. But, them three especially because it's taken us a while to get them all together, but they're starting to gel and we're all starting to find out what we're good at and that bodes well for the future. And, I don't mean for the playoffs. I mean for the next years, few years."
On how Emanuel Reynoso's goal didn't go in and Jan Gregus' save on the goal line ...
"Obviously, Rey [Reynoso] was disappointed. It was a golden opportunity. Obviously, somebody of his ability, he would expect to score. But, they've had a couple of great opportunities and you know, we've had a couple of big clearances. We've been a little bit lucky at important times. Because, you need a bit of luck. No matter how well you think you play, there's always a moment in the game where you need a little bit of fortune. I don't count Dayne [St. Clair] coming up with big saves as a bit of fortune. That's his job. That's what he's paid to do. And, he's good at it. But, they missed a couple of golden opportunities where they'll be disappointed. And, goals change games. It would have put them back in the game. But, that's all ifs and buts."
On the different between the two conference semifinal dates ...
"At this moment, I honestly don't know. I'd tell you if I knew, I honestly don't know. All I know if we've got Kansas City, and we have been, at best, awful at times there. So, we're going to have to play a lot better than we've done in the past to get a result there. Certainly, better than we've played. I'm trying to think, the past three or four performances there have been really poor on our side. So, we're going to have to play a lot better than that if we're hoping to advance."
On what this means for the fanbase and what it means for those who have been on this journey with him, especially with him being here from the beginning ...
"I think it shows that we're progressing, which is always the name of the game. We're not standing still. We're moving forward. I've said from the very beginning, we were in a very difficult spot when we started, with everything that had to try and build. And, we've done it. We've built really, really well off the field. And, now, we're starting to build really, really well on the field. It's been a situation where you've had to go in tandem when you're building the stadium that we've built and paying for the franchise. For a lot of clubs, it's difficult to go and then put it into the team. As we've started to put it into the team, we've got better and better. And, that's the message, really. That we can't stand still. Had we lost this game this evening, I would have been pleased with the year and said, alright, now we have to go and try and get better. And, regardless of where this journey ends this year, we will try and get better again in the offseason because that's the name of the game. We're hoping to bring two or three players in that will compete for starting places. So, that's the nature of what we're trying to do. Incrementally getting better every transfer window. That's what we've done in the past and that's what we're trying to do."
On what the message was at halftime ...
"Well, beginning of both halves, I thought they started on the front foot. They had a great chance in the first half when it was nil-nil and Dayne [St. Clair] had come up with a big save. They had two in the second half. And, it's the oldest saying in football and I use it all the time. Goals change games. If you were sitting in their locker room, and you're thinking, we've had really big opportunities at opportune moments and they haven't taken them. And, you know, in the end, it's come back to haunt them a little bit because we've taken some really good opportunities ourselves."
On his sixth year in MLS and what it means to him as a coach to have a playoff win on his register ...
"Well, it means we're getting better here. And, everybody knows what my feelings are about Orlando. It's a part of my life that I'll never forget and something I'll always be eternally grateful for. But, now I'm here. This is what I'm trying to do. I've said to you before, I'd like for this to be my last job. I want to be successful here, that I'm gonna be here for the next three, four, five years, whatever, however long it takes. And, if we can keep getting better, I have a better chance of doing what I want to do. Which, this would be my last job."
On what he saw from Hassani Dotson tonight and the moments when the Rapids were trying to overload that side ...
"Well, they were, but sometimes that's not to do with the fullback. That has to do with people in front. They moved the ball well down the side of the field. Both sides. I think Hassani [Dotson], considering it's not his primary position, you know, he stepped in last year and did excellent. And, I thought he's done really, really well again today. I always say this about Hassani. He's got a really good feel for the game, and no matter where we could play him, I always feel as though he will do a really, really good job. And, I thought some of his defending was outstanding at times. Some of his covering positions on the center back was outstanding. So, he can be really pleased with the work he's done tonight, because Hassani is another kid who is coming off a really bad injury, a few weeks ago. So, I thought he was really, really good to be honest."
On Osvaldo Alonso's status and what to expect from him against Kansas City ...
"We're pleased to get him back, obviously, because we know what he gives us. Not only the ability but the leadership piece. I think he's trained three or four days this week, and he's gradually, incrementally upped his work. So, he'll work in the next three or four days and he'll get some proper work into him and see where we are this time next week. Because, certainly somebody with experience would be a huge help for us."
On the lack of quality in the final third and if Emanuel Reynoso's presence on the field has changed that, along with Robin Lod and Kevin Molino ...
"Yeah. We've got three people. We've obviously bought Rey [Reynoso] this year. I knew what Robin [Lod] was, I might have been on my own at times, I might have been a voice in the wilderness, but, there you go. But, you know, Robin, I wouldn't change Robin Lod for anybody in this league, in his position. And, Kevin [Molino], we know what Kevin is all about. As I said at the top of the interview, we've got three of the best attacking players in the league. I really believe that."
On contract discussions with Kevin Molino and if he will be back next year ...
"Well, you're never 100 percent, when players are in the final year. We've sort of left the discussions with him. I think we're very, very close and hopefully we can get to the stage where he signs a new deal and he stays here."
On having an entire roster healthy and what he saw from his squad tonight on the field from a confidence standpoint ...
"I think, for a lot of players, they were fresh, but for the likes of Jan [Gregus] and the likes of Robin Lod, and Jacori [Hayes] got on. Hassani [Dotson] and Ozzie [Alonso] got on. But, they've been working really hard the last few weeks. The little break did them an awful lot of good because it gave us a chance to get some proper work in. But, the likes of Jan and Robin, etcetera, the guys who have been away, they'll be feeling really tired because not only have they been playing, they've been traveling. So, that's been, to come through this game, having not worked with the group, which, we haven't, since they were last here with us, so, that's been pleasing. At this stage in the season, it's win and advance or lose and go home. We know that. So, we live to go again. Now we've got three to go. We said to the players before the game, we've got to win four games to win the MLS Cup. Now, we've got to win three."
On karaoke being a theme of the MLS Is Back Tournament in Orlando and if he has to sing Wonderwall for the locker room after this ...
"Well, we're having to keep it low key because we keep getting told we don't want to get COVID. So, we haven't broke into Wonderwall yet. Not in the locker room. Unless I have not heard it. Jan is coming in, so, he might tell me if we've been doing... No, I don't think so. We'll save it for the weekend, hopefully."
MINNESOTA UNITED MIDFIELDER JAN GREGUS
On how he is feeling after returning from international duties...
"I personally feel pretty good. We had the charter flight, so that's also a huge thanks to MLS that they made it possible and that we could play, me and Robin [Lod}, so huge thanks for that. And yes, like I said I feel good. I've been in a good rhythm the last two weeks, let's say when every three days was a game for me, so yeah I feel good. "
On describing the past few days since he's returned from Europe...
"Yes so, I came like three days ago I think. Like [Head Coach Adrian Heath] said, we weren't able to train with the group. First day I came here, I could do only the testing and when it was negative, I could only train by myself or with a small group, so I just tried to stay fresh and get myself ready as best as I could, and that's what happened."
On that third goal and playing with Emanuel Reynoso...
"I saw the opening and I thought that [Emanuel Reynoso] Rey could pass me the ball, and then I saw on the other side, Kevin [Molino] and Robin [Lod], I think, were open. So good that we could score three, we could have scored more, but also, we were lucky a few times that they didn't score."
On the longest unbeaten streak in MNUFC history, and what it means...
"It means a lot. To be honest, I didn't even know it was the biggest streak for the team in the team's history, but the team has quality, the team has quality and like you said, the year was crazy. We've had so many injuries, and everything around the COVID, so we're just glad that we keep working hard and this is the fruit we are getting right now, but on the other hand, we still just want to improve. We know that we can still do better and keep it ongoing."
On his sliding tackle on the goal line...
"Oh yeah. I think it was very important, that they didn't score from that one because I think it would be 1-1, if I'm not wrong, and that would be a completely different game. So, I'm just glad I kind of made him uncomfortable there and he missed the chance. But yes, I think it was very important that they didn't score from that one and we scored our second then third after."
On the quality in the final third and how it's changed with the new players...
"Oh yeah, I think the boys [Kevin Molino, Robin Lod, Emanuel Reynoso] are on fire now. And I hope that the form goes and stays with them. And yes it's true, Rey, obviously, especially him in the holes, can create so much space and so many chances, so good for us that we have those options, but not only him. Last games, I think all four of them played really well last games."
MINNESOTA UNITED DEFENDER MICHAEL BOXALL
On captaining MNUFC to its first playoff win...
"It means a lot. Walking off the field I was thinking back to where we were at when I first came to the club. For me it just really sucks that there was no one in the stands. We've had the best support, even through 2017 and 2018, those rough years. Obviously incredible support to have one of the best home records last year. It just sucks that there was no one there to really celebrate with. Everyone knows that the fans make the place what it is."
On starting the year as underdogs and the ambitions for the club this postseason...
"I think after that tournament [MLS Is Back] we made some great additions to the team and everything has started to click the last few weeks. Heading into tonight, as a group we expected to win. Heading into the next game, its something where we are excited for the challenge and we can keep going and we still have a lot further to go in this playoff run. For most of the season there have not been many games where, I felt, it wasn't a game we shouldn't get something out of, particularly when we are playing our best. Like every other team we have dealt through dips in form, through injuries, through a lot of breaks in the season, and here we are in the conference semifinals."
On quality in the final third on this roster...
"[Emanuel] Reynoso is massive for us. In previous years we have gotten a fair amount of our goals from counterattacking and now with Rey, he gives the ball when players need it. Right on time and right on pace to their foot. He is able to carry our load into the final third where we can get set and put pressure on teams in that final third. It gives me a bit of a breather when those guys keep the ball for a few minutes up at the top. Robin [Lod], Ethan [Finlay], [Kevin] Molino have all been class all year. It's fun to watch when those guys are really clicking."
On 2020 as a rollercoaster of a season...
"When you're involved in it, it's hard to take a step back and see the bigger picture and see how far things have really come. This whole year we have literally just taken it a day at a time. When it comes to the Orlando tournament, or the schedule that we have had after that, you could get a text message tomorrow that there's been another COVID case across the league that has disrupted things again. It speaks to this team's resilience. Every team has gone through that , but I think a lot of the part of this team is where the build began in 2017 and all the tough times we have been through, not only this year but in previous seasons has really prepared us. We really excited to keep this push going."
On where the team was when he started and where it is now....
"I think you've seen the club grow and evolve so much, it's really hard to compare I think particularly with all the off-the-field stuff. I think you look at the training ground when I arrived that's improved, like, 10-fold, the stadium that we were playing in and that we are playing in now it's just a little bit better. It's really difficult to compare the two and I think obviously our expectations and the goals that we set last year, and even more so this year, have definitely grown from where we were my first two seasons at the club."
On dealing with the pressure from Colorado on the right-side with Hassani Dotson...
"Yeah, down both planks they kind of moved the ball forward, particularly with their fullbacks. They've got guys in the middle of the pack that can really spread balls and get the balls to their guys, like pretty quickly, in that space. I think, I mean Chase [Gasper] has been immense for us all year. Hassani [Dotson], obviously that's not his natural position, but I thought he contained down that side well. I think later in the game, I'd like to see Jan's [Gregus] mileage, I think he worked his ass off tonight and he was massive, loads. One minute he's running down the right back, then he's back in front of me, then helping Hassani on his side. He got through a massive workload tonight, but yeah, it's never been one person, with this team it's never has been, it's always been a team-thing to, whether it's defending on that side or wherever we are, it's the full team."
On goals changing year over year, did they have similar ones last year...
"I'm not sure something as lofty as MLS Cup was on our mind last year. I think, particularly coming from 2018, it was really that we wanted to make the playoffs and make a home playoff game and obviously just be a tough team to play like we have been all year. I think we wish, yeah that playoff game last year, I think we should've got a lot more out of that. But yeah, here we are this year, I think, obviously we haven't played every team in the league, but it's not many teams that we've played, when we're firing, where we don't think we can't beat. Obviously we are playing a team that we're not too familiar with this weekend, but we're not going there not thinking we can't win."
On coming back from his knee injury...
"Yeah the leg was fine. But yes, I think that time off, just felt a little bit rusty tonight. I felt like I couldn't get the second wind until the 70th or 80th minute. Plus, a little bit chilly tonight, I think it's one of those games where you don't really sweat. But then we obviously have got Jan and Robin [Lod] who, what, flew in two days ago, didn't train with us yesterday and played massive-massive roles for us. Now we've got the whole team here, obviously Romain [Metanire] will come back, and we've got a little time to prepare for the big one next weekend, next week. I think there's no reason why we aren't looking to win that one too."
• Discuss this story on the Major League Soccer message board...


Major League Soccer Stories from November 23, 2020
The opinions expressed in this release are those of the organization issuing it, and do not necessarily reflect the thoughts or opinions of OurSports Central or its staff.