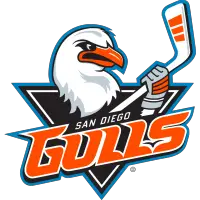 San Diego Gulls Fall to Stockton Heat
October 27, 2016 - American Hockey League (AHL) - San Diego Gulls News Release



SAN DIEGO - Daniel Pribyl netted a goal and three assists as the Stockton Heat (3-0-1-0) held off a furious rally from the San Diego Gulls (2-2-0-0), over the final minutes, posting a 7-5 victory in front of 5,634 fans at Valley View Casino Center.
The Gulls put 37 shots on goal and had almost three minutes of power play time to close out the third period, including 2:09 of a two-man advantage with the goalie pulled, but could not push an equalizer behind Heat goaltender Jon Gillies. Gillies made 32 saves, earning the victory and improving to 3-0-1-0 this season. Ondrej Kase netted his first two goals and an assist (2-13) for the Gulls, and Brandon Montour had a goal and assist (1-12) to go with a season-high 12 shots on net as San Diego mounted a comeback from 6-3 down in the third period. Corey Tropp's rebound goal, coming on extended possession during a delayed penalty call against Stockton, made it a 6-4 game at 13:42 of the final frame. Just over two minutes later, Montour followed his own shot into the mid-slot, firing a diving attempt on the rebound over Gillies' shoulder while leaving his skates to make it a 6-5 affair with 4:12 remaining in the contest.
"I liked our confidence when we were down," said Gulls head coach Dallas Eakins, "You're going to have nights in this game where you're playing very, very well and you're going to have things go against you."
When Stockton's Kenny Morrison was called for a high sticking penalty with 2:53 remaining in regulation, the Gulls went on the man advantage, and added an extra attacker with 2:09 left to play. Despite extended pressure, San Diego saw the puck ricochet between skaters between the circles without finding a stick in position to net the game-tying goal. A last second clearance found Ryan Lomberg, who put home an empty-net goal with 0.9 seconds on the clock to set the final score.
"I thought we held our confidence, especially when we were down and we were just so close to evening the score," said Eakins.
San Diego managed the game's first goal on Ondrej Kase's first of two power play strikes, grabbing a 1-0 lead at the 13:55 mark of the first period. The remainder of the frame was filled with controversy and defensive lapses. Morgan Klimchuk took advantage of a steal and several turned heads to walk out directly on Gulls goalie Matt Hackett (21 saves), deking to the backhand before settling home his second goal of the season for a 1-1 score at 15:57.
With under two minutes remaining, a collision in the San Diego crease saw Heat winger Garnet Hathaway draped over the back of the Gulls netminder, forcing Hackett to his hands and knees on the ice. With no whistle, penalty or stoppage to be found, Hathaway clawed off Hackett's back and received a pass from behind the net, whistling home a goal over Hackett's prone body for a 2-1 lead.
"They explained it and they honestly see it one way and we see it another," said Eakins, "The things that we always have to understand is one thing about referees: This is a development league. They're developing as well."
"That game tonight, that's as quick and a high-pace game that you're going to get at this level. You have to take that into account, too. There's a lot going on on the ice. The refs are doing the absolute best that they can."
A wild second period saw Stockton and San Diego exchange goals back and forth, with the Heat scoring first and last to build a 5-3 advantage. Daniel Pribyl's goal from the slot was followed by Kase's second, a brilliant redirection of a Montour power play pass from right wing. Rookie Andrew Mangiapane wristed one past Hackett at 9:23 to restore a two-goal lead at 4-2 Stockton, only to see the Gulls' Nate Guenin execute a nifty wrap-around goal, forcing Gillies out of position before skating behind the net to tuck home his first San Diego score at 11:23. Hunter Shinkaruk's power play answer at 12:25 allowed Stockton to carry a two-goal lead into the final frame. The Gulls travel next to Winnipeg, Manitoba, where they will take on the Manitoba Moose for back-to-back games starting Friday night at MTS Centre.
NOTES: The Gulls went 2-for-4 on the power play, the Heat 1-for-2...Shinkaruk's power play goal was the eighth conceded by San Diego in 18 power play opportunities...San Diego has given up at least one power play goal in all four games this season...Stefan Noesen collected his first two points of the season (0-22), assisting on the first Kase goal as well as Montour's score...Corey Tropp (1-23) collected his third multi-point effort of the season and Kalle Kossila (0-22) also produced his first career multi-point game for San Diego...Gillies made 17 of his 32 saves in the first period...Morgan Klimchuk recorded four points (2-24) and +4 rating.
• Discuss this story on the American Hockey League message board...


American Hockey League Stories from October 27, 2016
The opinions expressed in this release are those of the organization issuing it, and do not necessarily reflect the thoughts or opinions of OurSports Central or its staff.
Other Recent San Diego Gulls Stories