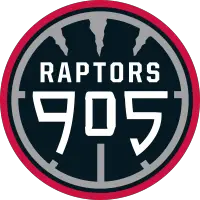 Raptors 905 Announce 2019-20 Schedule
August 26, 2019 - NBA G League (G League) - Raptors 905 News Release



Raptors 905, the NBA G League affiliate of the Toronto Raptors, announced its 2019-20 regular season schedule on Monday. The club will tip off its fifth season in the NBA G League at Paramount Fine Foods Centre on Friday, Nov. 8 at 7:30 p.m. against the Grand Rapids Drive. Raptors 905 road debut is scheduled for Saturday, Nov. 9 against the Westchester Knicks.
The longest homestand of the season is four games, which happens twice, Feb. 12 - Feb. 25 and Mar. 19 - Mar. 26. The longest road swing is five games, from Jan. 10 - Jan. 18.
Schedule highlights include a game at Scotiabank Arena on Dec. 5 vs. Long Island and the annual Bell Let's Talk game on Jan. 29. Raptors 905 share 12 game days with the Toronto Raptors, but only share two direct conflict, Feb. 25 and Mar. 24.
The busiest home day of the week for the 905 this season will be Wednesday with seven games, followed by Saturday with six games. Friday and Saturday are the busiest days on the road with six contests apiece.
Raptors 905 will play 12 games in the months of January and March. The busiest home month is March with seven games, while the busiest road month is January with the team playing seven games away from Mississauga. Raptors 905 will have a league-low two back-to-back games this season (three fewer than last season).
Raptors 905 will play its fourth season in the Atlantic Division this season, joining the Delaware Blue Coats, Long Island Nets, Maine Red Claws and Westchester Knicks. The team played the 2016-17 season in the Central Division. The schedule features 17 divisional battles, 44 conference match-ups and four cross-conference contests. For the 2019-20 season, weekday home games will start at 11 a.m., 12 p.m., 4 p.m. and 7:30 p.m. Weekend home games will tip exclusively at 2 p.m.
Raptors 905 2019-20 ticket information can be found by calling 416-366-DUNK *8 or emailing tickets@raptors905.com. The full broadcast schedule will be released at a later date.
RAPTORS 905 2019-20 SCHEDULE NOTES
Games by Month
November: 8 (4 home, 4 road) December: 8 (3 home, 5 road)
January: 12 (5 home, 7 road) February: 8 (5 home, 3 road)
March: 12 (7 home, 5 road)
Games by Day
Sunday: 4 (0 home, 4 road) Monday: 5 (3 home, 2 road)
Tuesday: 5 (3 home, 2 road) Wednesday: 11 (7 home, 4 road)
Thursday: 3 (3 home, 0 road) Friday: 8 (2 home, 6 road)
Saturday: 12 (6 home, 6 road)
Longest Homestand
4 games: 2/12 vs. Stockton, 2/19 vs. Westchester, 2/22 vs. Maine and 2/25 vs. Fort Wayne.
3/19 vs. Canton, 3/21 vs. Westchester, 3/24 vs. Capital City and 2/26 vs. Capital City.
Longest Road Trip
5 games: 1/10 at Oklahoma City, 1/12 at College Park, 1/15 at Capital City, 1/17 at Canton and 1/18 at Canton.
Back-to-Back-Games
Overall: 2
Home game, followed by home games: 0 Home game, followed by road game: 1
Road game, followed by home game: 0 Road game, followed by road game: 1
• Discuss this story on the NBA G League message board...


NBA G League Stories from August 26, 2019
The opinions expressed in this release are those of the organization issuing it, and do not necessarily reflect the thoughts or opinions of OurSports Central or its staff.