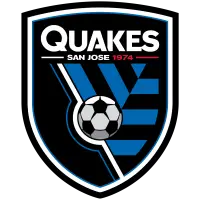 Quakes extend unbeaten streak to four
July 24, 2021 - Major League Soccer (MLS) - San Jose Earthquakes News Release



SAN JOSE, Calif. - The San Jose Earthquakes and Houston Dynamo FC played to a 1-1 draw on Saturday night at PayPal Park. The draw sees the Quakes extend their unbeaten streak to four.
Houston opened the scoring in the 40th minute. Matias Vera took a low shot from distance to the lower-right corner of JT Marcinkowski's goal. San Jose then found the equalizer moments before halftime. Cristian Espinoza centered a free kick into the box, which glanced off Tanner Beason's head and went in off Zarek Valentin for an own goal.
San Jose thought they had scored the game-winner in second-half stoppage time when Carlos Fierro's free kick curled inside the far post untouched, but the goal was negated due to an offside decision.
The Earthquakes will now prepare to travel to Washington to face Seattle Sounders FC on Saturday, July 31. The match kicks off from Lumen Field at 2:00 p.m. PT and will be broadcast live on NBC Sports Bay Area Plus, KNBR 1050 and 1370 KZSF.
GAME NOTES
The Earthquakes now hold a 3-7-5 record (14 pts.) during the 2021 MLS regular season and are currently in 11th place in the Western Conference.
San Jose extended their unbeaten streak to four matches. It marks the club's first unbeaten stretch of 4+ matches since July 2019.
The Quakes are now 9-14-4 all-time vs. Houston Dynamo FC. The Quakes also now hold a 3-1-2 record in their last six home matches against Houston.
Midfielder Jack Skahan made his first MLS start, playing 62 minutes.
MLS Regular Season
San Jose Earthquakes 1 - 1 Houston Dynamo FC
July 24, 2021 - PayPal Park in San Jose, Calif.
Attendance: 12,793
Michelob Man of the Match: Nathan
Scoring Summary: HOU - Matias Vera (unassisted) 40; SJ - Zarek Valentin (own goal) 45+5.
Misconduct Summary: HOU - Fafa Picault (caution) 53; HOU - Tim Parker (caution) 57; HOU - Matias Vera (caution) 68; SJ - Nathan (caution) 70; SJ - Carlos Fierro (ejection) 90+7; HOU - Maxi Urruti (caution) 90+8.
SAN JOSE EARTHQUAKES: JT Marcinkowski; Oswaldo Alanis, Nathan, Tanner Beason, Luciano Abecasis (Paul Marie 72); Eric Remedi, Jack Skahan (Carlos Fierro 62), Shea Salinas, Chofis (Florian Jungwirth 72), Cristian Espinoza (Cade Cowell 62); Chris Wondolowski (Andy Rios 77).
Substitutes not used: Jacob Akanyirige, Siad Haji, Marcos Lopez, Daniel Vega.
SHOTS: 12; SHOTS ON GOAL: 2; FOULS: 12; CORNER KICKS: 3; SAVES: 4
HOUSTON DYNAMO FC: Marko Maric; Zarek Valentin, Tim Parker, Teenage Hadebe, Griffin Dorsey (Derrick Jones 67), Sam Junqua; Memo Rodriguez (Adam Lundkvist 71), Joe Corona (Mateo Bajamich 90+1), Matias Vera; Fafa Picault (Darwin Quintero 67), Maxi Urruti.
Substitutes not used: Jose Bizama, Alejandro Fuenmayor, Ian Hoffmann, Michael Nelson.
SHOTS: 10; SHOTS ON GOAL: 5; FOULS: 19; CORNER KICKS: 5; SAVES: 2
SAN JOSE EARTHQUAKES HEAD COACH MATIAS ALMEYDA
On the steps that needs to be taken to earn a win:
"We made changes today. Tanner [Beason] played, but he played as a full back. We made changes while retaining our style of play to try and get the three points. We are missing that final pass, but the team has been improving quite a bit. I look at the individual part and I see that the level is rising. We have to keep working and try to be consistent in this game. We need to convert on the goal-scoring chances that we get."
On Jack Skahan's performance as a first-time starter:
"He is a young player. Time will make him a better player. There are young players that get loose faster than others. This was a difficult game because their midfield had a lot of mobility. I see that from here and into the next couple of years, there will be many young players for San Jose and that is good for the club."
SAN JOSE EARTHQUAKES MIDFIELDER JACK SKAHAN
On the team's feelings after tonight's result:
"It's disappointing not to win a game, no matter if you're at home or on the road. And obviously ties are better than losses. We're going to get there to where we're winning these games and I'm confident in that. The team's confident in that. But we've just got to keep pushing and doing what we're doing. We're going to figure it out. Because no, it's not like we all walk in the locker room and are happy about tying because we do aim to win every game."
On where he's added his strength:
"Guido [Bonini], our strength coach, would probably say in the weight room. But no, to be honest, having a little bit of experience being on the field, you're just more comfortable and you feel more free to play. I think in the past, I was probably hesitant or weak on the ball. It's a little bit of a shock going out there when you first start playing professionally but I feel a lot more comfortable. I'm going to continue to grow on that and continue to get better, that's for sure."
On how he felt playing in the midfield tonight:
"Yeah, I like playing with Eric [Remedi]. I feel comfortable playing with Eric in the middle. When we were in preseason, Eric and I played together a lot because Jackson [Yueill] was with the national team. And I feel comfortable playing with anybody, any of the midfielders on the team to be honest. And since I've been here, I've been playing in the middle and I feel comfortable there now, and I feel comfortable with the guys there so I hope that we can continue to grow from that and I can continue to help the team."
Images from this story
• Discuss this story on the Major League Soccer message board...


Major League Soccer Stories from July 24, 2021
The opinions expressed in this release are those of the organization issuing it, and do not necessarily reflect the thoughts or opinions of OurSports Central or its staff.
Other Recent San Jose Earthquakes Stories