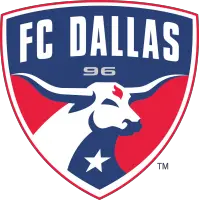 FC Dallas Downs LA Galaxy 4-0 After Ricardo Pepi's Record-Setting Hat Trick
July 24, 2021 - Major League Soccer (MLS) - FC Dallas News Release



Frisco, TX - FC Dallas (3-7-5, 14 points) shuts out the LA Galaxy (8-6-1, 25 points) 4-0 on Saturday night at Toyota Stadium.
Game Summary
First Half:
10' - SAVE (DAL) - Sacha Kljestan's shot from outside of the box was comfortably handled by Jimmy Maurer.
13' - SHOT (DAL) - Justin Che attempted a shot from distance that flew just wide of the goal defended by Jonathan Bond.
27' - GOAL (DAL) - Andrés Ricaurte's through-ball connected with Ricardo Pepi inside of the box who calmly slotted it past Jonathan Bond to give FC Dallas the 1-0 lead.
29' - SHOT (DAL) - After Paxton Pomykal's left-footed shot was blocked, Ryan Hollingshead collected the loose ball and had his shot attempt blocked by the LA Galaxy defense.
45' - GOAL (DAL) - Ricardo Pepi unleashed a thunderous volley that beat Bond to score his second goal of the night and extend FC Dallas lead to 2-0.
Second Half
50' - GOAL (DAL) - Ricardo Pepi collected a loose ball on the edge of the box and his shot evaded Bond at the far right post to score his third of the night and give FC Dallas the 3-0 lead.
61' - SHOT (DAL) - Andrés Ricaurte attempted a shot from the center of the box that flew just above the crossbar.
65' - SHOT (DAL) - Ricardo Pepi connected with a long pass from Ryan Hollingshead and ran towards goal but Bond was waiting for him at the edge of the box to make the interception.
88' - GOAL (DAL) - Justin Che's through ball into space was met by Jáder Obrian who was able to trick Jonathan Bond and send him the wrong direction as he put the ball into the back of the net to extend FC Dallas lead to 4-0.
Lineups:
FC Dallas - Jimmy Maurer; Justin Che, Nkosi Tafari, Bressan, Ryan Hollingshead;
Andrés Ricaurte, Facundo Quignon; Paxton Pomykal (Jáder Obrian - 85'), Jesús Ferreira (Edwin Cerrillo - 69'), Szabolcs Schön (Ema Twumasi - 78'); Ricardo Pepi (Franco Jara - 85').
Substitutes not used - Phelipe Megiolaro, John Nelson, Freddy Vargas, Brandon Servania, Dante Sealy.
LA Galaxy - Jonathan Bond; Julian Araujo, Daniel Steres, Derrick Williams, Jorge Villafaña (Danilo Acosta - 54'), Rayan Ravelson, Adam Saldaña (Nick DePuy - 69'), Sacha Kljestan (Daniel Aguirre - 69'); Samuel Grandsir, Víctor Vázquez (Ethan Zubak - 54'), Kévin Cabral (Augustine Williams - 69').
Substitutes not used - Jonathan Klinsmann, Cameron Dunbar, Jonathan Perez.
Scoring Summary:
DAL (1-0): Ricardo Pepi (Andrés Ricaurte) - 27'
DAL (2-0): Ricardo Pepi - 44'
DAL (3-0): Ricardo Pepi (Szabolcs Schön) - 50'
DAL (4-0): Jáder Obrian (Justin Che) - 88'
Stats Summary: FC Dallas/LA Galaxy
Shots: 12/16
Shots on Goal: 5/3
Saves: 3/1
Corner Kicks: 3/9
Fouls: 10/15
Offside: 0/1
Misconduct Summary:
DAL: Andrés Ricaurte (caution) - 18'
LA: Adam Saldaña (caution) - 22'
LA: Julian Araujo (caution) - 59'
DAL: Jimmy Maurer (caution) - 78'
LA: Danilo Acosta (caution) - 83'
Weather: Sunny, 99
Attendance: 14,812
Referee: Silviu Petrescu
Assistant Referees: Claudiu Bodea, Chris Elliot
Fourth official: Elton Garcia
VAR: Carol Anne Chenard
POSTGAME QUOTES
FC Dallas head coach Luchi Gonzalez
On the team's performance tonight...
"The first 20 to 25 minutes of the match we were up against the ropes. They were generating crosses and taking shots. We were forced to make plays defensively. We definitely suffered. We talked before the game as a team, about suffering. The game is not a beauty pageant, and we have to be better at suffering and not getting frustrated. We have to learn how to weather these tough moments. Whether it's at the beginning of the half, the beginning of the game or the end of the game. We have to weather the difficult moments and do it together and find a way. That's a mentality we want to keep improving and that's the attitude we want to keep improving. I think that is something that we showed today. The game in life is not perfect but if we can keep responding and not reacting. To respond to sticking to the plans, keep believing, making runs, and push on to the next play. I thought we met the resilience over 90 minutes, and I think this is the most complete game we've had this season. We have to grab it as a reference and grow with it and do it even better."
On Ricardo Pepi's performance...
"If you ask him how many goals, he could've scored tonight he would tell you four. That's just his hunger and desire he has. We're starting to see his potential and we always talk in terms of challenging him. We know you're the player of the future but it's up to you to work hard to be that player now. We saw him show an example that can be that player now. We take it one step at a time and he's a humble kid. He's such a respectful young man, he comes from a great family, and he just wants to work his butt off. Whether he scores or his teammates score he just wants to help the team win. I'm so proud of him. Now it's very clear he's going to get marked harder and teams are going to be more physical, and teams will be scouting him. His job is only going to get harder. I know he has this mentality to train the extra and to do the extra and think the extra so he can help his team."
FC Dallas winger Szabolcs Schön
On how he's adjusting to MLS...
"The first month was difficult for me because of the travel. For me, it was like 12 hours from Hungary to the U.S, and after three weeks I had to go to the Euros. And after I came back here again, so the first month was a bit difficult. But I trained well and I'm really happy to have made my first start tonight."
On his comfort level with his new teammates...
"The first two or three games were a little difficult because my teammates didn't know me, how I play, my movements. But I think in training we started to know each other and I'm very happy."
On how he's worked to improve the team...
"Nothing is impossible. You can reach a high level if you train hard, if you play hard and not give up. Like I said, the first month was difficult for me but I think I played and trained well so I'm really happy."
FC Dallas forward Ricardo Pepi
Thoughts on the importance of tonight's win...
"The most important thing is that the team knew that we had to win. I wasn't really expecting to score a hat trick, I had the opportunities and I put them away. The team wanted to win, I wanted to win so I think that was important."
Thought on starting at the nine position...
"I was happy to start at the nine again, I feel like that is my strong position. I was happy I had different players on the field, I had all my team supporting me, so I was very excited to go out and play."
Meaning behind tonight's hat trick...
"A year ago today my grandpa passed away so it was for him, this night was for him. It was a very special night, I knew I was going to do this. It was for him, all three goals were dedicated to him. His name was the same name as me, I'm the second. He was down there in El Paso and my grandma is back home by herself, so it's for him."
Thoughts on the performance at home...
"I feel like at home the team just starts more aggressive, we start with no fear. I feel like the fans give us the confidence I feel like we have to bring that confidence to away games and if we fix that then we can have great away competition."
• Discuss this story on the Major League Soccer message board...


Major League Soccer Stories from July 24, 2021
The opinions expressed in this release are those of the organization issuing it, and do not necessarily reflect the thoughts or opinions of OurSports Central or its staff.