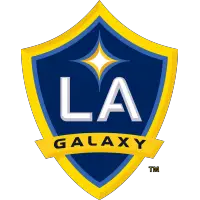 LA Galaxy Fall on the Road to FC Dallas on Saturday Night
July 24, 2021 - Major League Soccer (MLS) - LA Galaxy News Release



LOS ANGELES - Playing the final game of three consecutive matches on the road, the LA Galaxy fell 4-0 on the road to FC Dallas at Toyota Stadium on Saturday night.
Goal-Scoring Plays
FCD - Ricardo Pepi (Andres Ricaurte), 27th minute: Andres Ricaurte's through ball released Pepi into space behind the LA backline. Pepi took a touch and rolled his shot into the bottom corner of the net.
FCD - Ricardo Pepi, 44th minute: After a corner kick delivery found Pepi, his header was blocked by Derrick Williams, but the rebound fell to Pepi and his right-footed strike hit the back of the goal.
FCD - Ricardo Pepi (Szabolcs), 50th minute: Pepi picked up a loose ball in the penalty area in his first-time shot picked out the lower corner of the goal.
FCD - Jader Obrian (Justin Che), 88th minute: Justin Che's long pass released Obrian into space inside the penalty and the second-half substitute's low shot found the back of the net.
Postgame Notes
LA is 8-6-1 (25 pts) this season, sitting in third place in the Western Conference standings.
In eight matches played on the road in 2021, the Galaxy are 3-5-1.
In nine matches played in its primary kit this season, LA holds a 4-4-1 record.
Saturday's contest between LA and FC Dallas marked the 76th MLS regular-season encounter dating back to 1996, with the Galaxy leading the series 35-29-12.
LA is 2-2-0 in four regular-season matches against FC Dallas dating back to March 9, 2019.
In the first meeting between the two teams in 2021, the Galaxy earned a 3-1 win over Dallas at Dignity Health Sports Park on July 7.
Danilo Acosta made his Galaxy debut, logging 36 minutes as a second-half substitute in his first start of the year.
Fifteen different players have made their Galaxy debut this season under Head Coach Greg Vanney.
Next Game
Next up, the Galaxy play host to the Portland Timbers at Dignity Health Sports Park on Friday, July 30. The July 30 match kicks off at 7 p.m. PT and features a national television broadcast on ESPN.
LA Galaxy (8-6-1, 25pts) at FC Dallas (3-7-5, 14pts)
July 24, 2021 - Toyota Stadium (Frisco, Texas)
Goals by Half 1 2 F
LA Galaxy 0 0 0
FC Dallas 2 2 4
Scoring Summary:
FCD: Pepi (Ricaurte), 27
FCD: Pepi, 44
FCD: Pepi (Szabolcs), 50
FCD: Obrian (Che), 88
Misconduct Summary:
FCD: Ricaurte (caution), 18
LA: Saldaña (caution), 22
LA: Aruajo (caution), 59
FCD: Mauer (caution), 78
LA: Acosta (caution), 83
Lineups:
LA: GK Jonathan Bond; D Julian Araujo, D Daniel Steres, D Derrick Williams, D Jorge Villafaña (Danilo Acosta, 54); M Rayan Raveloson, M Adam Saldaña (Nick DePuy, 69), M Sacha Kljestan © (Daniel Aguirre, 69); F Samuel Grandsir, F Victor Vázquez (Ethan Zubak, 54), F Kévin Cabral (Augustine Williams, 69)
Substitutes Not Used: GK Jonathan Klinsmann; M Johnathan Perez; F Cameron Dunbar
TOTAL SHOTS: 16 (Samuel Grandsir, 3); SHOTS ON GOAL: 3 (Three players tied, 1); FOULS: 15 (Julian Araujo, 4) OFFSIDES: 1; CORNER KICKS: 9; SAVES: 1
FCD: GK Jimmy Maurer; D Bressan ©, D Ryan Hollingshead, D Nkosi Tafari, D Justin Che, M Quignon, M Jesus Ferreira (Edwin Cerrillo, 69), M Andres Ricuarte, F Szabolcs (Ema Twumasi, 78), F Ricardo Pepi (Franco Jara, 85), F Paxton Pomykal (Jader Obrian, 85)
Substitutes Not Used: GK Phelipe; D John Nelson, M Brandon Servania, F Dante Sealy, F Freddy Vargas
TOTAL SHOTS: 12 (Ricardo Pepi, 5); SHOTS ON GOAL: 5 (Ricardo Pepi, 4); FOULS: 4 (Andres Ricaurte, 2) OFFSIDES: 0; CORNER KICKS: 9; SAVES: 3
Referee: Silviu Petrescu
Assistant Referees: Claudiu Badea, Chris Elliott
Fourth Official: Elton Gacia
VAR: Carol Anne Chenard
Weather: Clear, 96 degrees
Attendance: 14,812
All statistics contained in this box score are unofficial
LA GALAXY POSTGAME QUOTES
LA GALAXY HEAD COACH GREG VANNEY
On the game:
"In general, I thought the effort of the group was there. It's difficult. It's MLS, which some of these guys are learning a little bit about, which is three game in the week in a row, two at altitude and one in really warm and humid conditions. I've talked a lot with this group about our inefficiencies on the field, I think I've said that to you guys. Losing possession when we can't lose possession between our lines, exposing ourselves, having to sprint and recover. Too many of those moments in MLS, in the summer, in the tough conditions and the tough places we have to play, there's an accumulative effect to those things both physically and mentally. The first goal comes a little bit out of nothing, it's a shot from far that I'm sure if Daniel [Steres] doesn't try to do something to it then [Jonathan] Bond just picks it up and we are okay. The response after halftime, I told them I wanted to see and give them the opportunity for the next 10 minutes to come out and try to change the rhythm of the game and then we give up another goal, so that was that. And at that point it became preserving some of the guys who were grinding through this window a little bit. Some of the guys had to suffer through it anyways. Dan who just came back really suffered, and that's the fourth goal a bit because he's cramping and everything. Look we have some guys in different spots physically who are coming back from injuries, we're thin and we didn't do good enough, even through the week, of holding the ball and protecting ourselves from all that additional work. We have to grow as a team, we have to get better, we have to get on the same page with some of that stuff and we have to continue to press on and continue to fill out our group. That's where we are at this moment. That happens. I've been through this before with teams that went on to go to the finals, so it's that moment, it's that challenging moment in MLS where you try to manage it the best you can and tonight, we didn't do a great job of that."
On not capitalizing on opportunities up top:
"For me again, the biggest hurdle is the turnover, the unnecessary turnovers where we lose the ball. It's having to sprint tin a situation where you think you are perfectly in control of the game and you guys have possession and then you just give the ball away and then you are sprinting. Those moments I think are far more frustrating than getting to a chance on goal and not putting the goal away. I think when you create a chance, there's still some energy that's built by the group in that moment. When you just lose balls between the lines when simple passes are there, that becomes frustrating because the repercussion of that is more physical work on a day where that's difficult. Those are the moments that concern me. Yeah we're a little thin in front of the goal at the moment and we're trying to find ways to manufacture some goals. We're trying to get some guys going who have the capacity to score but haven't really got going yet. So there's a lot of factors with that, but I think the biggest frustration on the night was just our inefficiencies in some of the moments where forced ourselves to have to do work when we really don't need to do more work, and that gets old."
LA GALAXY MIDFIELDER SACHA KLJESTAN
On the game:
"It was a culmination of us not taking care of the ball enough in really hot conditions, so their goal really kind of comes out of nothing, a slight deflection off Daniel and I think it goes right into the path of [Ricard] Pepi who puts it in. And then the second goal also, it's a corner kick that we don't manage as well as we can and then after that I think we were dead. Once the third goal comes early in the second half, we were just too tired I think to get back in the game. At the end of a long trip like this, physically, it was very tough, and we have to do a better job managing the ball in games like this."
On how he communicates with the team in the locker room after a loss like tonight:
"This is part of the learning curve for some of our new guys to understand that playing in these places is difficult and that we always have to respect our opponent no matter who we play. Dallas is down there at the bottom of the table, but they gave us their best tonight and it was hard on us at the end of this road trip, and we didn't manage it properly. This is a game that part of me wants to say forget about everything and let's get back on track at home next week and then the other part is we have to look back on this game and learn things from this for sure. Because we are still a team that is in process right now, we're still getting there. This a game we have to learn from and do better next time.
On the three-game road trip and how difficult it is mentally and physically for the team:
"I think it is more physical than mental, we've all played three games in a week many times in our careers, but that's probably peak MLS as far as how hard it can be conditions wise. Two games at altitude, both of them very hot still as well and then this game really, really hot temperature wise and a bit humid. For some of our younger guys, for some of our foreign guys that are new to the league, I think that's a real shock to the system. And so, we have to get the, and all of us, me included, all of us to understand that in a game like that you have to manage it really well. You have to manage the ball really well, you can't give it away easily so like I said, learning curve for us. This was really hard physically. We have a couple of days off now to rest and get back and see our families which I think everyone is excited about and then get back in on Tuesday with a three day lead up to a big game at home against Portland."
• Discuss this story on the Major League Soccer message board...


Major League Soccer Stories from July 24, 2021
The opinions expressed in this release are those of the organization issuing it, and do not necessarily reflect the thoughts or opinions of OurSports Central or its staff.