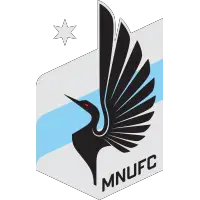 Loons Come from Behind in a 2-1 Win over Portland
July 24, 2021 - Major League Soccer (MLS) - Minnesota United FC News Release



SAINT PAUL, Minn. - On Saturday night, Minnesota United welcomed the Portland Timbers to Allianz Field with a chance to defeat their second Cascadia Cup team in as many weeks after ending the Seattle Sounders' 13-game unbeaten streak the week prior. Although the Timbers would strike first early and largely weather a season-high 28 shots from MNUFC, the home side broke through in the 74th minute with a header by defender Chase Gasper and followed it up with a strike from Robin Lod in the 85th. It was the Finn's second game-winning goal in a row and pushed the Loons ahead of the Timbers on the table once again.
The game began with the home side executing the kind of high press they used against Seattle to great effect last week. Early on, it worked to get the Loons possession and a few opportunities, including one in the fourth minute when a short, lofted pass to forward Adrien Hunou that would have put him on goal was just knocked down by the Timbers defense.
Although the Loons' aggressiveness would earn them a set piece opportunity early as Hunou was brought down near the edge of the box, their forward momentum may have stretched them out a bit at the back. In the 10th minute, midfielder Dairon Asprilla sprinted down the left wing and delivered a cross into the box. Forward Felipe Mora cut inside of defender Bakaye Dibassy and delivered an authoritative header past goalkeeper Tyler Miller to put the visitors ahead 1-0.
Minnesota backed off their press a bit in order to better shore up the backline. Midfielder Wil Trapp began dropping deep between the centerbacks in order to slow the tempo a bit and better dictate pace. The Timbers seemed content to sit back and let the Loons try to carve apart a defense that showed itself to be physical and patient.
Nevertheless, Minnesota had opportunities, particularly from Hansen and Lod. Hansen delivered a tantalizing cross from the left wing in the 24th minute that no one was there to finish, while Lod unleashed a pair of blasts from the top of the box in the 29th and 38th minute that both went wide left. In all, MNUFC took 12 shots to Portland's three in the first half but only managed one on target.
Heading into the second half, Portland brought on Diego Valeri for Marvin Loria, likely looking to get more control of the ball wrest the possession back from the home side. Of course, Valeri can also deliver a set piece like few in the league and in the 49th minute, he curled a shot at a tight angle on a free kick that forced Tyler Miller into a full stretch save.
Head Coach Adrian Heath made his own adjustment, sending on Ethan Finlay in place of Niko Hansen in the 56th minute and once again moving Robin Lod into the false 9 role that paid off handsomely in the second half against Seattle. In the 65th, Adrien Hunou made way for Juan Agudelo and from that point on, the game began to tilt downhill for the home side.
Although the Timbers rotated their squad heavily from their win on Wednesday over LAFC, the tired legs began to show themselves over the last 25 minutes of the game. MNUFC generated chance after chance but struggled to get the ball on frame, occasionally taking one too many or one too few touches or not quite hitting the pass crisply enough.
But after 10 minutes of relentless attack, pure grit overcame that lack of clinical finishing. Off a corner kick - the team's eighth of the evening - Hassani Dotson settled the ball on the left wing and waited a beat before sending it back in on a high arc. He found Chase Gasper's head and the defender put it back across the face of goal for his second MLS goal, drawing the Loons level at 1-1.
Not content to come back to split the points, MNUFC continued to pour on the pace as the Timbers struggled to adjust and claw their way back into the lead. Sebastian Blanco came in for Yimmi Chara for the visitors in the 82nd minute, but before he could make an impact, the Loons leapt ahead.
In the 85th minute, midfielder Emanuel Reynoso - who had come perilously close to finding the perfect pass or pulling off the perfect shot so many times already - picked out Lod with a pinpoint long ball into the box. Lod took one bouncing touch with his right foot before striking it with the left cleanly past Ivacic to make it 2-1.
From there, Minnesota strove to slow the game way down and hold the lead. Tyler Miller did his part, keeping out a strong close-range effort from Blanco in the 87th minute and the rest of the team killed off the clock with some keep away in the corners and consistent possession into stoppage time. When the final whistle blew, the Loons stood victorious, coming from behind to take all three points and clamber ahead of Portland to sixth in the West.
BELL BANK MAN OF THE MATCH: Defender Chase Gasper
LINEUPS:
Minnesota United: GK Tyler Miller; D Chase Gasper, Bakaye Dibassy, Brent Kallman, Romain Metanire; M Wil Trapp (c), Hassani Dotson, Emanuel Reynoso, Robin Lod, Niko Hansen; F Adrien Hunou
Portland Timbers: GK Aljac Ivacic; D Josecarlos Van Rankin, Dario Zuparic, Pablo Bonilla, Larrys Mabiala; M Diego Chara (c), Cristhian Paredes, Yimmi Chara, Dairon Asprilla, Marvin Loria; F Felipe Mora
UP NEXT
MINNESOTA UNITED FC @ LOS ANGELES FC
Banc of California | Los Angeles, California
7.28.2021 | MLS Week No. 15 | MLS Game No. 15
9:30 p.m. CT (Bally Sports North, CW Twin Cities, MNUFC Radio on SKOR North)
MINNESOTA UNITED QUOTE SHEET
MINNESOTA UNITED ADRIAN HEATH MNUFC COACH
On 28 shots on goal and team's persistence ...
"It was a belief and effort and energy. You know we kept going. I thought the second half we got about them a little bit more and made it a little bit more uncomfortable for them. I thought we were too safe in our play in the first half. I don't think we worked the final third enough, don't think we worked the goalkeeper enough. You could say that in the second half, I felt like we were going to score."
On what was making it difficult to finish the chances ...
"Good defending sometimes. Bad runs from us. People not being in the right spot. But at the end, there's been a lot of good quality going into the box this evening. You know I can think of two free kicks in the first half, I thought were right on the money, and we didn't have anybody in the right spot, but we can work on that. You know, normally we can blame that the ball isn't in the right area but tonight that wasn't the case. I think the setpieces that [Emanuel Reynoso] has put in the box went excellently all evening. "
On if the three points tonight were more important given the next few road games...
"No, because we'll address that when we get there. You know we know it's going to be really tough on the road at LAFC, it always is, but we've won there in the past. I just feel as though to keep the momentum going and keep the belief going. I keep talking how we say two points a game, that's 21 points out of the last 10 games. We're heading in the right direction, and I still think that there's an awful lot more to come from the group. I don't think we're clicking on all cylinders yet, I don't. You know that bodes well for the future but we'll keep working at it for sure."
On what he saw from Robin Lod tonight and how he finally scored the goal ...
"Well you know me being as, not critical, but demanding as I am for him, I thought them two shots in the first half, he normally scores them training. You know, I know one of them hit the post actually but he's a quality finisher. He really is. You know as I just said to the staff in there, when we give him opportunities, invariably, he looks like he's going to score at the target."
On what he believes led up to the goal conceded in the first half ...
"Well we spoke about it you know, [Bakaye Dibassy] had his hand up for it. We spoke about it. We showed him the goal against LA in the week. If the ball goes wide, [Felipe Mora] makes great near post runs or goes across the defender really well. Very rarely does he pull off the back post. He gets across the front, and that's what he did. Quality goal, and by the way, it was a quality finish. But we were disappointed because I don't think Tyler [Miller] got a save to make at that stage. When you look at the first half stats, you know, you look at the game and the way it's unfolding. I can't really remember too much in our defensive third. But we were chasing the game, and they're always dangerous just because you always know that, they bring on [Diego] Valeri, [Sebastian] Blanco, [Jeremy] Ebobise. This is a really expensive, assembled team over the last four or five years. You're always vulnerable to the counter-attack when you're trying to push for the win like we were. I was prepared to go for that, I thought going for the three points was important. That was with the subs that we made as well."
On front four and disappointment with losing Franco Fragapane to injury ...
"I think it's a disappointment losing Franco [Fragapane] but you know at the end of the day, it's part of a professional sport. People are going to get injured, you know. High-level athletes get injured and we've been relatively good this year when you look at our injury record. He's probably going to miss the next couple of weeks, I would think at least. We'll have to get back then to the drawing board and we'll see what we can do with him. In the meantime we'll get on with it, we've got depth. I thought the guys that came on did excellent. Pleased for Chase [Gasper]. I think he had a difficult start to the season but I think he's back to his best, and the one thing about the kid, you can never fault him for his determination, his efforts, and his enthusiasm. What he brings every day to this football club. You know, you build football clubs around people like Chase Gasper, for sure."
On how he would describe the service from Hassani Dotson ...
"Not the best but hopeful, shall we say. Not a lot of gile to it, not a lot of craft. But hey Chase [Gasper] he's gone up and above [Dario] Zuparic, he's one of the central defenders. It was well needed and well-timed. Well actually once we got the goal I thought we could go and win the game. We had all the momentum. I know I said it against Seattle, but the crowd might have even been better again tonight. They were unbelievable. It makes you realize what you play the game for. You know, people who go to work all week, pay their hard-earned money to come and watch you play and that's why you always have a duty and obligation to perform at your maximum. You can't always win the game. You can't always play well. But the effort, that's down to you."
On why Ramon Abila wasn't included on the 20 man roster ...
"Just the way we thought the squad worked. You know the fact that he missed a week or so, we picked a squad that we thought would win us the game. And we did."
On impact of Ethan Finlay coming on ...
"I thought all the subs who came on gave us a lift. It's sometimes really difficult to come in, in a game, where it's end-to-end, and to pick up the pace and pick up the spots where you know you can get involved in the game and join in in the game. When Ethan [Finlay] came on it gave us a lift. I was so pleased with Juan Agudelo's effort and commitment to what he did. No, it was a big effort from a lot of people, for sure."
MINNESOTA UNITED MIDFIELDER WIL TRAPP
On how the team was able to bounce back after giving up an early goal...
"I think what was most impressive tonight was just the confidence to keep going , right? Like how many shots we had, over 30 shots. Some not hitting the target, over, whatever. Chance after chance after chance, just really easy to get frustrated, and I think you never saw our heads drop in the sense of, that was the only chance we're going to get. We just kept plugging away and plugging away and ultimately Chase [Gasper] gets a great headers, scores and then [Emanuel Reynoso's] pass to Robin [Lod] was just special. It's a huge credit to our mentality to continue on, especially coming from behind."
On the reason behind the conceded goal...
"[Felipe] Mora does a good job of cutting across defenders, it's something that we definitely saw in the last game against LAFC. It's really just one opportunity, a good finish, and something that we need to be just a little bit more aware of I guess, but, ultimately, it's a good ball and it's a good finish. For us, it's a little frustrating in the sense of, they're away from home, it's their third game of the week, you don't want to give them anything and then ultimately we did. But, like I touched on earlier, the wherewithal to come back was pretty impressive."
On Hassani Dotson's service in Chase Gasper's goal...
"He knew what he wanted to do from the beginning, right? Iin those plays sometimes it's just about putting it into a dangerous area. With the amount of bodies in there, with the amount of chances we had been creating, you put it in a position for guys make plays, and Chase [Gasper] made a play."
On what it means for Chase Gasper to score after having a tough start of the season...
"Look, I think Chase [Gasper] has been excellent the past five games, he truly has. Whatever slow start he had, he's truly come out of it and he's a huge player for us and his range getting up and down, him and Romain [Metanire] both, it's pretty impressive. So, for him to score is really important for his confidence but for us, obviously we needed to come back into the game."
On getting the points at home before hitting the road...
"I've been in the league long enough. To win your home games is the most important thing because on the road you can nick a few points, but if you win at home, statistically and usually it helps you get that springboard into the playoffs. So, for us, two in a row, especially against a team in Portland that's right under, us was super important. And then knowing that the next game, of course will be difficult in LA, but you give yourself now a good springboard and foundation to step forward into that game Wednesday, with a gritty performance."
On if he encouraged Chase after his slow start...
"Of course, I mean I think everybody goes about it in their own way but I think for myself, I can only use my experience. But it's really finding what gets him into his groove. Give him the ball, get him engaged in the play, get him engaged in what he does well, which is getting up and down the flank, getting the ball into attack and providing good service. And he's done that the past few games. I think, really, it's just the team continuing to trust, and continuing to trust him and you see guys pay you back on that."
On what's going on in the field to keep spirits up after missing shots...
"Once again, I think it's about encouragement. In these moments you have to keep getting dangerous guys the ball in dangerous areas, right? So, continuing to get [Emanuel Reynoso] in spots where he can shoot. Ok, maybe it's not going to hit the target, maybe it's not going to be the best strike, but that ultimately softens up the defense and they start feeling more and more weary as those scenarios continue to happen. And I think they were inviting pressure more and more, and more, and credit to us to finish the game and score, and then score again to win it."
MNUFC DEFENDER CHASE GASPER
On thanking the fans with a victory lap after the game...
"Because they are the 12th man factor, they change the game. Every home game is such an advantage with how loud they get. The constant support and love that they give us, that's why you go out and give it your all. The joy for the game is because of them. So I just want to thank them for everything they do for us."
On conceding early, and the team's perseverance...
"That [perseverance] has kind of defined the second phase of our season. Obviously, we didn't start off too hot, but that speaks to the character of this team that. That happens to teams, they go through phases like that. To show that grit and character to turn things around and come back and win. But hats off to [Portland]. That was an amazing goal and an incredible cross and a great header. Its tough to stop, but I'm just so proud of our team. All the hard work and perseverance. We deserved it [the win]. It paid off in the end."
On his goal...
"I remember the ball got knocked out and everyone stayed in the box and so I knew Hassani [Dotson] was going to play it in. He played a really good ball with his left foot. And I just jumped and got lucky and it just happened to go in. Happy I got to help the team."
On who on the team is a leader after the team struggles early in games...
"It's most guys on the team. We have a lot of phenomenal players, a lot of great players, a lot of great characters within the team. It's a collective mentality that everyone is picking up the guy to the left and right of them. You don't get wins like that unless it's a group effort and the group having the collective mindset of picking each other up and never giving up until the end."
On Hassani's ball in to you on the goal...
"[smiling], Hassani [Dotson] loves to blow things out of proportion. 'Wow, great header, wow!' and so I told him 'wow that cross, are you kidding me that was pinpoint!'. It's always fun joking around with Hassani, he's such a great teammate and such a great player. I'm just happy that he got the assist. He has been playing so well this season and so it was just a great moment to hug him and high-five him after the game."
On your bounce back from earlier in the year...
"It wasn't the best start to the season. These things happen, that's life, it's part of the game. It's not about getting knocked down, it's about getting back up. That's what I've been focused on. The past is in the past and I'm focused on the future."
On Emanuel Reynoso's assist to Robin Lod's goal...
"Oh my God. Tyler [Miller] dished it out to me. And I was dribbling up and I was looking downfield - you see I see those guys [up the field], but then I saw [Emanuel Reynoso] calling for the ball and I was like 'alright I'm giving it to 'Rey'. He sees things and can do things that 99 percent of players can't do. In those situations, you get Rey the ball and you see what he produces. I mean what an assist. And to see Robin [Lod] bring that down and put that away. I mean you can't really practice that or write that up, it's just magic with these guys. It's so great to have them on the team, they are awesome teammates and incredible players. It was just a great moment for the team and those guys especially."
On any added emphasis on tonight's game with two road games coming up...
"Oh definitely. Every home game we go in with the expectation to win. Like I mentioned earlier, the 12th man factor in the crowd that we have here. It's tough with the games coming up, tough road games, so we knew that we needed to get the points here and we executed and that's exactly what we did."
• Discuss this story on the Major League Soccer message board...


Major League Soccer Stories from July 24, 2021
The opinions expressed in this release are those of the organization issuing it, and do not necessarily reflect the thoughts or opinions of OurSports Central or its staff.