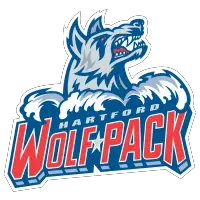 PROVIDENCE BRUINS 2, HARTFORD WOLF PACK 1 (OT)
February 5, 2018 - American Hockey League (AHL) - Hartford Wolf Pack News Release



Providence, RI, February 2, 2018 - Austin Czarnik's second goal of the game, a power-play score with 24.6 seconds left in overtime, gave the Providence Bruins a 2-1 win over the Hartford Wolf Pack Friday night at the Dunkin' Donuts Center Providence, in the front end of a home-and-home set between the two teams.
The overtime defeat snapped a five-game winning streak for the Wolf Pack, who were outshot 50-21 in the game and needed Alexandar Georgiev to make a team season-high 48 saves.
"At the start of the game I thought Providence looked like they had lots of jump, did a good job of pressuring pucks," Wolf Pack head coach Keith McCambridge said. "I thought by the back half of the first period, we started getting our legs underneath us, but we did a real poor job of managing the game, and our execution wasn't consistent enough to have a chance to win."
The winning goal came on a man advantage created by a penalty against Georgiev, who was called for delay of game for shooting the puck over the glass at 3:17 of overtime.
The Wolf Pack came close to killing the penalty, but Georgiev had no chance on the winner, after Jordan Szwarz fed a perfect pass across the goalmouth from the left-wing side to Czarnik at the opposite post.
"I thought obviously he gave us the opportunity to at least get one point out of that game," McCambridge said of Georgiev, who made his fifth straight start in the Hartford net. "Credit to him to at least keep us in the mix.
The Bruins dominated much of the opening period, and had a 14-2 shots on goal advantage at one point, helped by a pair of power plays, but the Wolf Pack got the final five shots of the frame.
Providence had another big shots edge in the second period, 17-8, but it was the Wolf Pack who opened the scoring, on a Ryan Sproul goal at 8:19. Sproul and Adam Tambellini worked a slick give-and-go, with Sproul sending Tambellini down the left side and Tambellini feeding back across to Sproul, who finished the play on his forehand.
The Bruins equalized at 17:30 on their first power play of the game, with Brandon Crawley in the penalty box for hooking. Czarnik had one shot from the slot stopped, a second opportunity blocked, and then buried a third chance from below the hash marks, putting a high shot past Georgiev, who was closing in on a fifth straight period of shutout play.
GAME NOTES -
Hartford Wolf Pack 1 at Providence Bruins 2 (OT) Friday, February 2, 2018 - Dunkin' Donuts Center
Hartford 0 1 0 0 - 1 Providence 0 1 0 1 - 2
1st Period- No Scoring. Penalties-Graves Hfd (high-sticking), 0:16; Pionk Hfd (holding), 4:49; O'Gara Pro (holding), 18:46.
2nd Period-1, Hartford, Sproul 7 (Tambellini, Nieves), 8:19. 2, Providence, Czarnik 12 17:30 (PP). Penalties-Pionk Hfd (tripping), 13:29; Crawley Hfd (hooking), 16:26.
3rd Period- No Scoring. Penalties-Crawley Hfd (delay of game), 3:47; Lauzon Pro (holding), 5:07.
OT Period-3, Providence, Czarnik 13 (Szwarz, Agostino), 4:35 (PP). Penalties-Georgiev Hfd (delay of game), 3:17.
Shots on Goal-Hartford 7-8-5-1-21. Providence 14-17-11-8-50. Power Play Opportunities-Hartford 0 / 2; Providence 2 / 6. Goalies-Hartford, Georgiev 9-11-6 (50 shots-48 saves). Providence, McIntyre 15-9-3 (21 shots-20 saves). A-7,973 Referees-Chris Pontes (21), Michael Sheehan (74). Linesmen-Dmitrii Antipin (77), Chris Millea (33).
• Discuss this story on the American Hockey League message board...


American Hockey League Stories from February 5, 2018
The opinions expressed in this release are those of the organization issuing it, and do not necessarily reflect the thoughts or opinions of OurSports Central or its staff.