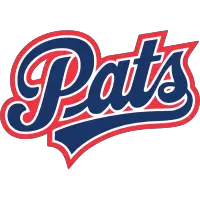 Pats End Alberta Road Trip in Calgary
November 28, 2021 - Western Hockey League (WHL) - Regina Pats News Release



Calgary, Alta. - The Regina Pats (9-11-0) end their four game Alberta road trip with a matchup against the Calgary Hitmen (8-9-0) on Sunday at 11:00 a.m., (12:00 CT) inside the Scotiabank Saddledome.
The Pats had their three game winning-streak come to an end on Saturday night, as they suffered a 4-2 loss to the Red Deer Rebels. The Pats streak of four straight wins on the road also comes to an end as well. Ryker Evans tallied a goal and an assist for his sixth multi point effort of the season, while Borya Valis scored his third, and Stanislav Svozil and Cole Dubinsky recorded assists in the loss. Drew Sim made his second start of the season, making 29 saves on 33 shots.
On the other side - the Calgary Hitmen are coming off a 7-0 win over the Saskatoon Blades on Saturday afternoon, with their seven goals for being the most by the club this season, as they snap their two game skid. Five different Hitmen tallied multi-point efforts, with Sean Tschigerl (3G-1A) and Maxim Muranov (2G) leading the way. They are 4-4-0 in the month of November, outscoring opponents 26-to-23 during that time...they have also won their last three home games coming into today's action.
MATCH UP
Regina
Calgary
Team Record 9-11-0-0 - 18 points 8-9-0-0 - 16 points
Division Ranking 4th East 5th Central
Conference Ranking 7th Eastern 10th Eastern
League Ranking 13th 16th
Past 10 Games 6-4-0-0 4-6-0-0
Streak 0-1-0-0 1-0-0-0
Last Game 4-2 L @ Red Deer (Nov 27 2021) Final 7-0 W vs Saskatoon (Nov 27 2021) Final
Home Record 4-6-0-0 5-4-0-0
Away Record 5-5-0-0 3-5-0-0
GF 64 48
GA 67 55
PP (Overall) (19/72) 26.4% (8/75) 10.7%
PP (Home) (10/31) 32.3% (6/47) 12.8%
PP (Away) (9/41) 22.0% (2/28) 7.1%
PK (Overall) (18/93) 80.6% (20/84) 76.2%
PK (Home) (10/37) 73.0% (12/45) 73.3%
PK (Away) (8/56) 85.7% (8/39) 79.5%
PP vs. Opp. (0/0) 0% (0/0) 0%
PK vs. Opp. (0/0) 0% (0/0) 0%
Leading Rookie Svozil (1-13-14) Adaszynski (3-2-5)
Most PIM McNutt - 38 Slaney - 38
Team PIM/GM 14.6/Game 15.2/Game
Leading Scorers Evans (4-17-21) Fiddler-Schultz (7-13-20)
Bedard (10-5-15) Tschigerl (11-8-19)
Dubinsky (7-7-14) Funk (5-6-11)
Svozil (1-13-14) Kydd (2-9-11)
Carrier (8-5-13) Zimmerman (2-4-6)
Last 5 Games 4-2 L @ Red Deer (Nov 27 2021) Final 7-0 W vs Saskatoon (Nov 27 2021) Final
3-2 W @ Lethbridge (Nov 24 2021) Final OT 3-2 L @ Edmonton (Nov 21 2021) Final
6-2 W @ Medicine Hat (Nov 23 2021) Final 2-0 L @ Red Deer (Nov 19 2021) Final
4-2 W @ Moose Jaw (Nov 20 2021) Final 4-3 W vs Medicine Hat (Nov 14 2021) Final OT
6-1 L vs Lethbridge (Nov 13 2021) Final 4-2 W @ Medicine Hat (Nov 13 2021) Final
Leading After 1st 4-0-0-0 7-1-0-0
Leading After 2nd 9-0-0-0 6-0-0-0
Tied After 1st 4-4-0-0 0-2-0-0
Tied After 2nd 0-2-0-0 2-1-0-0
Trailing After 1st 1-7-0-0 1-6-0-0
Trailing After 2nd 0-9-0-0 0-8-0-0
Out Shooting Opponents 7-5-0-0 6-3-0-0
Out Shot by Opponents 2-5-0-0 2-6-0-0
1 Goal Games 2-2-0-0 3-4-0-0
2 Goal Games 2-3-0-0 2-1-0-0
3 Goal Games 2-5-0-0 2-1-0-0
WHERE TO WATCH/LISTEN
Radio: 620ckrm.com (RM2)
Stream: WHL Live
HEAD TO HEAD
2021-22 HEAD TO HEAD
This will mark the first of six meetings this season.
Date Road Home Time Result
November 28th Regina Calgary 11:00 a.m. MST
January 11th Calgary Regina 7:00 p.m. CST
February 6th Regina Calgary 2:00 p.m. MST
February 11th Calgary Regina 7:00 p.m. CST
February 27th Regina Calgary 4:00 p.m. MST
March 12th Calgary Regina 7:00 p.m. CST
The Pats are 46-50-2-4-2 vs. the Hitmen, all-time and 21-29-0-2-0 on the road.
This will be the first of four meetings this season, with the next three meetings being played in the second half. These two teams last met on February 12th, 2020, with the Hitmen defeating the Pats 8-1 in Calgary. The Pats went 0-3-1 against the Hitmen in the 2019-20 season, with their last win coming on February 22nd, 2019, winning 5-4 in overtime at home. The Pats have dropped the last three meetings at Saddledome.
HEADLINES
The Regina Pats are 3-1 since they parted ways with Dave Struch on November 18th, with GM John Paddock taking over as the Head Coach...the Pats have recorded wins against Moose Jaw (3-2), Medicine Hat (6-2) and Lethbridge (OTW, 3-2) under Paddock, outscoring opponents 14-to-10 during that time, while being outshot in two of those four games (137 SF / 146 SA).
The Regina Pats are 5-4 in the month of November, and have been outscoring their opponents 31-29 during that time...the power play is 9-for-30 in November, running at 30.0% while the penalty kill is 32-for-37, running at 86.4% this month.
BY THE NUMBERS
13: Assists this season for Stanislav Svozil is first among rookie defencemen...he also ranks second among rookie defencemen in shots (53), and points (1G-13A) and tied for first in power play assists (6)...he has one goal and seven assists over his last eight games.
21: Number of points (4G-17A) for Regina Pats defenceman Ryker Evans is tied for second amongst defenceman in in the WHL, while his 17 assists are third...his seven power play assists ranks fifth...he has points in seven of his last 10 games (3G-10A-+5).
105: Shots on goal for Regina Pats forward Connor Bedard leads the WHL...the North Vancouver native is averaging 5.25 shots on net per contest along with 10 goals and 15 points in 20 games...he has 4G-1A over his last six games and had his three game point-streak snapped last game.
297: Faceoff wins for Pats captain Logan Nijhoff is the second highest total in the WHL behind of Prince Albert's Reece Vitelli (300)...he went 13-24 on the faceoff dot on Saturday in Red Deer and holds 57.1 faceoff win percentage this season.
947: Save percentage and 1.95 GAA for Regina Pats goaltender Matthew Kieper over his three game winning-streak...the Winnipeg, Manitoba native is ranked a C level prospect by NHL Central Scouting and ranks third in the WHL in minutes (1021) and fourth in saves (457).
COMING UP
7:00 p.m., Friday, Dec 3rd - Regina Pats (9-11-0) at Prince Albert Raiders (6-12-1)
7:00 p.m., Saturday, Dec 4th - Swift Current Broncos (7-12-3) at Regina Pats (9-11-0)
7:00 p.m., Wednesday, Dec 8th - Medicine Hat Tigers (4-12-4) at Regina Pats (9-11-0)
7:00 p.m., Friday, Dec 10th - Prince Albert Raiders (6-12-1) at Regina Pats (9-11-0)
• Discuss this story on the Western Hockey League message board...


Western Hockey League Stories from November 28, 2021
The opinions expressed in this release are those of the organization issuing it, and do not necessarily reflect the thoughts or opinions of OurSports Central or its staff.