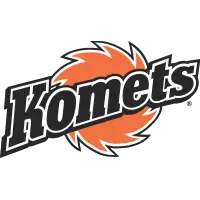 Komets face Hogs in first round
April 17, 2006 - International Hockey League 2 (IHL 2) - Fort Wayne Komets News Release



Fort Wayne, IN --- The Komets completed the 2005-06 regular season in second place of the Western Division with a 44-26-6 record and 94 points and captured fifth seed for the first round of the UHL playoffs. The IceHogs topped the Western Division with 48 wins and 105 points for 3rd seed and will face the Komets in a best-of-seven first-round series under a 2-2-1-1-1 format.
Rockford will have home ice advantage and will host the first 2 games of the series. Game 1 is slated for Friday, April 21 at 8:30pm (ET). Game 2 will be played at Rockford MetroCentre Sunday, April 23 at 6pm (ET).
The series shifts to Fort Wayne for games 3 and 4. Game 3 is scheduled for Tuesday, April 25 at 7:30pm and game 4, Thursday, April 27 at 7:30pm at the coliseum. If necessary, game 5 will be held in Rockford Friday, April 28 at 8:30pm (ET). The Komets will host game 6 Saturday, April 29 at 7:30pm if necessary and game 7, if needed, will be played on Rockford ice Tuesday, May 2 at 8:30pm.
It will be the second time the Komets and IceHogs have faced each other in post-season action. The Komets upended Rockford last year 4 games to 3 in a second-round, 7-game series.
2006 UHL COLONIAL CUP PLAYOFFS
First Round, best-of-seven series
FORT WAYNE KOMETS VS ROCKFORD ICEHOGS
Game 1, Friday, April 21 at Rockford, 8:30pm
Game 2, Sunday, April 23 at Rockford, 6pm
GAME 3, TUESDAY, APRIL 25 AT FORT WAYNE, 7:30pm
GAME 4, THURSDAY, APRIL 27 AT FORT WAYNE, 7:30pm
Game 5, Friday, April 28 at Rockford, 8:30pm (if necessary)
GAME 6, SATURDAY, APRIL 29 AT FORT WAYNE, 7:30pm (if necessary)
Game 7, Tuesday, May 2 at Rockford, 8:30pm (if necessary)
All times EDT -Komet Schedule-
Komet playoff tickets on sale.....tickets for the Komet's first 2 home playoff dates are on sale at the Coliseum Ticket Office and online at www.ticketmaster.com.
Komets vs Rockford.....the Komets won the last 3 meetings for a 5-5-0 season series record vs. Rockford and are 42-15-5 all-time against the IceHogs in regular season play. The Komets met the IceHogs for the first time in the post-season last year in the second round and recovered from a 3-games-to-1 deficit to win the series 4 games to 3. It was the Komet's first and only 7-game UHL playoff series to date and featured 2 Komet overtime wins including a double-overtime win in game 6 at Fort Wayne April 23. (Fort Wayne vs. Rockford season stats and comparisons attached)
Komet playoff hockey on the air and web.....all Komet playoff games are scheduled to air on Fort Wayne radio. Weekday games (Monday-Thursday) will be aired on WKJG AM 1380 and weekend games (Friday, Saturday and Sunday) can be heard on WOWO AM 1190. All Komet games broadcast on Fort Wayne radio can also be heard worldwide on the internet at www.komets.com at Comcast KometCast. Komet gamecasts begin 15 minutes prior to faceoff with the Sprint P.C.S. pregame show featuring Bob Chase in his fifty-third season behind the Komet microphone.
Komets stop Otters, Fury and Wings.....the Komets completed the 76-game season with a 3-game win streak and unbeaten in regulation 4-straight games. Wednesday the Komets dropped the River Otters at Missouri 4-3 in a shootout. Friday the Komets upended the Muskegon Fury 5-2 and Saturday the visiting Tarry Cup Champion Kalamazoo Wings were turned back by the Komets 4-3.
Chaulk up 4 straight seasons on top.....Komet captain Colin Chaulk (C) finished the season leading the Komets with assists (53) and points (79) for the 4th consecutive season. Jonathan Goodwin (RW) led the Komets with 32 goals while Guy Dupuis topped the plus/minus with +27.
Komet Ironmen.....Rob Guinn (D) completed the season as a Komet ironman for the second consecutive year appearing in all 76 games for a total of 156 straight Komet regular season games (80 games last season). Troy Neumeier (D) also skated all 76 Komet regular season games this year.
Komet nominees for the week and April
Player of the Week: Kelly Miller (C), 3gp, 2g, 3a, 5pts, +3, 6pim.
Goaltender of the Week: Kevin Kurk, 2gp, 2-0-0, 5ga, 2.50 gaa, 46/51, .902 spct., unbeaten in regulation 9-straight games (7-0-2).
Player of the Month for April: Jamie Milam (RW), 7gp, 5g, 4a, 9pts, +7, 2 pim.
Goaltender of the Month for April: Kevin Kurk, 4gp, 3-0-1, 8ga, 2.00 gaa, 95/103, .922 spct.
Rookie of the Month for April: Jamie Milam (RW), 7gp, 5g, 4a, 9pts, +7, 2 pim.
Komet home practices coming up:
Tuesday, April 18............ 10am-11:30am at the Coliseum
Wednesday, April 19....... 10am-11:30am at the Coliseum
Thursday, April 20........... 9am-10am at the Coliseum
Tuesday, April 25............ 10am-11am at the Coliseum
Wednesday, April 26....... 10am-11am at the Coliseum
Thursday, April 27.......... 10am-11am at the Coliseum
Friday, April 28............... 10am-11am at the Coliseum
FINAL 2005-06 KOMET ROSTER
Chaulk sidelined.....Komet center Colin Chaulk has been listed as "unable to perform" for the Komets during the 2006 UHL playoffs. Due to the extensive injury to Chaulk's leg the veteran center will not be available to the Komets for post-season play. Amateurs Milam and Koning added to final roster.....Jamie Milam (RW) and Jeremy Koning (F) have been placed on the Komet's final roster under amateur status. Milam, 21, has skated 8 games with the Komets (5g, 4a, +8, 2pim) and is finishing his senior year at Northern Michigan University (NCAA). Koning, 24, recently completed a college stint New England Collegge (NCAA) and will be available to the Komets in the post-season.
Komets.com.....the official website of the Fort Wayne Komets is www.komets.com. In addition to live game radio, the Komet's home on the web also features stats, news, interactive fan features and information as well as real-time scoring via the UHL and Pointstreak.
• Discuss this story on the International Hockey League 2 message board...


International Hockey League 2 Stories from April 17, 2006
The opinions expressed in this release are those of the organization issuing it, and do not necessarily reflect the thoughts or opinions of OurSports Central or its staff.
Other Recent Fort Wayne Komets Stories