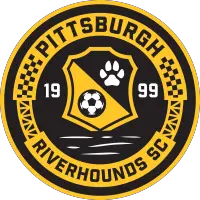 Hounds Roll Union II, 4-0
August 1, 2020 - United Soccer League Championship (USL) - Pittsburgh Riverhounds SC News Release



PITTSBURGH - Pittsburgh Riverhounds SC (3-2-0) defeated Philadelphia Union II (0-4-1), 4-0, in its return to Highmark Stadium.
Match Report
Kenardo Forbes entered Saturday's match one assist behind Maikel Chang for the USL Championship all-time assist record. He recorded two first-half assists to break the record and cement his name in the history books. Forbes now has 38 career assists in league play.
Steevan Dos Santos added goals in the 22nd and 42nd minutes, Thomas Vancaeyezeele scored in the 36th minute and Ryan James tacked on one more in the 65th minute.
Tomas Gomez held it down in net, earning his second clean sheet on the year. With the win, Pittsburgh now sits atop Group F.
First Half
The Hounds wasted no time putting pressure on the Philadelphia defense, narrowly missing on a few opportunities early. In the 5th minute, Ropapa Mensah sent a right-footed shot just high of the crossbar, and in the 10th minute, a Dos Santos shot to the bottom-right corner was saved by Philadelphia goalkeeper Mitch Budler.
The Hounds broke through in the 22nd minute, when Dos Santos headed a cross from Forbes into the back of the net. This gave Forbes his 37th assist in USL Championship play, tied with Chang for the USL Championship all-time assist record at the time.
Then, in the 36th minute, Forbes sent a corner kick toward Vancaeyezeele in the center of the penalty box. The defender then headed the ball into the bottom-right corner, giving the Hounds a two-goal lead. With this assist, Forbes broke the USL Championship all-time assist record.
Dos Santos lobbed in another goal over Budler in the 42nd minute, after a defensive mistake rendered him out of position. The goal made it 3-0 in favor of the Hounds.
For as great as the Hounds were on offense, they were just as great on defense. They allowed just one shot in the first half.
Second Half
Philadelphia came out firing to the start the half, but the Hounds were ready. Its best chance came in the 51st minute, when a shot from Anton Sorensen was saved in the center of the net.
Pittsburgh continued the scoring in the 65th minute, when James sent a left-footed volley into the top-right corner. This was the defender's first goal of the season.
Inclement weather halted the match for 30 minutes in the 78th minute, but this didn't stop Pittsburgh's stellar defense. The Hounds held on for the remaining time to earn their third win on the season. They held 62 percent of possession and put five shots on target.
Hound of the Match, presented by EPIC
With two first-half assists, Kenardo Forbes set the all-time assist record in USL Championship play with 38. He has seven assists on the season thus far.
Beyond the Box Score, presented by Beyond Self Storage
Steevan Dos Santos has scored all four of his goals this season against Philadelphia Union II.
What's Next
Riverhounds SC will play its second straight match at Highmark Stadium when it will host New York Red Bulls II (2-2-0) on Saturday, Aug. 8. Kickoff is scheduled for 7 p.m., and the match will be televised on 22 The Point (WPNT).
Lineups:
Riverhounds SC - Tomas Gomez; Dani Rovira, Ryan James, Thomas Vancaeyezeele, Skylar Thomas, Jordan Dover; Kenardo Forbes (Dakota Barnathan 69'), Robbie Mertz (Lukas Fernandes 78'), Danny Griffin; Steevan Dos Santos (Mark Forrest 69'), Ropapa Mensah (Anthony Velarde 54')
Subs not used: Anthony Mwembia, Danny Vitiello, Hunter Ashworth
Philadelphia Union II - Mitch Bundler; Dante Huckaby, Jamoi Topey (Anthony Sorenson 45'), Benjamin Ofeimu, Brandan Craig (Jack Jasinski 45'); Jack McGlynn, Luis Flores, Axel Picazo (Anges Kader Bohui 67'), David Rabadán (Steve Kingue 67'), Quinn Sullivan (Paxten Aaronson 45'); Selmir Miscic
Subs not used: Ben Martino
Scoring Summary:
PIT - Steevan Dos Santos 22' (Kenardo Forbes)
PIT - Thomas Vancaeyezeele 36' (Kenardo Forbes)
PIT - Steevan Dos Santos 42'
PIT - Ryan James 65' (Anthony Velarde)
Misconduct Summary:
PHI - Axel Picazo 38' (caution)
PHI - Paxten Aaronson 73' (caution)
PHI - Luis Flores 88' (caution)
Head coach Bob Lilley
On the win...
"I'm happy to have the win, but we need to be better. We have enough experience and enough quality that we scored four goals, but we didn't create as many good chances in the second half. For me, we haven't performed as well as I would've liked in our last two wins."
On Steevan Dos Santos...
"Steevan did well to score two goals tonight. It was nice to see him get the start and get 60 to 65 minutes of work. I don't know if he's ready for the 75 to 80 minute-mark yet, but I think if he keeps going he'll get there soon."
On how the Hounds can improve...
"Yes, we got the shutout, but I think we can be better. I know the level we can play at defensively and I don't think we played at that level tonight. It needs to be tighter. I'm happy we won, but this is not the night that defines us. We're thinking what we have to do and what we have to work on to get to the next level."
Midfielder Kenardo Forbes
On breaking the all-time assist record...
"To be honest, I didn't even know about this record until about a week-and-a-half ago. I got an email about the record a week or two ago. I didn't come into the season trying to break the record necessarily."
On getting back in the win column...
"It felt good. After losing two in a row, it was great to get a win tonight, but we're looking forward to working harder, getting better and getting ready for next week against New York."
On keys to next week's game against New York...
"We know they are going to press, so we have to be better on the ball. We have to make quicker decisions and play together for 90 minutes because they're a really dangerous team."
Forward Steevan Dos Santos
On Kenardo Forbes' record...
"It's great for him. He's been working very hard, and it shows. He reads the game very well, he knows where to be, where to pass the ball. Like he said, we have a connection. He knows where we are going to be and to set us up."
On the win...
"It wasn't the best win for us, but it was great to get a win, especially after losing two straight. It was also great to start and play increasingly more minutes."
On how they can beat New York next week...
"We have to make sure not to give them chances because they are a great team and will capitalize on them. We're looking forward to the game and improving each week."
• Discuss this story on the United Soccer League Championship message board...


United Soccer League Championship Stories from August 1, 2020
The opinions expressed in this release are those of the organization issuing it, and do not necessarily reflect the thoughts or opinions of OurSports Central or its staff.
Other Recent Pittsburgh Riverhounds SC Stories