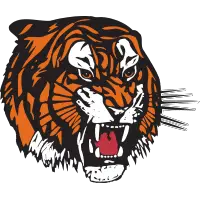 Gameday Preview - January 22 at Prince Albert
January 22, 2022 - Western Hockey League (WHL) - Medicine Hat Tigers News Release



VS PRINCE ALBERT: This will be the third meeting of the season between the Raiders and the Tigers. So far the season series is split, with the away team winning both affairs. Most recently the Tigers beat the Raiders by a score of 6-2 on October 22, 2021. Prince Albert is 15-20-1-1 on the season, good enough for 32 points, which puts them 5th in the East Conference and 8th in the Easter Division. The Raiders are coming off a 5-2 loss at the hands of the Winnipeg ICE last night. Ozzy Wiesblatt leads the team in scoring with eight goals and 22 assists.
2021-21 WHL RANKINGS:
Record (7-25-3-1) - Home (5-10-1-0) - Away (2-15-2-1)
Central Division - 6th
Eastern Conference - 12th
VS CENTRAL DIVISION: The Tigers have a 5-13-1-0 record vs Central Division opponents.
VS EAST DIVISION: The Tigers have a 2-12-2-1 record vs East Division opponents.
LAST GAME: The Tigers took on the Saskatoon Blades on Friday night at the Sasktel Centre in Saskatoon. The Tigers jumped out to an early 2-0 lead, as recently acquired Tiger Logan Barlage scored his first in the orange and black and Oasiz Wiesblatt notched his 5th of the campaign. That would be all for the Tigers offence on the night though as the Blades scored 9 consecutive goals. Garin Bjorklund was tabbed with the loss as he surrendered 6 goals on 16 shots. Beckett Langkow came into the game in relief of Bjorklund for the second straight contest, stopping 5 of 8 shots sent his way.
MILESTONES: Daniel Baker played in his 200th career WHL game on Friday night in Saskatoon. Owen MacNeil will play in his 100th career WHL game tonight in Prince Albert. Rhett Parsons, Oren Shtrom, Oasiz Wiesblatt, Tyler MacKenzie, Pavel Bocharov and Teague Patton each recently played in their 50th career games, while Brayden Boehm, Ashton Ferster and Reid Andresen close in on the same milestone.
PLAYER TO WATCH: Daniel Baker recently played in his 200th career game for the Tigers. The 6'4 D-man is 3rd on the team in scoring with 4 goals and 13 assists this season. The Tigers Captain is a hard working defenceman that is not afraid to activate off the back end and either lead the rush or jump in behind. Baker excels at putting pucks to the net either to create tip/rebound opportunities or to take advantage of screens. The Sherwood Park, AB product is fearless in his own zone, doing whatever is necessary to help control play on the back end.
CLUB LEADERS LEADING SCORERS:
- Goals Danielson / Ferster / Barlage (8) - Tyler MacKenzie 2G, 18A, 20 PTS
- Assists Tyler MacKenzie (18) - Logan Barlage 8G, 10A, 18 PTS
- Points MacKenzie (20) - Daniel Baker 4G, 13A, 17 PTS
- PIMs Daniel Baker (69) - Bogdans Hodass 3G, 14A, 17 PTS
- Plus/Minus Shtrom (-3) - Noah Danielson 8G, 8A, 16 PTS
- Wins Bjorklund (5) - Ashton Ferster 8G, 7A, 15 PTS
ROOKIE LEADERS - Oasiz Wiesblatt 5G, 10A, 15 PTS
- Goals Bogdans Hodass (3) - Owen MacNeil 5G, 9A, 14 PTS
- Assists Bogdans Hodass (14) - Brendan Lee 7G, 6A, 13 PTS
- Points Bogdans Hodass (17) - Teague Patton 6G, 5A, 11 PTS
- PIMs Bogdans Hodass (20) - Brayden Boehm 4G, 7A, 11 PTS
- Plus/Minus Arp / Hodass (-6) - Oren Shtrom 7G, 3A, 10 PTS
SPECIAL TEAMS:
POWER PLAY: 27 / 131 - 20.6% - 12th
PENALTY KILL: 117 / 155- 77.2% - 18th
TIGERS ROSTER MAKEUP: The Tigers have 22 players on the roster - 2 Goaltenders, 7 Defencemen and 13 Forwards, including 5 rookies.
AGE BREAKDOWN: 3 - 20-year-olds, 3 - 19-year-olds, 8 - 18-year-olds, 6 - 17-year-olds, 2 - 16-year-olds
NHL DRAFTED / SIGNED PLAYERS: Garin Bjorklund (Washington Capitals), Dru Krebs (Washington Capitals)
TIGERS SCHEDULE:
LAST FIVE: RESULTS: NEXT FIVE: TIME:
@ Saskatoon 9-2 Loss vs Saskatoon, Tue, Jan 25 7:00 PM (MST)
vs Red Deer 5-2 Loss vs Calgary, Sat, Jan 29 7:00 PM (MST)
vs Lethbridge 6-3 Loss vs Red Deer, Sunday, Jan 30 6:00 PM (MST)
@ Moose Jaw Warriors 6-2 Loss @ Edmonton, Wednesday, Feb 2 7:00 PM (MST)
vs Brandon Wheat Kings 4-3 OT WIN @ Brandon, Friday, Feb 4 6:00 PM (MST)
• Discuss this story on the Western Hockey League message board...


Western Hockey League Stories from January 22, 2022
The opinions expressed in this release are those of the organization issuing it, and do not necessarily reflect the thoughts or opinions of OurSports Central or its staff.
Other Recent Medicine Hat Tigers Stories