Chris Wondolowski scores twice; Quakes jump to seventh place
October 29, 2020 - Major League Soccer (MLS) - San Jose Earthquakes News Release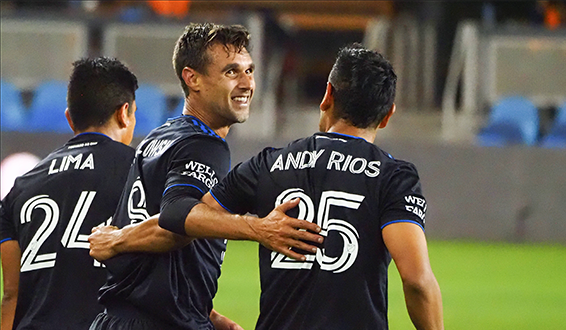 Chris Wondolowski of the San Jose Earthquakes celebrates his MLS record 45th career game-winning goal
(San Jose Earthquakes)
SAN JOSE, Calif. - The San Jose Earthquakes defeated Real Salt Lake 2-0 on Wednesday evening at Earthquakes Stadium. With tonight's result, the Quakes jumped to seventh place in the Western Conference in both points (27) and points per game (1.29).
San Jose would take the lead in the 16th minute through Chris Wondolowski. Cristian Espinoza's shot caromed off the post and the loose ball was put away by Wondolowski, ultimately marking his MLS record 45th game-winning goal.
Wondolowski scored his second goal of the match in the 74th minute, first-timing a low cross by Shea Salinas. Salinas earned his 47th assist for San Jose, tying the long-standing club record held by Ronald Cerritos.
The Earthquakes will now prepare to host LAFC on Sunday, Nov. 1, presented by Honda. Kickoff from Earthquakes Stadium is set for 7:30 p.m. PT and the match will be broadcast live on NBC Sports California, KNBR 1050 and 1370 KZSF.
GAME NOTES
San Jose now holds a 7-8-6 record in the 2020 regular season and sit above the playoff line in seventh place, both in total points (27) and points per game (1.29).
The Earthquakes now hold a 5-2-1 record in their last eight matches.
The Quakes are now 5-1-1 in seven matches against Real Salt Lake at Earthquakes Stadium.
San Jose held RSL without a shot on target for just the second time since Aug. 2017.
Defender Marcos Lopez returned to the starting lineup for the first time since Oct. 3. Lopez missed five matches due to international duty with Peru and returned as a substitute last weekend at Vancouver.
Forward Chris Wondolowski scored his fifth and sixth goals of the season and 164th and 165th of his MLS career, extending his own league record. His first goal was the game-winner, the 45th of his career, extending his own league record. He now has 10 goals all-time vs. Real Salt Lake, tied for the most against the Utah side among all players in MLS history (Edson Buddle). It also marked his 25th and 26th career goals during the month of October, 12 more than any other player in MLS history. Wondolowski now has 24 career multi-goal games, second most in MLS history (Landon Donovan - 32). His six goals this season are a team high.
Midfielder Shea Salinas tallied an assist on Chris Wondolowski's second goal, marking his first assist of the season and 50th of his MLS career. He has now tallied 47 assists as a member of the Quakes, tied for the most in club history (Ronald Cerritos), with 15 of those assists coming on goals by Chris Wondolowski.
MLS Regular Season
San Jose Earthquakes 2 - 0 Real Salt Lake
Oct. 28, 2020 - Earthquakes Stadium in San Jose, Calif.
Scoring Summary: SJ - Chris Wondolowski (unassisted) 16; SJ - Chris Wondolowski (Shea Salinas) 74.
Misconduct Summary: RSL - Marcelo Silva (caution) 10; RSL - Nick Besler (caution) 22; RSL - Donny Toia (caution) 39; SJ - Judson (caution) 53; RSL - Aaron Herrera (caution) 59; RSL - Damir Kreilach (caution) 63; SJ - Andy Rios (caution) 64.
SAN JOSE EARTHQUAKES: JT Marcinkowski; Marcos Lopez, Oswaldo Alanis, Florian Jungwirth, Nick Lima; Carlos Fierro (Shea Salinas 70), Judson, Jackson Yueill, Cristian Espinoza (Tommy Thompson 82); Andy Rios (Vako 82), Chris Wondolowski (Cade Cowell 90).
Substitutes not used: Luis Felipe, Siad Haji, Guram Kashia, Paul Marie, Daniel Vega.
SHOTS: 13, SHOTS ON GOAL: 5; SAVES: 0; FOULS: 12; CORNER KICKS: 5, OFFSIDES: 1.
REAL SALT LAKE: Andrew Putna; Donny Toia, Nedum Onuoha (Kyle Beckerman 86), Aaron Herrera, Marcelo Silva (Justen Glad 70); Corey Baird (Douglas Martinez 86), Albert Rusnak, Nick Besler, Maikel Chang (Justin Meram 61), Everton Luiz (Pablo Ruiz 61); Damir Kreilach.
Substitutes not used: Alvin Jones, David Ochoa, Justin Portillo, Tate Schmitt.
SHOTS: 9; SHOTS ON GOAL: 0; SAVES: 3; FOULS: 12; CORNER KICKS: 1, OFFSIDES: 1.
SAN JOSE EARTHQUAKES HEAD COACH MATIAS ALMEYDA
On tonight's victory:
"I think we played the game well. I take away the lesson that we learned last game and also the desire and effort from each one of the players. We have recovered our system of play for a while now. We have recovered the intensity. But It's up to the players to play each game intelligently, differently, and they have been doing that very well."
On Chris Wondolowski's performance tonight:
"Most of the time I don't analyze who is scoring the goals, rather the form and understanding of the players. I think [Chris] Wondolowski, at 37 years old, is a huge asset and always plays with heart until the last minute. He was previously cold, not scoring goals, but his performance was always good. Sooner or later natural goal-scorers always find their momentum. I had a talk with him before the match and told him that his time would come, to be patient. And well, that moment came, he was able to score two goals and celebrate with his teammates. The important thing here is that every player is making a difference."
On facing two upcoming rivals before playoffs:
"I am happy with what the team has done and how far we've come. Keeping in mind where we were before, in a negative rut for a period of time, realistically it's very difficult to bounce back from those moments. I think we've maintained composure and were able to stay calm. To think and to analyze ourselves. We know that going into playoffs will be difficult considering our next two opponents that we have left. We are aware that it will be difficult, however nobody will take our dream away. So, we will move forward calmly, and enjoy tonight's victory. I am happy that the players were able to bounce back this season. In my experience coaching, I know it's not easy. I am just happy for everything, the players, and how far we've come."
SAN JOSE EARTHQUAKES FORWARD CHRIS WONDOLOWSKI
On scoring two goals in a crucial game for the playoff race:
"To be honest, it's a relief. I can't sugarcoat it. It was a relief to see the first one hit the net. I think that we've been playing well at times, so it was nice for the bounce to go our way and to find me right there. We know it was a big game. We knew we had to come out to play, and we needed guys to step up. It was something that I'm very proud of. I'm proud of the way the guys played to grind out the 2-0 win. It definitely had that playoff-esque feel to it. I think that we knew coming into the locker room that that was our focus. We knew it wasn't going to be pretty at times. We knew that we would have to grind it out, and I thought we did an excellent job of that."
On his and Andy Rios' work in practice on interchanging runs in the box:
"Absolutely, we work on that all the time. We work on that usually every Wednesday. Well, when we have a full week of practice. That's usually something that we work on weekly is just our runs; which person to the first post drawing that center back then the cutback will be there. Shea Salinas is amazing. It's kind of funny, I heard him say let it go. I heard him have that run, and then I spun and knew it was coming to me. I knew he was ready. It was a great run by Andy [Rios] to clear out that space, and it is something we work on. I think that many of our other goals, and cutback goals, have cleared that. You can even look at [Carlos] Fierro's goal last game against Vancouver. Andy clears out that space, and he's there for that second post. He's very vital for that and credit to Matias [Almeyda] for continuing to believe in that. That's how we have our game plan, and he also told me before the game to stay calm. He told me I'd score two goals so credit to him. I wish he said three goals, though."
On Shea Salinas tying Ronald Cerritos for the Quakes' all-time assist record:
"Shea [Salinas] has been an ultimate professional. I'm still learning from him. It's amazing how he goes about his daily practice, and he's ready for every game, every minute. He pushes me. He's been my longest tenured teammate ever, and we really understand each other especially on the field. I think it is our repetition. I know where he's going to pass it. He knows where I'm going to move and vice versa. I think that he reads the game well, and we just see the game similarly. I couldn't be more proud of him. He represents this club to the fullest. I feel bad; he probably should've already broken that record if I could've finished a couple more of those, but I'm proud of Shea. I still think he still has a couple more very valuable years here."
SAN JOSE EARTHQUAKES MIDFIELDER SHEA SALINAS
On tying Ronald Cerritos for the most assists in Earthquakes history:
"Yeah, it was a great moment. I think, as a team, we played so well tonight and fought so hard. Coming off the bench, my goal is to make it a little easier on the guys who have been working hard for so long. I try to do a little extra running, try to keep the ball of course, and obviously try to put the game away. I was happy that I was able to help Wondo [Chris Wondolowski] in doing that."
On the approach going into the next two matches against LAFC and Seattle Sounders FC:
"Tonight was a huge game especially after losing to Vancouver. After Vancouver, we looked at the three upcoming games and thought we need six, seven, or maybe even nine points out of them. Obviously, we look at one game at a time and Salt Lake was in front of us, and we were able to get three points there. Now we're onto the next game. We've got to get three points there, and it's not going to be easy. We've got two tough games ahead of us, but I think we're also building a little bit of momentum. We've got guys coming back from international duty. Guys are feeling better, so hopefully we can reinforce the squad and win some games."
Images from this story
• Discuss this story on the Major League Soccer message board...


Major League Soccer Stories from October 29, 2020
The opinions expressed in this release are those of the organization issuing it, and do not necessarily reflect the thoughts or opinions of OurSports Central or its staff.