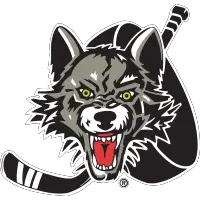 Wolves Weekly Notes
March 31, 2014 - American Hockey League (AHL) - Chicago Wolves News Release



MAGIC NUMBER DOWN TO THREE
With two wins last week, the Wolves now need just three more points to clinch their 16th playoff berth in franchise history; Chicago has nine games (5H/4A) remaining in the regular season and plays all of them against Midwest Division opponents as they sit six points behind Grand Rapids with two games in hand for the top spot.
WOLVES HEADLINERS
--- TY RATTIE: Scored twice during Sunday's loss in Rockford to push his goal total to 29 for the season, keeping pace just behind Grand Rapids' Teemu Pulkkinen (30G) in the rookie goal-scoring race ... Leads the Wolves in goals and has scored 17 of his 29 tallies in the second half of the season ... Has not gone more than three games without a goal since Jan. 17 ... Is the first Wolves rookie to post a 20-goal campaign since Spencer Machacek tallied 23 in 2008-09 and could be the first to finish as the top rookie goal-scorer since Brett Sterling in 2006-07 ... Paces the Wolves and sits eighth among AHL rookies with 45 points (29G, 16A) in 66 games
--- MICHAEL DAVIES: Dented the net in the third period on Sunday to give him 3 goals and 6 points during a career-high five-game point streak dating back to March 21 ... Sparked the Wolves' comebacks against Lake Erie last week, scoring the game-tying goal on Wednesday and assisting on two late third-period goals on Saturday ... Has 13 points (6G, 7A) in his last 15 games to push his season total to 24 ... Shared fourth on Chicago with a career-best 15 goals and ninth with a career-most 25 points in 57 games last season
--- MARK CUNDARI: Contributed 2 goals against Lake Erie on Saturday to extend his point streak to three games (2G, 2A) and give him 5 points in four tilts since March 21 ... Loaned to the Wolves by Calgary as compensation for Chicago trading center Corey Locke to the Abbotsford Heat ... Has posted 5 goals and 13 points in 21 games with the Wolves this season after recording 4 goals and 10 points in 32 tilts with Abbotsford for a total of 23 points (9G, 14A) in 53 games
--- ADAM CRACKNELL: Ran his point streak to four games by posting 4 assists in three games last week ... Has 7 points in his last six games after being held scoreless for a season-high three contests to bring his point total to 24 (11G, 13A) in 25 games since being assigned by St. Louis on Jan. 25 ... Posted two assists in 17 NHL games with St. Louis this year before joining the Wolves
WOLF TRACKS
--- Chicago posted a 2-1-0-0 record last week despite only leading for a total of 6 minutes, 57 seconds over three games.
--- March was a goal-filled stretch for the Wolves as the team both scored (46) and allowed (32) the most markers of any month this season; Chicago ranks ninth in the league averaging 3.10 goals scored per game and sits fifth in goals against with an average of 2.57 per game.
--- Since having their season-high streak of 25 consecutive penalty kills snapped on March 23, the Wolves have allowed multiple power-play goals in three of their past four games; despite this bumpy stretch, the Wolves' PK unit still ranks third in the league at 85.6 percent (261-for-305).
--- The Wolves launched a season-high 50 shots on Lake Erie and goaltender Calvin Pickard in Saturday's shootout win, the most shots they have recorded since March 7, 2007 (51 SOG); the +31 shot differential marked the sixth time in Wolves history it has outshot its opponent by 30 or more, but did not break the franchise record of 38.
--- Despite being outscored by five goals in the second period last week, the Wolves' goal differential in the middle frame still ranks well above its bookends; Chicago boasts a +22 second-period goal differential as compared to +6 for both the first and third periods.
WOLVES REWIND (2-1-0-0)
Sunday, March 30
(at) Rockford 6, Chicago 3
--- A third-period rally fell short as the Wolves surrendered two power-play goals and two empty-net goals in a loss at Rockford
--- Right wing TY RATTIE scored twice and right wing MICHAEL DAVIES added the third goal
--- Goaltender JAKE ALLEN denied 32 shots
Saturday, March 29
(at) Chicago 5, Lake Erie 4 (SO)
--- The Wolves rallied from a three-goal third-period deficit to top the Monsters in a shootout for the second game in a row
--- MARK CUNDARI (2G), EVAN OBERG and SHANE HARPER scored for Chicago, while HARPER and PAT CANNONE tallied in the shootout
--- Goaltender MATT CLIMIE made 15 saves in regulation and overtime as well as 5-of-6 in the shootout
Wednesday, March 26
(at) Chicago 6, Lake Erie 5 (SO)
--- A back-and-forth affair saw the Wolves twice come back from two-goal deficits, tying the game with two tallies in the final 3:04 before topping the Monsters 2-0 in the shootout
--- SERGEY ANDRONOV, JOEL EDMUNDSON, DOUG JANIK, KEITH AUCOIN, and MICHAEL DAVIES scored in regulation while TY RATTIE and ADAM CRACKNELL added shootout markers
--- Goaltender JAKE ALLEN made 30 saves through regulation and overtime and went a perfect 4-for-4 in the shootout
THIS WEEK:
Tues., April 1*
vs. Milwaukee Admirals#
Allstate Arena
7 p.m.
Sat., April 5*
vs. Milwaukee Admirals#
Allstate Arena
7 p.m.
Sun., April 6*
vs. Iowa Wild
Allstate Arena
3 p.m.
*U-Too
#Amtrak Rivalry
GAMES WILL BE TELECAST LIVE ON THE U-TOO OR WCIU
Log on to chicagowolves.com for broadcast schedule, or to watch or listen to the action live online
• Discuss this story on the American Hockey League message board...


American Hockey League Stories from March 31, 2014
The opinions expressed in this release are those of the organization issuing it, and do not necessarily reflect the thoughts or opinions of OurSports Central or its staff.