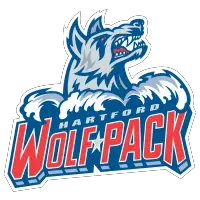 Wolf Pack's Nieves a Man of Many Talents
April 7, 2016 - American Hockey League (AHL) - Hartford Wolf Pack News Release



Like most hockey players who advance as far as the pro level, the Hartford Wolf Pack's Cristoval "Boo" Nieves was thoroughly wrapped up in the game from a very early age, and was blessed with extremely supportive parents who went out of their way to help him chase his dream.
That is not to say, however, that Nieves, or his mom Joanne or dad Rafael, had such tunnel vision that they were consumed by hockey and thought of little else.
In fact, the Nieves family has another passion that Boo finds nearly as rewarding as the game that earned him a college scholarship to the University of Michigan and is his chosen profession.
"Music means a lot to me," Nieves, who majored in Music at Michigan, said in a conversation after a recent Wolf Pack practice. "Music's a huge part of my family, my dad's really into music, my mom's really into music. I picked up the guitar when I was about 12 or 13 and then drums after that, and then piano in college, so it's definitely something that is a passion of mine. It's been really fun at Michigan because it's kind of an escape from hockey. I kind of get two different worlds. It's nice to get away from hockey, go up to North Campus and play some instruments, and I'm glad I took the music route."
That path started from an early age for Nieves, who was surrounded by an eclectic mix of musical influences at home.
"My mom, she's just a huge music fan," Nieves said. "She was always playing like Elton John and people like Boston, The Who. It was always kind of like bumping in the kitchen in the summertime, and my dad was actually a DJ when he was younger. So he was kind of more in the, like, electronic music. He would make some music and mash-up songs, and I kind of grew up around that. I started picking up some instruments, and just kind of never looked back."
Nieves' musical talents and level of interest are such that he has entertained thoughts of trying the music business as a second career, but not until after what he hopes will be a long and successful run as a pro hockey player
"It's definitely something I've put a little bit of thought into, maybe after hockey's done, maybe down the road take a stab at some musicianship," Nieves said. "But I haven't really thought too far into it, more focused on hockey right now."
That focus has led to the Syracuse, NY-born Nieves playing four successful years at U. Michigan, and being selected by the Wolf Pack's parent club, the New York Rangers, in the second round of the 2012 NHL Draft. That was after two seasons at Kent School in western Connecticut, playing for coach Matt Herr, a former Michigan Wolverine and NHL and AHL player.
"It's nice to be back in a familiar state," Nieves said with a smile, of his return to the Nutmeg State to join the Wolf Pack. "Kent was awesome. Matt Herr was a huge influence on me going to Michigan, and he helped me to get there. I speak to him every once in a while. It's been a really good experience ever since I went to Kent. I'm really happy I did, it really helped set up my future at Michigan, the little things, like time management and being on your own and playing hockey. I'm glad I started at Kent."
After finishing at prep school, Nieves could have tried the Major Junior route, and possibly navigated a shorter route to pro hockey, but four years of playing in Ann Arbor for legendary Wolverines coach Red Berenson turned out to be a boon for Boo.
"I'm very happy, it's been a really good experience at Michigan," he said. "Everything that I did there, and everybody that was there, the coaches, the staff, they've all set me up to be successful and to come here (to the pros). And school-wise, I'm going to graduate pretty soon, so it'll be nice to have a degree under my belt, as well getting to the same place (pro hockey) as I would have anyway."
Nieves feels, too, that the preparation for pro that he received playing in the Central Collegiate Hockey Association (CCHA) his freshman year, and the Big-10 thereafter, takes a back seat to no other.
"I think it helped a lot," he asserted. "There's been a lot of guys who have come out of those two leagues, especially in the more recent years, that have played in the AHL and even broken into the NHL, guys that I played with, like (Detroit Red Wings forward Dylan) Larkin and (Toronto Maple Leafs forward Zach) Hyman and (Carolina Hurricanes winger Phil) Di Giuseppe. Guys like that had put their time in there and had come out and had been successful. So it's definitely helped a lot to play against guys who were already ahead of me, and I'm excited to see what the future holds."
Nieves' arrival has enhanced what was already a strong U. Michigan presence in the Wolf Pack locker room. In addition to Nieves, Hartford veterans Chris Summers and Chris Brown are both also former Wolverines. Although both Brown and Nieves were gone from Ann Arbor by the time Nieves arrived in the fall of 2012, he still feels a connection with his two new Wolf Pack teammates.
"It's pretty cool to have two other guys who attended Michigan here with me," Nieves said. "We've had some good laughs about stuff we've done together there, and things that all the guys do when they're at Michigan. It's been good to have them there, it's nice to have some familiar faces, and it helps my transition even more."
Nieves stands 6-3 and weighs 200 pounds, which qualifies as solid NHL size, but the attribute that has kept him among the ranks of elite prospects is his skating speed.
"I definitely feel like speed's my best asset, especially because of my size," Nieves said. "Not many guys can move as quick as I can at my height. So I definitely think that's been a strength of my game, and growing up my coaches always would say, 'Speed kills. As long as you can stay ahead of the other guy, just make sure you're doing everything at a higher pace than them, then you'll be fine.'"
Through the first two games he has played with the Wolf Pack, Nieves has noticed a difference in the pace of play between the AHL and NCAA Division I, but it has not been as big of a jump as he thought it might be.
"It's definitely a little faster, but I was more surprised with how strong other guys are," Nieves said. "You feel like you're playing against men out there, and it's been kind of tough at first, but I'm starting to catch on."
In addition to foot speed, another calling card that Nieves has developed throughout his amateur career is acumen in the faceoff circle. He credits that to the guidance of his venerable college coach, who has been helping collegians develop in Ann Arbor for three decades.
"After practice every day, Coach Berenson would make me do faceoffs," Nieves said. "And I'm glad he did because he would watch video on guys in the NHL and he would send them to me, guys like (Montreal Canadiens great Saku) Koivu, and he talked about just making sure you know what the other guy's doing, more or less, and not worrying so much about where the ref's hand is. It's just making sure that you're beating the other guy. I think the best tip he ever gave me was that I don't necessarily have to win the faceoff, I just can't lose it clean."
All that work on faceoffs has already served Nieves well in AHL action, as one of two assists he picked up in his first two Wolf Pack games was as a result of winning a draw. On that play, he set up a goal by Daniel Paille, who, along with Brown, has flanked Nieves in is first pair of pro outings.
"I think it's gone pretty well so far," Nieves said. "It took me the first few periods of the first game to kind of get going and get up to speed, but Brown and Paille have been really good with me and they've really helped me out a lot. They've made the transition definitely a lot smoother."
For Wolf Pack head coach Ken Gernander, Nieves' arrival was timely, given his ability to play center and the fact that the Wolf Pack had lost veteran pivot man Travis Oleksuk to an injury.
"He's (Nieves) given us a little bit of depth down the middle, and that was a big boost for us, given that Olie (Oleksuk) was out, gave us a little bit more flexibility," Gernander said. "You can certainly see that he skates well, and he picked up an assist his first night. It's been pretty good stuff."
Gernander has been impressed by the 22-year-old Nieves' approach as well, and by his ability to hit the ground running.
"He's just joining us, so it's not like he's had all kinds of time to get acclimated to things," Gernander said of Nieves. "I'm sure there's a little bit of adrenaline working in his favor, but a guy that's doing things, making plays, being proactive, certainly that's the mindset you want to have."
Nieves and fellow recent Wolf Pack addition Steven Fogarty, a product of the University of Notre Dame and a third-round selection by the Rangers in 2011, are hoping to follow in the footsteps of defenseman Brady Skjei, who earned a callup to the Rangers April 5. A year ago at this time, Skjei was in the same position as Nieves and Fogarty are in now, that is, a high-round Ranger draft pick right out of college, just getting his feet wet with the Wolf Pack.
"Brady's a guy that we've known for a few years now and one of the first guys we said hi to when we got here, and it was definitely the most familiar face," said Nieves. "He was kind of helping us, guide us around here, making sure we know what we're doing and making sure we know what's going on. I'm glad for him that he got called up, that's really cool, and I wish him the best of luck."
Images from this story
• Discuss this story on the American Hockey League message board...


American Hockey League Stories from April 7, 2016
The opinions expressed in this release are those of the organization issuing it, and do not necessarily reflect the thoughts or opinions of OurSports Central or its staff.
Other Recent Hartford Wolf Pack Stories