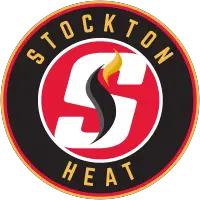 Heat Fall to Ontario Despite Last Period Shooting Gallery
April 7, 2016 - American Hockey League (AHL) - Stockton Heat News Release



Stockton, Calif. - The Stockton Heat peppered the Ontario Reign's net with 47 shots, but can only manage to light the lamp once, as the Heat fall to the Reign 4-1 Wednesday night at Stockton Arena. Bill Arnold scored Stockton's lone goal with a textbook deflection that got past the goaltender, while Nick Schneider once again played a poised game, stopping 30 of the 34 shots he faced in a losing effort. However, the NHL veteran Peter Budaj made 46 saves on the 47 shots he faced and led his team to the win. The Stockton Heat will now look forward to keeping their playoff hopes alive with a weekend double-header against the San Diego Gulls, beginning this Saturday at Stockton Arena.
SCORING SUMMARY
1st Period
No goals
Shots: STK - 12 | ONT - 11
2nd Period
Ontario goal: F Michael Mersch (23) shot from the point is deflected at the top of the crease and beats the goaltender low (Schultz, Backman assists), 3:05 (PP)
Ontario goal: D Nick Ebert (2) shot from the center point redirects off a defender's skate and beats the goaltender just inside the farside post (Newbury, Kempe assists), 5:16 (PP)
HEAT GOAL: F Bill Arnold (9) shot from the point is redirected just inside the farside faceoff circle and beats the goaltender on the blocker side (Kulak, Agostino assists), 12:54 (PP)
Ontario goal: D Derek Forbort (2) shot from the point makes its way through traffic and beats the goaltender on the glove side (Kempe, Sutter assists), 16:02
Ontario goal: F Sam Herr (1) shot from just below the nearside faceoff dot beats the goaltender high blocker side after a cross-ice pass on the rush (Leitner, Lowry assists), 16:40
Shots: STK - 11 | ONT - 20
3rd Period
No goals
Shots: STK - 23 | ONT - 3
GOALIES
W: Peter Budaj (47 shots, 46 saves)
L: Nick Schneider (34 shots, 30 saves)
NOTABLE STATISTICS
Three Stars: 1- Derek Forbort (1 goal) 2- Bill Arnold (1 goal) 3- Peter Budaj (47 shots, 46 saves)
Final Shots: STK - 47 | ONT - 34
Power Plays: STK - 1/3 | ONT - 2/3
Bill Arnold (1 goal) scores his third power-play goal of the season
Kenny Agostino (1 assist) is now on a three-game point streak (1 goal, 2 assists)
Brett Kulak (1 assist) now has at least one point in back-to-back games (3 assists)
The Ontario Reign clinch the Pacific Division title with win, while the Stockton Heat fall to sixth after Bakersfield beat San Diego earlier tonight
QUOTES
"I think the game tonight got away from us a little bit with our penalties. We have to be more disciplined than that and overall our compete level just wasn't there tonight." - Kenny Agostino with his thoughts on tonight's game.
"I thought we were flat tonight. We didn't come out with the same urgency or intensity that we did the last few times we've played [Ontario]. It showed tonight and, again, our discipline has to be better." - Agostino on what he thought the difference between tonight's game was from the previous two games against Ontario in which the Heat won.
"I think it was a good break in by [Emile] Poirier and Kenny [Agostino]. They did a good job of setting us up and [Brett Kulak] made a good shot towards the net. I just sort of threw my stick out there and got a piece of it." - Bill Arnold on his goal tonight.
"We have to figure out what we want to play for. We're not out of the playoffs yet and we need to take it one game at a time. We have to focus on what we can control and that's the next game against San Diego. You're always playing for your pride and the Calgary Flames organization too, so we need to focus on getting better down the stretch and win some games." - Arnold on the focus moving into this weekend's double header against San Diego.
"Our execution was off, but I thought our work was there. You could see early on that pucks were bouncing around on us. I thought we generated a few more chances in the third period and had some opportunities. The guys on our backend did a good job of getting themselves up the ice tonight. I liked our rush, but we were just not quite as sharp as we needed to be in certain situations." - Head Coach Ryan Huska with his thoughts on tonight's game.
NEXT HOME GAME
STOCKTON HEAT vs. San Diego Gulls
April 9 @ Stockton Arena
First 1000 fans age 13 & older receive a Heat tote bag
Doors @ 6:30 p.m., Puck drop @ 7:30 p.m.
• Discuss this story on the American Hockey League message board...


American Hockey League Stories from April 7, 2016
The opinions expressed in this release are those of the organization issuing it, and do not necessarily reflect the thoughts or opinions of OurSports Central or its staff.