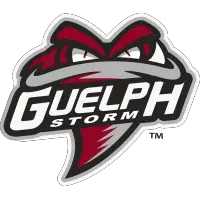 Western Conference Championship Series Preview - #SAGvsGUE
April 18, 2019 - Ontario Hockey League (OHL) - Guelph Storm News Release



The Western Conference Championship Series offers a new look this year as the Saginaw Spirit and Guelph Storm meet for the first time ever in the third round of the OHL Playoffs. The victor will capture the Wayne Gretzky Trophy and advance to the Rogers OHL Championship Series.
(2) SAGINAW SPIRIT (45-17-3-3) vs. (4) GUELPH STORM (40-18-6-4)
Two teams that made significant trade deadline additions have seen those moves pay big dividends as the Saginaw Spirit and the Guelph Storm have battled their way into the Western Conference Championship Series.
The West Division champion Spirit have enjoyed a year for the memory books, winning a franchise-high 45 games before ousting divisional foes the Sarnia Sting and Soo Greyhounds in the opening rounds of the OHL Playoffs.
The Western Conference Final is unchartered territory for the Spirit as they've reached the third round for the first time in their 17-year history.
"It's a proud time for us as a franchise and the fans in the community are really getting behind us," said Spirit captain Damien Giroux, a speedy forechecker and fifth round pick of the Minnesota Wild. "We know the fans here have got our backs and we're excited to go out and get things started on Thursday."
Though the Spirit haven't been this deep into the playoffs before, they did bring in some veteran talent in 2017 Eastern Conference champions Owen Tippett and Ryan McLeod, formerly of the Mississauga Steelheads. The former leads Saginaw in playoff scoring with 17 points (9-8-17) while the latter owns a team-leading plus-13 rating.
"Dave Drinkill did a great job identifying Owen and Ryan as two players that would help us make a push," said Spirit head coach Chris Lazary, who took over behind the bench in mid-November before the club's big turnaround. "Those guys along with Justin Murray and Reagan O'Grady have provided us with that veteran presence in the dressing room that has proven valuable during those crazy moments that every team has to go through in the playoffs."
The Spirit are backed by 20-year-old Russian netminder Ivan Prosvetov who was among the league's best netminders in the second half of the season. The Arizona Coyotes prospect has carried his fine play into the playoffs, posting a 2.33 goals-against average and .932 save percentage over 10 games.
New York Islanders second round pick Bode Wilde has been another big factor in Saginaw's playoff success. The 6-foot-3, 190Ib defender has eight points (6-2-8) in 10 playoff contests and has 38 shots on goal, the club's second-highest total.
Young forwards Cole Perfetti (3-3-6), Nicholas Porco (3-3-6) and Camaryn Baber (3-3-6) have all found ways to chip in of late, giving the Spirit solid depth and much-needed energy up front.
While the Spirit have enjoyed the benefit of three days of rest, the Guelph Storm are in for a quick turnaround following one of the greatest comebacks in OHL history.
Down 3-0 in their second round series against the Midwest Division champion London Knights, the Storm proceeded to win four straight including a pair on the road. They overcame a 3-1 deficit in Game 7 with five unanswered goals as captain Isaac Ratcliffe scored twice and added an assist.
"The resiliency that these guys have shown in the last four games has been unbelievable," said Ratcliffe. "We've got an older group here and a lot of guys who will be graduating after this year. The message in the room yesterday was to keep a strong head because we're not done yet and we've got that same mindset going into this series."
One of Guelph's big trade deadline pickups along with fellow Owen Sound Attack teammates Markus Phillips, Sean Durzi and Zachary Roberts, Montreal Canadiens prospect Nick Suzuki put up 13 points (6-7-13) over the final five games of the London series to lead his team to victory. The Storm has also benefitted form the 200-foot contributions of former OHL champion MacKenzie Entwistle (5-7-12) who hoisted the Robertson Cup as a member of the Hamilton Bulldogs last spring.
"We've got to get past our emotional Game 7 on Tuesday and get refocused after a good days rest," said Storm head coach and general manager George Burnett, who guided Guelph to an OHL Championship back in 1998. "We understand the task is a tall one. Saginaw has had a terrific season, they're a high-powered team that moves the puck as well as anybody in the league and they get great goaltending.
"We have to worry about ourselves, get the message to our guys as to what they can expect and then make adjustments each and every game as we move forward."
Highly touted NHL prospects line up on both sides of the ice in this intriguing Western Conference Final as the Spirit try and hunt down their first ever OHL Championship while the Storm look to relive the magic the franchise experienced in 2014.
Season Series:
Teams tied season series with two wins apiece
Sept. 29: GUE 6 at SAG 5 - OT
Nov. 3: GUE 4 at SAG 5 - SO
Jan. 3o: SAG 2 at GUE 8
Mar. 8: SAG 5 at GUE 3
Playoff History:
This marks the fourth time that Saginaw and Guelph have met in the OHL Playoffs.
- 2011 SAG def. GUE 4-2 - 1st round / 2009 SAG def. GUE 4-0 - 1st round / 2006 GUE def. SAG 4-0 - 1st round
Series Schedule:
Game 1, Thurs., April 18 at Saginaw, 7:05
Game 2, Sat., April 20 at Saginaw, 7:05
Game 3, Mon., April 22 at Guelph, 7:00
Game 4, Wed., April 24 at Guelph, 7:00
Game 5, Fri., April 26 at Saginaw, 7:05*
Game 6, Sun., April 28 at Guelph, 2:00*
Game 7, Mon., April 29 at Saginaw, 7:05*
*if necessary
• Discuss this story on the Ontario Hockey League message board...


Ontario Hockey League Stories from April 18, 2019
The opinions expressed in this release are those of the organization issuing it, and do not necessarily reflect the thoughts or opinions of OurSports Central or its staff.
Other Recent Guelph Storm Stories