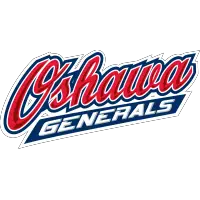 Eastern Conference Championship Series Preview
April 18, 2019 - Ontario Hockey League (OHL) - Oshawa Generals News Release



The battle for the Eastern Conference has come down to a pair of East Division foes as the OHL's first place Ottawa 67's battle the surging Oshawa Generals for the Bobby Orr Trophy.
(1) OTTAWA 67's (50-12-4-2) vs. (3) OSHAWA GENERALS (44-20-4-0)
Two teams with a long history of OHL playoff clashes square off for the Bobby Orr Trophy as the first place Ottawa 67's prepare to face familiar East Division opponents the Oshawa Generals.
There won't be many surprises when the puck drops in the nation's capital on Thursday night as the 67's and Generals faced each other eight times during the regular season.
The Gennies enter play off a thrilling 3-2 win to eliminate the Central Division champion Niagara IceDogs on Monday night, besting former teammates Jack Studnicka and Matt Brassard who made their way to Niagara in a mid-season swap. Boston Bruins prospect Kyle Keyser was simply spectacular in the series, helping the Generals prevail despite falling behind 2-0 out of the gate while being outshot in five of the six games.
"He's a pro and the way he goes about his business every day shows that," said Generals first-year head coach Greg Walters of his goaltender. "He's one of our hardest working guys both on and off the ice and he's very mature in what he does. Kyle doesn't take a backseat to anybody in his position in our league and we're very lucky to have him."
Keyser, who claimed silver with the United States at the World Juniors in January, will square off against Vancouver Canucks prospect Michael DiPietro, a former Memorial Cup champion who set an all-time OHL record by recording his 17th career regular season shutout on Jan. 18th.
The duel in the crease is one among many intriguing storylines in the series. The Generals feature six different players from the Ottawa region including standouts Serron Noel, Nicolas Mattinen and Giovanni Vallati. They've also got a number of players trying to lock down NHL contracts in Brandon Saigeon, Anthony Salinitri and Nando Eggenberger among others.
"With team success comes individual success," said Walters. "We've got guys fighting for contracts and they know that and all eyes are on them right now. You have to change your game a little bit, it's not just about producing points. You have to block shots and play a 200-foot game to get noticed by the NHL and our guys are doing that right now."
Colorado Avalanche prospect Saigeon leads the Generals offensively with 13 points (3-10-13) over 11 contests while captain Kyle MacLean (5-7-12) has enjoyed a strong postseason.
While they're playing some of their best hockey right now, the Generals will have their hands full against a 67's team with no shortage of swagger. Ottawa is 8-0 in the OHL Playoffs coming off a triple-overtime triumph over the Sudbury Wolves. Tye Felhaber's sixth period winner put an end to the longest game in 67's franchise history.
With the Senators missing out on the NHL Playoffs this spring, the 67's are the big ticket in the nation's capital and recent attendance figures have climbed into the 7,000's.
"It's a really special time for the entire organization," said Ottawa head coach Andre Tourigny. "The players have earned it. They've worked really hard to be getting this kind of attention and respect and they deserve it. I'm proud of them and I'm happy for the organization because there really is playoff fever around town and we're enjoying every minute of it."
The 67's have been paced offensively by a pair of trade deadline acquisitions in overagers Lucas Chiodo (6-10-16) and Kyle Maksimovich (5-9-14) while the always-dangerous Felhaber (6-7-13) and Sasha Chmelevski (3-10-13) trail close behind with 13 points each.
Ottawa won five of eight against Oshawa this past season, with the big trio of Felhaber (5-9-14), Austen Keating (3-10-13) and rising rookie Marco Rossi (5-6-11) putting up big numbers during the season series.
From the 67's becoming the first team in OHL history to come back from a 3-0 series deficit in 1988 to Marc Savard's Championship-clinching overtime winner for the Generals in 1997, exciting things tend to happen when these two teams square off in the OHL Playoffs. Expect nothing less this year as a pair of highly talented clubs leave it all on the ice.
Season Series:
Ottawa won season series 5-1-1-1
Nov. 9: OTT 3 at OSH 4 - OT
Nov. 21: OSH 2 at OTT 1 - SO
Dec. 30: OTT 5 at OSH 2
Jan. 6: OSH 4 at OTT 7
Jan. 25: OTT 9 at OSH 6
Jan. 26: OSH 0 at OTT 4
Mar. 9: OSH 3 at OTT 2
Mar. 10: OTT 4 at OSH 0
Playoff History:
This marks the 13th time that Ottawa and Oshawa have met in the OHL Playoffs.
- 2008 OSH def. OTT 4-0 - 1st round / 2003 OTT def. OSH 4-2 - 2nd round / 2000 OTT def. OSH 4-1 - 1st round / 1997 OSH def. OTT 4-2 - OHL Championship / 1991 OSH def. OTT 4-1 - semi-finals / 1989 OTT def. OSH 4-2 - 1st round / 1988 OTT def. OSH 4-3 - 1st round / 1984 OTT def. OSH 8-0 pts. - 2nd round / 1983 OSH def. OTT 8-2 pts. - semi-finals / 1982 OTT def. OSH 8-6 pts. - semi-finals / 1980 OTT def. OSH 4-3 - 1st round / 1972 OTT def. OSH 9-3 pts. - semi-finals
Series Schedule:
Game 1, Thurs., April 18 at Ottawa, 7:00
Game 2, Sat., April 20 at Ottawa, 2:00
Game 3, Sun., April 21 at Oshawa, 6:05
Game 4, Wed., April 24 at Oshawa, 7:05
Game 5, Fri., April 26 at Ottawa, 7:00*
Game 6, Sun., April 28 at Oshawa, 6:05*
Game 7, Mon., April 29 at Ottawa, 7:00*
*if necessary
• Discuss this story on the Ontario Hockey League message board...


Ontario Hockey League Stories from April 18, 2019
The opinions expressed in this release are those of the organization issuing it, and do not necessarily reflect the thoughts or opinions of OurSports Central or its staff.