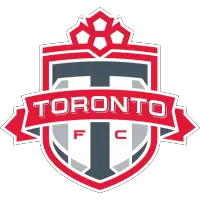 Toronto FC (0) – (1) Inter Miami CF Post Game Summary
September 14, 2021 - Major League Soccer (MLS) - Toronto FC News Release



SCORING SUMMARY
MIA - Christian Makoun 90+5' (penalty kick)
MISCONDUCT SUMMARY
TOR - Chris Mavinga 31' (caution)
TOR - Kemar Lawrence 37' (ejection)
MIA - Gregore 53' (caution)
TOR - Richie Laryea 61' (caution)
TOR - Mark Delgado 67' (caution)
MIA - Robbie Robinson 68' (caution)
MIA - Leandro González Pírez 72' (caution)
RECORDS (W-L-D)
Toronto FC 3-15-6 15 points
Inter Miami CF 9-9-5 32 points
LINEUPS
TORONTO FC - Alex Bono; Auro Jr., Kemar Lawrence, Chris Mavinga, Richie Laryea (Justin Morrow 82'); Michael Bradley (C), Mark Delgado, Jonathan Osorio, Tsubasa Endoh (Jacob Shaffelburg 5'), Yeferson Soteldo; Ifunanyachi Achara (Eriq Zavaleta 90+3')
Substitutes Not Used: Quentin Westberg, Omar González, Jahkeele Marshall-Rutty, Noble Okello, Dom Dwyer, Patrick Mullins
INTER MIAMI CF - Nick Marsman; Leandro González Pírez. Nicolás Figal, Christian Makoun; Kelvin Leerdam (Brek Shea 55'), Gregore (C), Jay Chapman (Blaise Matuidi 82'), Lewis Morgan; Indiana Vassilev (Federico Higuaín 55'), Rodolfo Pizarro (Julián Carranza 75'), Robbie Robinson
Substitutes Not Used: John McCarthy, Sami Guediri
MEDIA NOTES
Justin Morrow made his 200th MLS regular season appearance for Toronto FC.
Auro Jr. made his 100th appearance for Toronto FC in all competitions.
Alex Bono and Chris Mavinga made their 100th MLS regular season appearances for Toronto FC.
JAVIER PÉREZ - HEAD COACH, TORONTO FC
Q. I just wanted to get your take on the game. It seemed like you had a clear goal in the 87th minute, and then you gave up penalties where there seemed to be clear encroachment on the penalty kick. Can you give us your take on those incidents?
Yeah, I think you made already the summary for me. It's just unbelievable that we have all this technology, all these rules that they put in place just to get things right, and instead what they do is just create more confusion and more things that are unfair. I think it is unacceptable what we witnessed tonight. It's unacceptable to have here, we have a clear play that is not even reviewed. Same gentleman, VAR, that he was in our game against Montréal, and the foul on Noble to send him off.
And I don't understand why we have such a clear situation that you can see even live, you can see live in the game. And then they have the technology to see it, and still it's difficult to believe that they don't do it personally. I don't want to judge. I don't want to assume things. But it's very difficult to believe that this is not something that's not done on purpose.
So I'm extremely disappointed because as you mention, 86th minute, very clear, very clear that the goal goes in. In the 95th minute, very clear that the penalty has to be retaken because there are three players that very, very clear, they are inside the box and that penalty has to be taken and it wasn't. Extremely disappointed with what has been conducted and managed the game tonight.
Q. The calls notwithstanding what did you make of your team's overall performance tonight, especially playing a man down for whatever it was, 55, 56 minutes?
Yeah, I'm very happy with the team. I'm very happy we stick together. I said the same thing last week, it was a different game, but I think tonight we are trying to get out of the hole. We are trying. I think we are touching the right keys and tonight we started I think really well given the circumstances. We were in control of the game. We were energetic. We were fast and I think the game was in a good way while we were 11 versus 11.
And then when we went one player down, we took the challenge and we accepted the game the way -- the way it was. We created chances. We knew at halftime that we have to defend very strong together, be compact, and we know that one or two chances were going to come. They did. Some of them, we didn't put them way but one we did, and it wasn't -- it wasn't what we deserved.
Q. Were you given an explanation by any of the officials why there was no review of the goal or penalty kick?
No. The fourth official couldn't articulate to me any of the answers.
Q. I don't know if you spoke to the team after the game. If you did, what did you have to say to them in the wake of what happened tonight?
Two things. One is that we fought and this is the team that I want to see from now to the end of the season. This is the attitude, the energy, the way we move the ball; that we are at home, and we have to be strong in our home, and tonight we did.
And we are not going to -- we are not going to let anybody come to our home and take advantage of us. So it's going to be them on the field because in the end the players are the ones winning the games, but it's going to be as well everybody else around them supporting them and helping them starting with myself.
Q. Jacob was not included in the starting 11 but came on and was a real difference-maker tonight. What did you see from him?
Jacob has gone through a difficult season but sometimes that's what younger players need and I think nobody doubted of his quality. I think he needed to see a little bit the other side of the -- of the football because not always everything is pretty and sometimes when you don't perform and your team is not going in the good way, you don't see the field for a long time.
Today, given the circumstances of the game, he implemented the parts of the game that didn't in the past and now we feel confident and comfortable that he can put good performances and help the team.
Q. Maybe on a lighter note, does it feel like this team is cursed a little but? I thought, as you said that, was the best performance we've seen from the team in a while and as you said, everything that can go wrong, does go wrong.
That's what it looks like. That's what it looks like. But it's the reality and it's our reality.
All of the external factors are not helping us. Meaning that we need -- we need fair judgment on the field, because if tonight we have a fair judgment, the result would be different. But I think you're absolutely right; that the things are not going in our way the first half we found ourselves 50 minutes playing really well, with a red card on Miami and a penalty in our favor. And then that gets put out and we find after a red ward against us.
So it looks like sometimes when things don't go your way, really don't go newer way. But going back again to the judgment, we need fairness and otherwise it's impossible like we saw tonight.
JACOB SHAFFELBURG - FORWARD, TORONTO FC
Q. It looked pretty clear that you had scored in the 87th minute, how did you see it?
I didn't really see it. I just kicked the ball and everyone else was yelling. So I don't really know what happened.
Q. Do you think your team deserved more out of this game?
Yeah, I thought we were the better team, but sometimes it doesn't work out like that.
Q. Just what does it say about this group and what does it say about the refusal to throw the towel in; that you guys came up with the kind of energy that you did today with everything going against you?
I think we were trying to do that for the fans, because they have been sticking with us through the whole thing that. Performance was more so for you guys to keep up with us through the rest of the year even though we're having a tough season.
Q. As has been pointed out, valiant effort, great performance, but ultimately it is a loss, the sixth in a row. How are you and the players keeping on?
We're trying to stay positive. Obviously it's hard when, as you said, we just lost our sixth one in a row but we are trying to keep our heads up and keep working for the rest of the season to give you guys all we have.
• Discuss this story on the Major League Soccer message board...


Major League Soccer Stories from September 14, 2021
The opinions expressed in this release are those of the organization issuing it, and do not necessarily reflect the thoughts or opinions of OurSports Central or its staff.