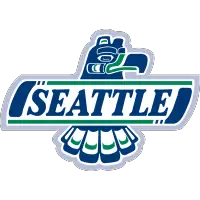 T-Birds Fall to Tips on Military Appreciation Night
November 10, 2019 - Western Hockey League (WHL) - Seattle Thunderbirds News Release



KENT - The Everett Silvertips defeated the Seattle Thunderbirds 4-2 Saturday night at accesso ShoWare Center.
The T-Birds next game is Saturday, November 16, against the Portland Winterhawks at accesso ShoWare Center at 6:05pm. This game will be broadcast in Seattle on JOEtv Channel 22/Cable 110. Single game tickets are on sale online on the T-Birds website and at the accesso ShoWare Center box office.
With Veterans Day on Monday the T-Birds celebrated those who serve our country with Military Appreciation Night, which included a special puck drop ceremony with two former military members.
The T-Birds also wore special military themed jerseys in the game.
After the game general manager Bil La Forge announced the team had traded Michael Horon to the Prince Albert Raiders for a seventh round pick in the 2020 Bantam Draft.
Everett got goals from Dawson Butt and Conrad Mitchell in the second period to take a 2-0 lead after two periods.
Martin Fasko-Rudas scored a power-play goal in the third period to make it 3-0 Everett.
Seattle got on the board at 11:11 of the third on a slap shot goal from Tyrel Bauer. Bauer took a pass from Conner Bruggen-Cate at the right point and his shot beat Everett goalie Keegan Karki on the glove side. Henrik Rybinski had the second assist on Bauer's first goal of the season.
Goalie Roddy Ross was pulled late in the game for an extra attacker. Wyatte Wylie was able to hit the empty net to get Everett's fourth goal.
Seattle didn't quit and was able to cut the Everett lead to two with 1:39 left in the third on Matthew Rempe's first goal in the WHL. Brendan Williamson carried the puck into the offensive zone on the left wing and crossed it to Rempe coming down the slot. Rempe beat Karki over the glove for the goal. Payton Mount had the second assist.
Ross stayed on the bench off the ensuing faceoff but the T-Birds were not able to get a third goal.
The T-Birds are now taking orders for Flex-24 Ticket packages. Fans that purchase the 24-Flex Ticket Package will be able to select any available premium seat for any game, in any ticket combination, during the 2019-20 season.
SCORING SUMMARY
First period - No scoring. Penalties - Anderson, Evt (high-sticking), 5:04. Fonstad, Evt (hooking), 7:59. Rempe, Sea (roughing), 10:16.
Second period - 1, Everett, Butt 2 (Fasko-Rudas, Gut), :32. 2, Everett, Mitchell 2 (Gut), 6:50. Penalties - Berezowski, Evt (tripping), 3:15. Kubicek, Sea (slashing), 9:02. Wedman, Sea (roughing), 9:31. Goncalves, Evt (roughing, slashing), 9:31. Butt, Evt (roughing), 11:34. Bauer, Sea (roughing), 11:34. Davidson, Sea (interference), 17:11. Gottfried, Sea (roughing), 17:11. Lee, Evt (roughing), 17:11.
Third period - 3, Everett, Fasko-Rudas (Fonstad, Wylie), 9:32 (pp). 4, Seattle, Bauer 1 (Bruggen-Cate, Rybinski), 11:11. 5, Everett, Wylie 4, 17:18. 6, Seattle, Rempe 1 (Williamson, Mount), 18:23. Penalties - Williams, Sea (tripping), 3:57. Fasko-Rudas, Evt (embellishment), 3:57. Wedman, Sea (elbowing), 6:16. Fairbrother, Evt (roughing), 9:11. Rempe, Sea (interference, roughing), 9:11. Bateman, Sea (cross checking), 12:20. Wedman, Sea (major-charging, game misconduct), 19:35. Wylie, Evt (major-fighting, 10-minute misconduct), 19:35. Butt, Evt (match penalty - attempt to injure), 19:f35. Kubicek, Sea (major-fighting), 19:35. Kukuca, Sea (major-fighting, game misconduct), 19:38. Sutter, Evt (major-fighting, game misconduct), 19:38. Mitchell, Evt (10-minute misconduct), 19:38.
Shots on goal - Seattle 13-9-16 38, Everett 14-11-13 38. Goalies - Seattle, Ross 37 shots-34 saves (5-6-2-1); Everett, Karki 38-36 (3-0-0-0). Power plays - Seattle 0-4; Everett 1-6. Referees - Mark Pearce, Jeff Ingram. Linesmen - Adam Harris, Nathan Van Oosten.
• Discuss this story on the Western Hockey League message board...


Western Hockey League Stories from November 10, 2019
The opinions expressed in this release are those of the organization issuing it, and do not necessarily reflect the thoughts or opinions of OurSports Central or its staff.
Other Recent Seattle Thunderbirds Stories