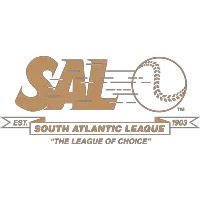 South Atlantic League Announces Rosters For 50th Annual All-Star Game
June 8, 2009 - South Atlantic League (SAL) News Release



ST. PETERSBURG, FL-Eric Krupa, president of the South Atlantic League, has announced the rosters for the 50th Annual SAL All-Star Game, scheduled to be played on June 23, 2009, at Appalachian Power Park in Charleston, West Virginia.
For the Northern Division, the Hickory Crawdads and Lakewood BlueClaws tied for the team-high number of representatives, at six apiece. Lakewood's Anthony Gose will start in center field while Hickory's Michael Bianucci will be in right field. Greensboro places four players on the team, including Ben Lasater at first base and Paul Gran at third base. Host West Virginia provides three players, including shortstop Chase D'Arnaud and designated hitter Calvin Anderson. Delmarva, Hagerstown, Kannapolis, and Lake County each provide two players. Each team claims one of the starting spots, with Delmarva's Richard Zagone being voted in as the starting pitcher, Derek Norris from Hagerstown as the catcher, Tyler Kuhn from Kannapolis will be in left field and Lake County's Karexon Sanchez will be at second base.
Lakewood manager Dusty Wathan will skipper the Northern Division All-Stars. Wathan is in his first season in the league, having managed in Williamsport (New York-Penn League) in 2008. Wathan will be assisted by West Virginia manager Gary Green, Kannapolis manager Ernie Young, Lakewood coach Tim Gradoville, and West Virginia pitching coach Jeff Johnson. West Virginia's Keito Homma will serve as the team's trainer.
For the Southern Division, the Greenville Drive led the division with five players, including starting pitcher Casey Kelly and first baseman Anthony Rizzo. Asheville, Charleston and Savannah each have four representatives, and each team provides two starters. Asheville's Jordan Pacheco will be the catcher and Scott Robinson will be in center field. Charleston sends Melky Mesa in right field and Daniel Brewer as the designated hitter. Savannah starters include Joshua Satin at second base and Sean Ratliff in left field. Lexington and Rome each send three players, with Lexington's Ebert Rosario starting at third base. Augusta and Bowling Green contribute two players each, with Bowling Green's Tim Beckham named as the starting shortstop.
Greenville skipper Kevin Boles will manage the Southern Division squad. Currently in his ninth season as a manager, and second with the Drive, Boles was on the staff of the Southern Division for the 2008 All-Star Game. Joining Boles on the Southern Division coaching staff will be Charleston manager Torre Tyson, Charleston pitching coach Jeff Ware, Greenville hitting coach Billy McMillon, Greenville pitching coach Bob Kipper and Lexington pitching coach Charley Taylor. Handling the trainer's duties will be Augusta's James Petra.
Both all-star teams will be represented by 27 players, selected by the votes of the team's managers and coaching staffs, local media and front office executives. Appalachian Power Park will host its first SAL All-Star game. The city of Charleston, WV last hosted the game back in 1989 at Watt Powel Park. The annual SAL All-Star Game dates to 1960, when the All-Stars defeated the Salisbury club, 6-2, in Newton, N.C.
"Once again, the talent that will be showcased in this game will be tremendous," said Krupa. "The expectations of the fans are high, and I believe they will have a fun time during this exciting event. Executive Vice President Andy Milovich, General Manager Joe Payne and the staff in West Virginia have been working for a long time to live up to the tradition and host one of the most anticipated events on our baseball calendar."
A variety of events, nicknamed the 2009 All-Star Jamboree, have been scheduled in Charleston along with the SAL All-Star Game. A Country Road Trip during the day on Monday, June 22nd will offer whitewater rafting, tree-top canopy tour, mountain biking, horseback riding, rock climbing and fishing. A Downtown Hoedown is slated for Monday evening in downtown Charleston in conjunction with "Festiv-ALL," the yearly city-wide arts and entertainment festival. An Energy Tour is scheduled for Tuesday morning, and will include a trip to an active mountain top mining operation and underground coal mine. A tour of the John Amos Power plant will conclude the trip that will allow the participants to see the journey of how coal is turned into electricity. The All-Star Game is scheduled to begin at 7:35pm on Tuesday, June 23rd.
* * * * *
2009 SOUTH ATLANTIC LEAGUE ALL-STAR ROSTERS
POSITION
NORTHERN DIVISION
MANAGER
Dusty Wathan
Lakewood
COACH
Gary Green
West Virginia
COACH
Tim Gradoville
Lakewood
COACH
Ernie Young
Kannapolis
COACH
Jeff Johnson
West Virginia
PITCHERS
Richard Zagone
Delmarva
Tyler Cloyd
Lakewood
Justin DeFratus
Lakewood
Johnny Dorn
Greensboro
Rudy Owens
West Virginia
Yoon-Hee Nam
Hickory
Peter Andrelczyk
Greensboro
Dan Remenowsky
Kannapolis
Alexander Perez
Lake County
Marcos Frias
Hagerstown
Brian Rosenberg
Lakewood
Martin Perez
Hickory
CATCHERS
Derek Norris
Hagerstown
Doug Hogan
Hickory
Travis D'Arnaud
Lakewood
FIRST BASEMAN
Ben Lasater
Greensboro
SECOND BASEMAN
Karexon Sanchez
Lake County
THIRD BASEMAN
Paul Gran
Greensboro
SHORTSTOP
Chase D'Arnaud
West Virginia
UTILITY INFIELDER
Erik Morrison
Hickory
UTILITY INFIELDER
Harold Garcia
Lakewood
RIGHT FIELD
Michael Bianucci
Hickory
CENTER FIELD
Anthony Gose
Lakewood
LEFT FIELD
Tyler Kuhn
Kannapolis
UTILITY OUTFIELDER
David Paisano
Hickory
UTILITY OUTFIELDER
Ronnie Welty
Delmarva
DESIGNATED HITTER
Calvin Anderson
West Virginia
TRAINER
Keito Homma
West Virginia
POSITION
SOUTHERN DIVISION
MANAGER
Kevin Boles
Greenville
COACH
Torre Tyson
Charleston
COACH
Billy McMillon
Greenville
COACH
Jeff Ware
Charleston
COACH
Bob Kipper
Greenville
COACH
Charley Taylor
Lexington
PITCHERS
Casey Kelly
Greenville
Jeffrey Kaplan
Savannah
Robert Bono
Lexington
Hector Noesi
Charleston
Christian Friedrich
Asheville
Ezekiel Spruill
Rome
Pat Venditte
Charleston
Ross Seaton
Lexington
Daniel Runzler
Augusta
Jimmy Johnson
Savannah
Armando Zerpa
Greenville
Chris Andujar
Bowling Green
CATCHERS
Jordan Pacheco
Asheville
Tim Federowicz
Greenville
Jesus Sucre
Rome
FIRST BASEMAN
Anthony Rizzo
Greenville
SECOND BASEMAN
Joshua Satin
Savannah
THIRD BASEMAN
Ebert Rosario
Lexington
SHORTSTOP
Tim Beckham
Bowling Green
UTILITY INFIELDER
James Cesario
Asheville
UTILITY INFIELDER
Juan Perez
Augusta
RIGHT FIELD
Melky Mesa
Charleston
CENTER FIELD
Scott Robinson
Asheville
LEFT FIELD
Sean Ratliff
Savannah
UTILITY OUTFIELDER
David Mailman
Greenville
UTILITY OUTFIELDER
Luis Sumoza
Rome
DESIGNATED HITTER
Daniel Brewer
Charleston
TRAINER
James Petra
Augusta
• Discuss this story on the South Atlantic League message board...


South Atlantic League Stories from June 8, 2009
The opinions expressed in this release are those of the organization issuing it, and do not necessarily reflect the thoughts or opinions of OurSports Central or its staff.