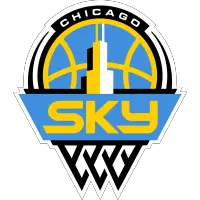 Sky Overseas Updates: Rundown No. 9
February 1, 2023 - Women's National Basketball Association (WNBA) - Chicago Sky News Release



CHICAGO - Six Chicago Sky players are currently taking their talents overseas with their respective teams this off-season. Below are the listed players, their teams and country. View all games and stats of Chicago Sky players throughout their overseas play here.
Dana Evans - Besiktas JK Istanbul (Turkey)
Azurá Stevens - Galatasaray M.P. Istanbul (Turkey) - Happy Birthday!
Rebekah Gardner - Spar CityLift Girona (Spain)
Julie Allemand - LDLC Lyon ASVEL Féminin (France), Belgium National Team
Ruthy Hebard - Atomerőmű KSC Szekszárd (Hungary)
Emma Meesseman - Fenerbahçe Spor Kulübü Istanbul (Turkey), Belgium National Team
Rebekah Gardner and Spar CityLift Girona bounced back with a win against Miskolc (74-56) on January 31 after dropping their last EuroLeague game to Sopron Basket (60-62). Game highlights can be viewed here. Spar Girona lifted themselves to the fourth seed in Group B in EuroLeague play, improving to a 7-5 record. They also picked up two Spanish League wins against Gernika (75-53) and Araski (76-57). Gardner averages 13.9 points, 4.7 rebounds and 2.9 assists with Spar Girona this season. The team's next EuroLeague game is on February 22 against Mersin and its next Spanish League game is against Zaragoza on February 4.
Emma Meesseman and Fenerbahçe are currently on a seven-game winning streak that began on January 11. Meesseman was also named EuroLeague MVP for January - her January EuroLeague highlights can be viewed here. She helped the team solidify its spot in the EuroLeague Quarter-Finals when Fenerbahçe defeated USK Praha, 73-66 on January 31. Game highlights can be viewed here. Over her five EuroLeague games in January, Meesseman recorded 19.0 points, 6.2 rebounds and 2.8 assists per game. Fenerbahçe is 10-2 in EuroLeague and 14-3 in Turkish League.
Ruthy Hebard is averaging 13.4 points and 7.1 rebounds with Atomerőmű KSC Szekszárd this season in Hungarian League play. Szekszárd has dropped it last two games, both EuroLeague matches, against Olympiacos (68-87) and Bourges (61-77). Hebard tallied a team-high in rebounds for both games, with seven and 10 rebounds, respectively. Szekszárd's next Hungarian League game is against TFSE-MTK on February 18 and its next EuroLeague game is against Bologna on February 22.
Dana Evans and Besiktas have dropped their past two games against Azurá Stevens and Galatasaray (65-81) and most recently against Cankaya (66-73). Against Galatasaray, Evans scored a team-high 25 points and seven rebounds in 40 minutes. She continues to lead her team in scoring (23.5 ppg), assists (5.9 apg) and minutes (38.8 mpg) this season. Evans received the Player of the Week award during the second week of January. She is second in overall scoring and seventh in assists per game in the Turkish KBSL league. Next week, Evans and Besiktas face off against Antalya 07 on February 4.
Stevens and Galatasaray went on a three-game winning streak to end the month of January, continuing its 11-game winning streak dating back to December 14. Against Evans and Besiktas, Stevens tallied a team-high 27 points and 14 rebounds in 38 minutes. Galatasaray also recently defeated BLMA in EuroCup, Round of 16 on January 26. Stevens continues to lead her team in scoring with 17.3 points per game. Galatasaray plays BLMA again today (February 1) at 1:00 p.m. CST. The game can be viewed here.
Julie Allemand and LDLC Lyon Asvel Feminin are on a three-game winning streak, defeating Breatgne and Landes in French League play and defeating Sf. Gheorghe in EuroCup. Allemand averages 11.2 points, 4.3 rebounds and 7.7 assists so far this season. Lyon's next EuroCup game is today starting at 11:00 a.m. CST against Sf. Gheorghe in the Round of 16.
• Discuss this story on the Women's National Basketball Association message board...


Women's National Basketball Association Stories from February 1, 2023
The opinions expressed in this release are those of the organization issuing it, and do not necessarily reflect the thoughts or opinions of OurSports Central or its staff.