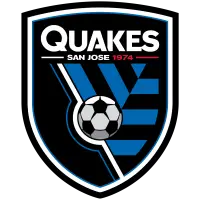 Shea Salinas Scores Game-Winning Goal In Last Home Match Of 15-Year Career
October 2, 2022 - Major League Soccer (MLS) - San Jose Earthquakes News Release



SAN JOSE, Calif. - The San Jose Earthquakes defeated Minnesota United FC 2-0 on Saturday night at PayPal Park. Shea Salinas, who was making the final home appearance of his 15-year MLS career, scored the game-winning goal. Salinas played 13 seasons for San Jose and holds the club's all-time assists record (50).
Salinas broke the deadlock in the 52nd minute. Taking a direct free kick he earned moments earlier, Salinas' low shot caromed off the leg of a Minnesota player and found the back of the net.
San Jose doubled their lead 19 minutes later. Jeremy Ebobisse received a long pass from Paul Marie before sending a through ball into space for Benji Kikanović. Kikanović dribbled past his defender and sent a low shot just inside the far post.
The Quakes will now close out the 2022 season when they travel to face Seattle Sounders FC on Sunday, Oct. 9. The match will kick off from Lumen Field at 2 p.m. PT and be broadcast live on NBC Sports California, KNBR 1050 (English) and 1370 KZSF (Spanish).
GAME NOTES
The Earthquakes currently hold an 8-15-10 record (34 pts.) during the 2022 MLS regular season.
San Jose is now 5-4-2 all-time vs. Minnesota United FC, including a 3-2-1 record at PayPal Park.
The Earthquakes are now 8-11-7 in MLS play under interim head coach Alex Covelo.
The Quakes snapped a six-match winless streak vs. Minnesota (0-4-2) that dated back to the start of the 2019 season.
The match served as the final home game for Shea Salinas, who started and played 52 minutes. He scored his first goal of the season and 22nd of his MLS career. Salinas, who ranks 10th in MLS history in career appearances, is in his 13th season with San Jose.
Forward Benji Kikanović scored his sixth goal of the season and 10th of his MLS career.
Seventeen-year-old midfielder Niko Tsakiris made his second consecutive MLS start, playing 73 minutes.
Goalkeeper JT Marcinkowski earned his fourth shutout of the season and 14th of his MLS career.
MATCH INFORMATION
2022 MLS Regular Season
San Jose Earthquakes 2 - 0 Minnesota United FC
Saturday, Oct. 1, 2022 - PayPal Park in San Jose, Calif.
Attendance: 15,709
Man of the Match: Shea Salinas
Scoring Summary:
SJ (1-0) - Shea Salinas (unassisted) 52'
SJ (2-0) - Benji Kikanović (Jeremy Ebobisse, Paul Marie) 71'
Misconduct Summary:
SJ - Jackson Yueill (caution) 9'
MIN - Kervin Arriaga (caution) 10'
MIN - Luis Amarilla (caution) 23'
MIN - Michael Boxall (caution) 50'
SJ - Shea Salinas (caution) 53'
SJ - Rodrigues (caution) 70'
SJ - Benji Kikanović (caution) 86'
SAN JOSE EARTHQUAKES: JT Marcinkowski; Paul Marie, Rodrigues, Nathan, Tommy Thompson (Miguel Trauco 64); Jackson Yueill © (Eric Remedi 73), Niko Tsakiris (Jan Gregus 73), Jamiro Monteiro; Shea Salinas (Benji Kikanović 64), Jeremy Ebobisse (Cade Cowell 82), Cristian Espinoza.
Substitutes not used: Matt Bersano (GK); Tanner Beason, Judson, Jack Skahan.
SHOTS: 18; SHOTS ON GOAL: 6; FOULS: 11; CORNER KICKS: 7; SAVES: 2
MINNESOTA UNITED FC: Dayne St. Clair; Kemar Lawrence, Brent Kallman, Michael Boxall, D.J. Taylor; Kervin Arriaga, Wil Trapp; Franco Fragapane (Jonathan Gonzalez 67), Emanuel Reynoso, Mender Garcia; Luis Amarilla.
Substitutes not used: Oneil Fisher, Alan Benitez, Jonathan Gonzalez, Nabilai Kibunguchy, Hansen, Rosales, Tyler Miller, Callum Montgomery, Abu Danladi.
SHOTS: 15; SHOTS ON GOAL: 2; FOULS: 9; CORNER KICKS: 6; SAVES: 4
SAN JOSE EARTHQUAKES INTERIM HEAD COACH ALEX COVELO
On tonight's performance:
"We had a solid game. The guys were very, very focused. They knew what they had to do. Regardless of the situation, regardless of the standings, regardless of the new teams that are going to come, regardless of the season that we've had, they did great because it's not easy and they wanted to have Shea [Salinas] play tonight. I think we had a solid game. Niko [Tsakiris] and Jamiro [Monteiro] are very good playing in those interior positions as '10s' in the 4-3-3 formation. The only thing Niko needs is time and developing physically because he's a great player. In general, we worked very good with Paul [Marie]. We found the spaces in between lines well occupied with Niko, Jamiro, and also Jackson [Yueill]. The wingers Shea and Cristian [Espinoza] were good. Our center backs found not only the passes on the outside but also inside very well. Solid game, defensively as well."
On coaching Salinas this season:
"For me, to coach Shea is a pleasure. I've known him since I came here in 2017. He always has been a role model on and off the field. I was on the bench in 2017 when Shea scored the second goal and gave us the victory that day at Stanford. It has been a pleasure. I spoke to him, we had some conversations together and I asked him, 'Shea, do you prefer to start or to come off the bench and finish the game?' And he said, 'Alex, I would love to start. I'm feeling the butterflies in my stomach again.' So, I said, 'Let's go.' That's it. He did very well."
SAN JOSE EARTHQUAKES MIDFIELDER SHEA SALINAS
On the discussion for him to shoot the free kick:
"It was pretty funny. They were huddled up, talking about some plan, and I was jokingly over their shoulder like, 'Hey guys, I'm just going to shoot it,' and I walked away. But they were like, 'No, seriously, that's fine. Shoot it.' I haven't taken a direct free kick my entire career. I was thinking that the grass is wet, the ground is hard, I'm just going to try and hit it low and hope that it skips, and the goalie bobbles it into the corner. God had a different plan. I tried to hit it with the inside of my foot to the corner and it got a good deflection and went into the back of the net. I think God had this all planned out and I got to celebrate."
On the growth of MLS during his career:
"Over 15 years, the league has changed dramatically. When I first started in the league, the only DP [Designated Player] was David Beckham and now every team has 2-3 guys that are world class. When I first started and I told people I played professional soccer, I had to say, 'It's the same league as David Beckham.' The general public didn't really know about MLS. Now, I think it's an international brand. I don't have to explain anything, and people are amazed that I'm a professional soccer player. The league has grown a ton, the quality of players has grown tremendously. I've been lucky to survive for 15 years. We have 18 and 19-year-old kids that are way ahead of where I have been. It's impressive to see the league's growth."
Images from this story
• Discuss this story on the Major League Soccer message board...


Major League Soccer Stories from October 2, 2022
The opinions expressed in this release are those of the organization issuing it, and do not necessarily reflect the thoughts or opinions of OurSports Central or its staff.
Other Recent San Jose Earthquakes Stories