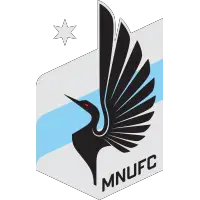 MNUFC Lose to San Jose 2-0
October 2, 2022 - Major League Soccer (MLS) - Minnesota United FC News Release



SAN JOSE, Calif. -- In its final road match of the 2022 regular season at San Jose Earthquakes, Minnesota United looked to capture its seventh victory away from home, while inching towards a playoffs spot. But, the Quakes would not let that be, taking all three points with a 2-0 victory over the Loons.
MNUFC found its way into the opposing box multiple times throughout the match, sending in 11 crosses and six corners. But, quality opportunities and shots were few and far between for the Loons. It was San Jose who opened the scoring in the 52nd minute from a Shea Salinas direct free-kick from the top of the 18-yard box. His shot deflected off Emanuel Reynoso's leg and into the net, giving the home side the 1-0 lead. The Quakes then added their second goal when Benji Kikanovic found his way past the Loons back line, sneaking the ball past Dayne St. Clair into the far post in the 71st minute. Additionally, having been shown a yellow-card caution in the 10th minute, midfielder Kervin Arriaga will now miss next week's match against Vancouver due to suspension via yellow card accumulation.
Minnesota United returns to Saint Paul to host the Vancouver Whitecaps on Decision Day - the regular-season finale - on Sunday, October 9 at Allianz Field. Kick for Sunday afternoon's contest is set for 4:00 p.m. CT and will be broadcast on Bally Sports North and The CW - Twin Cities, with local radio broadcast on 1500 ESPN.
LINEUPS:
Minnesota United XI: GK Dayne St. Clair; D Brent Kallman, Michael Boxall, Kemar Lawrence, DJ Taylor; M Franco Fragapane, Emanuel Reynoso, Wil Trapp (c), Kervin Arriaga; F Luis Amarilla, Mender Garcia
Bench: GK Tyler Miller; D Alan Benitez, Callum Montgomery, Oniel Fisher, Nabilai Kibunguchy; M Jonathan Gonzalez, Niko Hansen, Joseph Rosales; F Abu Danladi
San Jose Earthquakes XI: GK JT Marcinkowski; D Paul Marie, Nathan, Tommy Thompson, Rodrigues; M Jackson Yueill, Niko Tsakiris, Jamiro Monteiro, F Shea Salinas (c), Cristian Espinoza, Jeremy Ebobisse
Bench: GK Matt Bersano; D Tanner Beason; M Jan Gregus, Judson, Eric Remedi, Jack Skahan, Miguel Trauco; F Cade Cowell, Benji Kikanovic
UP NEXT:
MINNESOTA UNITED FC vs. VANCOUVER WHITECAPS FC
Allianz Field | Saint Paul, Minnesota
10.09.2022 | MLS 2022 Regular Season | Week 34
4:00 pm CT (BSN/CW Twin Cities/1500 ESPN)
MINNESOTA UNITED POST GAME QUOTE SHEET
HEAD COACH ADRIAN HEATH
On tonight's frustrating loss...
"Yeah. The way we played, Andy [Greder] - as I said on the broadcast at half time - I thought the game was a strange game. It was like, 'you attack and then we'll attack'. I don't think we did enough to win. I think they [San Jose] wanted to win the game more than we did and that showed with their attitude. When you consider what was at stake, that's a pretty difficult pill to swallow, to be honest."
On the reasons why the group lost to San Jose...
"We weren't good enough. There's a few basic rules that you have to do when you go into football matches. Some of it's compared about ability, some of it is about ability. But unless you're actually up for the physical contest of playing against your guy and imposing yourself on your guy and I don't think we did enough of that all over the field. [I] don't think we were dominant and strong enough at the back, I don't think we did enough in forward areas. I felt on the counterattack in the first half, we could have added a bit more quality that we should have...I think we broke on them [San Jose] about eight times in the first half and I don't think their keeper had a save to make. So, couple all of that together, you're not giving yourself much of an opportunity to win."
On how it can be that the team doesn't have enough energy to win...
"I wish I knew. Maybe it's the makeup of some of the people we've got. Maybe we have to look at that."
On where this result leaves MNUFC with one game left to play...
"We'll have to see after the weekend where we are. We still might have a chance. I see the [LA] Galaxy have just equalized, so that could go our way and we're still within a shout. But, we'll certainly have to play a lot better than we are at the moment."
On Mender Garcia's chance as a potential turning point...
"It's a good opportunity from how far out he is but he was under a little bit of pressure. They're important moments and when you're not playing as fluently as you would like, when those opportunities arrive and you have to take them just to give you something to hang on into the game with. Unfortunately, as I said, we haven't been good enough on both ends of the field tonight."
On describing if he is mad, frustrated or disappointed after the loss...
"All of them. Mad. Mad with the performance this evening. Mad with individuals, most of them. Disappointed. I think we've got more about us than what we're showing and if we get an opportunity - hopefully next weekend - to still have a say in making the postseason, then we can count ourselves fortunate. When you consider the run we've had in the second half of the season, to then finish it like we've done is really disappointing."
On what went wrong on the first goal...
"It pretty much summed up most of the evening. They [San Jose] had a lot of the ball in the middle of the park and, I would think, they would have a little bit more possession on the evening but it never looked like they were doing anything with it. We were very good at running forward, not so much running backwards, though, towards our own goal. Which is a hard part of football. Because everybody can run forward when there's a belief that you can help and score a goal. Running back at the same speed and with the same energy levels and the same desire, that shows character, and we didn't have enough of that this evening."
On how Emanuel Reynoso looked against San Jose...
"I think Rey [Emanuel Reynoso], his performance was very much like the rest of the team. I think he was up and down and too inconsistent. We haven't done ourselves justice this evening. It was a very poor evening for us when you consider what was at stake for us. It's a tough one to swallow."
GOALKEEPER DAYNE ST. CLAIR
On if he can pinpoint why the group lost tonight...
"I've been on international duty so I haven't been around the team to really discuss. I met up with the team yesterday. In terms of the team and going into the match, I wasn't there so I can't put my finger on it."
On what he saw in the buildup to the first goal by San Jose...
"Transition moment. Losing the ball in key areas like we were doing the whole game is extremely frustrating for the guys in back because when you have six guys running at you, it's tough to defend in that situation. Try and make a play on the ball, maybe on a different day the referee doesn't call it, it's not a foul. And then of course, deflection on the goal when I think I can make the save is definitely frustrating but those things happen."
On one point in six games and where that leaves the group heading into Decision Day...
"We know we need to win this game at home on Sunday to give ourselves a chance, for sure. We definitely had the opportunity to control our own destiny and hopefully that's still the case with the way the rest of the result go. We know we need to come out and win the game. We're going to need the support of everyone, including our whole team, the fans, every thing, to push us over this line because we've definitely dug ourselves a huge hole when we were in a great position earlier on."
On what he feels has been the problem over this stretch...
"I'm not sure...to really pinpoint where it is exactly but I think we need to believe in ourselves. I feel like sometimes when we've conceded that first goal, and a lot of times, it's been a shit goal like tonight's. We need to do a better job regrouping and trusting each to know that we can battle and go and get results because at this point in the season, no one remembers how you win, they just remember the results. We need to find a way to get ourselves over the line."
On the mood of the group...
"We knew if we won tonight, we put ourselves in a great position to potentially clinching, now we have to wait another week to do that. A lot of pressure going into that last game. Big players show up in big moments so we're going to need a lot of guys to have great performances to push us over the line against Vancouver."
• Discuss this story on the Major League Soccer message board...


Major League Soccer Stories from October 2, 2022
The opinions expressed in this release are those of the organization issuing it, and do not necessarily reflect the thoughts or opinions of OurSports Central or its staff.