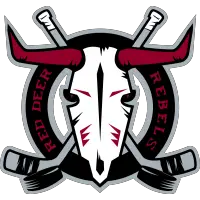 Sexsmith Travels Long Road Back into Rebels Lineup
February 17, 2022 - Western Hockey League (WHL) - Red Deer Rebels News Release



It's been a difficult season for Rebels veteran defenceman Joel Sexsmith.
The six-foot-one, 192-pound 19-year-old native of Edmonton has missed all but seven games this WHL season because of concussion problems.
He played three games in early October, returned for a game in December, then sat out until returning February 5.
Getting back into the lineup wasn't a matter of just lacing up the skates.
"That (10 weeks) was the longest I've been away and mentally it was taxing, and a good reminder of the details involved, and work ethic involved into finding a groove and being back with the team.
"It was a long-hard 10 weeks and I'm not going to sit here and tell you it was fun by any means. (It's tough) coming back and working my way back up to where the coaches trust to put me back in the lineup.
"Obviously it was uncomfortable at times, but it pushed me as a person and as a player to continue to grow so ultimately I'm satisfied how I've responded and satisfied with my play and continue to build on that and for the coaches to trust me."
Sexsmith received his first concussion early in the season ... a second soon after.
"The first was the first of my career," he said. "The second happened two weeks later and it was scary. Returning to play was then a matter of making sure I was 100 per cent."
He was back on December 5.
"I realized I wasn't 100 per cent, as did the team," he said. "I owe the team a lot as they were respectful to me and allowed me to go home and get proper treatment and the proper help I needed. Eventually I returned and I feel 100 per cent, now it's a matter of what I can do to help the team."
Sexsmith indicates he's happy to be back on the ice, but knows he still has work to do to be back to where he, and the team, wants him to be.
"I've made some mistakes, which are bound to happen when you miss 10 weeks of hockey. With that said I've been happy just to get the chance to be in the lineup and to get back into a rhythm. Hopefully I can contribute and move myself back to where I was prior to the beginning of the season and help the team to the best of my abilities... I know I can help this team moving forward."
Sexsmith knows a thing or two about returning from a major injury. As a 16-year-old, when he was with the Vancouver Giants organization, he developed blood clots and was told he may never play again
"That was a shock," he said. "I wasn't sure I'd play again in this league, but Brent (Rebels owner Brent Sutter) gave me a chance as a 17-year-old (following a trade on Aug. 31, 2019). I have a lot of respect for him and this organization.
"They have a lot of understanding with this injury, and they realized I was aware of what was going on with my body. If I hadn't gone through what I did in the past it may have been different."
Sexsmith, who was originally drafted ninth overall by Swift Current in the 2017 draft and traded to Vancouver in 2018, says he's not thinking about the injury problems, only concentrating on helping the team where he can. But he did say there were times when he wasn't in the same frame of mind.
"When you miss that much time certain things creep into your mind in regards to if I'd have a place when I came back.
"This is a game I love, and it will take me where it takes me. All I can do is give it my all and remain detail oriented ... keep my chin up and give myself the best chance to come back and have a strong finish to the season."
The main thing is he's "just happy to be back with the team and in the atmosphere where I feel comfortable and where I belong."
Head coach Steve Konowalchuk knows Sexsmith has some hard work ahead of him.
"It's hard when you miss that much time," he said. "The pace of the game is faster and faster as the season goes on and when you miss the first half and haven't been skating there's a lot of things to do.
"But he's been working hard and doing the things he needs to. Details matter so it's a matter of chipping away and taking one shift at a time and see where it goes.
"But he has a great attitude and work ethic."
The Rebels continue their five-game home stand when they face Saskatoon on Friday and Winnipeg on Saturday. Both games go at 7 p.m. at the Peavey Mart Centrium.
Further updates to the team's regular season schedule were announced Thursday.
The Rebels host Lethbridge April 8 (a game from Jan. 8), visit Edmonton April 9 (from Feb. 15), and are at Calgary April 13 (from March 24) and host Edmonton April 16 (from Jan. 7).
• Discuss this story on the Western Hockey League message board...


Western Hockey League Stories from February 17, 2022
The opinions expressed in this release are those of the organization issuing it, and do not necessarily reflect the thoughts or opinions of OurSports Central or its staff.
Other Recent Red Deer Rebels Stories