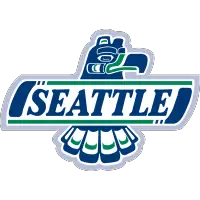 Royals Defeat T-Birds in Second of Back-To-Back Games in Victoria
December 8, 2019 - Western Hockey League (WHL) - Seattle Thunderbirds News Release



VICTORIA, BC - The Victoria Royals defeated the Seattle Thunderbirds 3-1 Saturday night at Save-On-Foods Memorial Arena.
This was the second of back-to-back games in Victoria. The T-Birds defeated the Royals 4-1 Friday.
The T-Birds next home game is Tuesday, December 10, at 7:05pm. This game is a Chick-fil-A 2-for-Tuesday game. All tickets, popcorn, hot dogs and select beverages have special two-for-one prices. Single game tickets are on sale online on the T-Birds website and at the accesso ShoWare Center box office.
Seattle jumped out to a 1-0 lead 20 seconds into the game. Henrik Rybinski skated into the right circle and beat Victoria goalie Shane Farkas over the left shoulder. The referees initially ruled no goal as it appeared the puck hit the cross bar and play continued. Just after the puck hit the bar Keltie Jeri-Leon was called for a penalty and play stopped. The referees went to video review and determined that Rybinski's shot hit the bar in the back of the net and came out quickly.
Owen Williams and Simon Kubicek had the assists on Rybinski's fourth goal of the season. Jeri-Leon had to serve the penalty and the T-Birds killed it off.
Victoria tied the game 1-1 at 3:21 of the first on a goal by River Fahey. The Royals were having their Teddy Bear Toss game tonight and there was a delay of 15 minutes as the bears and stuffed animals were cleaned up.
Brandon Cutler scored at 4:28 and on the power play at 9:43 of the second period to put Victoria in front 3-1.
The T-Birds Holiday Premium Voucher Package is NOW available. 12 Flexible Vouchers valid for any home game from January 11, 2020, to March 21, 2020, are only $23 a voucher, which is a savings of almost 20%. There are no service charges or other fees to purchase our Holiday Premium Voucher Package. Fans can contact the T-Birds at 253-239-PUCK (7825) to purchase a Holiday Premium Voucher Package or purchase the package online.
SCORING SUMMARY
First period - 1, Seattle, Rybinski 4 (Williams, Kubicek), :20. 2, Victoria, Fahey 5 (Derungs), 3:21. Penalties - Jeri-Leon, Sea (hooking), :20. Bateman, Sea (major-fighting), 5:40. Miller, Vic (major-fighting), 5:40. Kubicek, Sea (high sticking), 7:08. Herauf, Vic (slashing, unsportsmanlike conduct), 14:07. Williamson, Sea (roughing), 19:48.
Second period - 3, Victoria, Cutler 2 (Miller, Fizer), 4:28. 4, Victoria, Cutler 3 (Warm, Herauf), 9:43 (pp). Penalties - Derungs, Vic (cross checking), 5:08. Ciona, Sea (double minor-tripping), 8:57. Rybinski, Sea (boarding), 11:58. Fahey, Vic (tripping), 14:47. Roulette, Sea (slashing), 16:33.
Third period - No scoring. Penalties - Doust, Vic (double minor-tripping), :44. Bruggen-Cate, Sea (roughing), 2:15. Rempe, Sea (slashing), 2:15. Bench, Sea (too many men-served by Jeri-Leon), 4:37. Williamson, Sea (slashing), 6:07. Smith, Vic (cross checking), 13:55. Bryks, Vic (cross checking), 19:14.
Shots on goal - Seattle 11-9-12 32, Victoria 12-15-5 32. Goalies - Seattle, Ross 21 shots-18 saves (7-11-2-1), Lyda 11-11; Victoria, Farkas 32-31 (11-4-1-0). Power plays - Seattle 0-8; Victoria 1-10. Referees - Matt Hicketts, Sean Raphael. Linesmen - Duncan Browne, Brent Vandeventer.
• Discuss this story on the Western Hockey League message board...


Western Hockey League Stories from December 8, 2019
The opinions expressed in this release are those of the organization issuing it, and do not necessarily reflect the thoughts or opinions of OurSports Central or its staff.