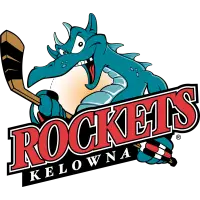 Rockets Make 11 Picks in 2020 WHL Bantam Draft
April 22, 2020 - Western Hockey League (WHL) - Kelowna Rockets News Release



The Kelowna Rockets selected a total of 11 players in the 2020 WHL Bantam Draft that took place online today, including one goaltender, four defencemen and six forwards.
Lorne Frey, the Rockets assistant general manager and director of player personnel, says that the Rockets brass is happy with the crop of players they were able to draft today.
"We picked guys who are skilled that can skate and compete. It was a deep draft, hopefully, the players that we took take strides and improve over the next couple of years. That's what you're in this for, to see which players down the road improve and get better, in saying that they are good prospects at this time who are going to grow and develop."
The Rockets, with their first selection eighth overall, selected left-wing Andrew Cristall from St. George's School (CSSBHL).
Cristall, 15, spent last season with St. George's School Bantam Prep, recording 80 points (43G, 37A) and 47 penalty minutes in 27 games. He added another seven points (4G, 3A) and two penalty minutes in two playoff games.
Frey says that Cristall is a high-end player that will make the Kelowna's forwards around him better.
"We think Andrew is a very good hockey player, he's highly skilled with a tremendous hockey IQ," said Frey. "He controls the game and sets the tempo of it, and he makes players better around him."
Back in 2018, the Rockets selected centre Trevor Wong 18th overall from St. George's back in 2018.
Today marked Frey's final day in his position with the Rockets, it was announced yesterday that he would be stepping down to take an advisor role with the team.
Round 1, pick 8
PLAYER: Andrew Cristall

POSITION: LW
HEIGHT: 5'6
WEIGHT: 132
BIRTHDATE: February 4, 2005
HOMETOWN: Burnaby, BC

Round 2, pick 30
PLAYER: Caden Price
POSITION: D
HEIGHT: 5'11
WEIGHT: 156
BIRTHDATE: 2005
HOMETOWN: Saskatoon, SK

Round 3, pick 49
PLAYER: Marcus Pacheco
POSITION: C
HEIGHT: 5'9
WEIGHT: 144
BIRTHDATE: April 6, 2005
HOMETOWN: Edmonton, AB

Round 6, pick 115
PLAYER: Logan Dochuk
POSITION: D
HEIGHT: 6'0
WEIGHT: 152
BIRTHDATE: January 31, 2005
Hometown: Edmonton, AB

Round 6, pick 118
PLAYER: Jackson Romeril
POSITION: D
HEIGHT: 5'11
WEIGHT: 173
BIRTHDATE: January 18, 2005
HOMETOWN: Calgary, AB

Round 7, pick 140
PLAYER: Alex Scheiwiller
POSITION: G
HEIGHT: 5'9
WEIGHT: 142
BIRTHDATE: January 10, 2005
Hometown: Calgary, AB

Round 8, pick 161
PLAYER: Grady Lenton
POSITION: C
HEIGHT: 5'9
WEIGHT: 151
BIRTHDATE: August 9, 2005
HOMETOWN: Delta, BC

Round 9, pick 180
PLAYER: Ethan Neutens
POSITION: F
HEIGHT: 5'10
WEIGHT: 160
BIRTHDATE: May 3, 2005
HOMETOWN: Cochrane, AB

Round 9, pick 184
PLAYER: Ty Mason
POSITION: C
HEIGHT: 5'8
WEIGHT: 135
BIRTHDATE: June 23, 2005
HOMETOWN: Weyburn, SK

Round 11, pick 228
PLAYER: Will Munro
POSITION: LW
HEIGHT: 6'0
WEIGHT: 167
BIRTHDATE: April 26, 2005
HOMETOWN: Swan River, MB

Round 12, pick 250
PLAYER: Wyatt Homeniuk
POSITION: D
HEIGHT: 5'11
WEIGHT: 150
BIRTHDATE: March 9, 2005
HOMETOWN: Regina, SK


• Discuss this story on the Western Hockey League message board...


Western Hockey League Stories from April 22, 2020
The opinions expressed in this release are those of the organization issuing it, and do not necessarily reflect the thoughts or opinions of OurSports Central or its staff.