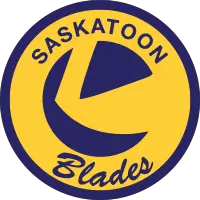 Blades Make 11 Selections in 2020 WHL Bantam Entry Draft
April 22, 2020 - Western Hockey League (WHL) - Saskatoon Blades News Release



Saskatoon, SK - The 2020 WHL Bantam Entry Draft has come and gone, and the Saskatoon Blades have a wealth of talent and potential infused into the organization. A total of 11 names have been added into the Blades draft prospect pool, beginning with a young defenceman out of the small town of McBride, B.C. who's seen as the complete package.
Round 1 (5th overall) - D Tanner Molendyk
Captain for Yale Hockey Academy's Bantam Prep Lions, Tanner Molendyk erupted offensively with 55 points (9G, 46A) and added 14 penalty minutes last season. The McBride, B.C. product continued his elite-level scoring touch in the CSSHL playoffs, collecting two goals and four assists in two games.
"It is just a dream come true," said Molendyk. "I have wanted to play in the WHL since I was young and it is just awesome to be a part of such a great organization and can't wait to get going."
Molendyk became a focal point on the Lions blue-line with a towering shot, unmatched hockey sense, and the ability to quickly move the puck up-ice. He was also named CSSHL defenseman of the year and was named a top player at the Bauer Elite, John Reid, and NWCAA Flames Tournament. "I have no hesitation to tell you he was the top-rated defenceman on our board heading into this draft. He's got truly exceptional skating ability and he has a real high-quality sense for the game in all zones. Mix in a high skill level, a competitive fire, and strong leadership abilities and you've got a dynamic player who has an incredible ceiling."
- Director of Scouting Dan Tencer
Round 2 (28th overall) - C Lukas Hansen
Born and raised in Winnipeg, MB, Lukas Hansen is regarded as one of the most offensively gifted two-way players from Manitoba in this year's entry draft. The 5'10", 152lbs centerman piled up 43 goals and 42 assists for 85 points in just 36 games for the Winnipeg Warriors Bantam AAA club. Captain for the Warriors, Hansen finished second in team scoring, averaging 2.36 points-per-game. "The best compliment I can give this player is how highly everyone around him speaks about him. He is a true leader with a strong ethic and desire to play the game hard and complete in all zones. He has speed and skill to produce offensively but is also a player you can rely on in defensively critical situations."
- Director of Scouting Dan Tencer
Round 3 (48th overall) - F Jordan Keller
Third round selection Jordan Keller was teammates with first-round pick Tanner Molendyk at Yale Hockey Academy, and is also coming off an offensively primed campaign. The Kamloops, BC product averaged nearly two points per game, scoring 20 goals and 27 assists for 47 points in 25 games. A speedy, dynamic play-maker, Keller's style already fits well with other Blades forwards including Kyle Crnkovic and Tristen Robins. "He's got a Hockey IQ that is through the roof. This is a kid dedicated to getting better every day, soaking up coaching, watching a ton of video, and we thought over the course of the year he showed an extremely steep and exciting development curve. He's got offensive talent and vision and is a very strong playmaker, but that intelligence also extends defensively to make him a strong penalty killer and puck possession player."
- Director of Scouting Dan Tencer
Round 3 (55th overall) - F Tyler Parr
Donning the "C" for RINK Hockey Academy's bantam prep squad, Tyler Parr brings a well-rounded package to the Blades organization. The La Salle, MB native notched 12 goals and 22 assists for 34 points in 29 regular-season games, along with a single helper in two playoff games. "He's a player that plays a solid, honest game and finds a way to make a positive impact one way or another each time he is on the ice. He's a strong leader, has a high compete level and can play the game any way you want it to be played."
- Director of Scouting Dan Tencer
Round 4 (77th overall) - C Mikhail (Misha) Volotovskii
Bringing a skill-set almost as long as his last name, centerman Misha Volotovskii packed a powerful punch for the Calgary Bisons Bantam AAA club last season. In 33 regular-season games, the 5'10", 165lbs workhorse lit the lamp 15 times and added 33 helpers for 48 points. He was also called up to play with the Calgary CBHA Rangers minor midget team, making a good first impression with two points (1G, 1A) in three games. "A big, strong, very intelligent two-way player. You talk about a guy who you look down at the ice at and just always see in the right position, always demonstrating the right habits, always making the smart plays - this is that kid. The type of player that will log a lot of minutes because of how much better he makes the players around him and the impact he makes in all zones."
- Director of Scouting Dan Tencer
Round 7 (134th overall) - C Carmelo Crandell
Built with a knack for scoring goals, speedy forward Carmelo Crandell has the potential to become an established WHL player in the coming years. The St. Albert product piled up 30 goals and 48 points for his hometown Sabres Bantam AAA gang, and added a pair of assists in four call-up games for the St. Albert Minor Midget squad. His output didn't slow down come playoff time, either, collecting seven points (2G, 5A) in eight post-season games. "He's got a ton of offensive talent. He got keyed on by opponents all year and still kept coming up huge in big games and against quality opponents, a testament to both his skill and his determination. His natural skill and scoring ability is very high-end, he will be able to see and make plays at a very high level from the first day he's on the ice at training camp."
- Director of Scouting Dan Tencer
Round 8 (165th overall) - D Tait Humphries
A bit of a darkhorse going into the draft, Tait Humphries has plenty of untapped potential which will hopefully shine in the coming years. In 29 games for the Burnaby Winter Club, the 5'11", 155lbs blueliner collected five goals and 16 assists for 21 points. More valuable is the role he took with BWC, combining his stocky nature to quickly move the puck up-ice and become one of the most dependable defenceman for the team. "A player with a lot of untapped ceiling as a right-handed defenceman who has impressive skating ability. He's a very athletic player who came a long way this year in terms of his all-around game, and we think as his high-level hockey development continues that he unquestionably possesses all of the natural tools necessary to be a successful WHL player. He showed great progression through the year."
- Director of Scouting Dan Tencer
Round 9 (185th overall) - D Matthew Ronn
Another solid addition to the back-end, Matthew Ronn is a smooth-skating, puck-moving defenceman who brings a lot of tools to the game. Born and raised in Ebenezer, SK, is coming off his second season with the Yorkton Terriers Bantam AA club, and saw a major increase in ice-time and points. In 30 regular-season games, the 5'9", 145lbs pivot notched 29 points (9G, 20A) on top of 59 penalty minutes. "He sees the game very, very well. He skates well, he distributes the puck well, he can run a powerplay. As a later birthday player with more physical development ahead, we think the foundation is strong as a real 2-way puck mover with strong game sense."
- Director of Scouting Dan Tencer
Round 9 (187th overall) - F Rowan Calvert
Another Saskatchewan kid, stocky Rowan Calvert has turned into a dependable, two-way forward for the Moose Jaw Warriors Bantam AA program. Playing for his hometown team, Calvert stacked up 24 goals and 21 assists in 31 games, while adding 18 penalty minutes last season, catching the eyes from many scouts across western Canada. "His work ethic is through the roof. His determination to become a better player and better teammate every day is impressive. His habits on and off the ice are high-end and he plays the game with a real fire and desire to battle. As his development continues, the foundation of his game and his character is very exciting."
- Director of Scouting Dan Tencer
Round 10 (209th overall) - F Hayden Fechner
A point-per-game player in major bantam, Hayden Fechner quietly gained the attention of Blades scouting through his hockey IQ and play-making abilities. Standing 5'10 at 135lbs, Fechner has the potential to grow into a complete-game player in the WHL. He notched 13 goals and 21 assists in 33 regular-season games for his hometown SSAC Lions in Edmonton, and added five points (2G, 3A) in five playoff games. "He's just scratching the surface. He's on his way to being a really big player who has smooth-skating ability and loose, natural skill. He thinks the game very well offensively and really has the potential to grow into an impactful player with the natural tools he has."
- Director of Scouting Dan Tencer
Round 11 (231st overall) - F Jadon Iyogun
Rounding out our 11 selections is forward Jadon Iyogun. A magnet for the puck, the speedy forward from Calgary is coming off a productive season for his hometown Northstar Sabres. In 32 games, the 5'11", 148lbs winger scored 19 goals and pitched in with eight assists for 27 points. Iyogun also gained attention from the Calgary Canucks Minor Midget club, getting the call to dress in three games and scoring twice. "He's a big, strong player who has really impressive coordination and agility. There's no question that a significant amount of his potential is just starting to be tapped into, he showed excellent progression over the course of the year and he has some real ceiling from both a talent and physical strength perspective."
- Director of Scouting Dan Tencer
• Discuss this story on the Western Hockey League message board...


Western Hockey League Stories from April 22, 2020
The opinions expressed in this release are those of the organization issuing it, and do not necessarily reflect the thoughts or opinions of OurSports Central or its staff.