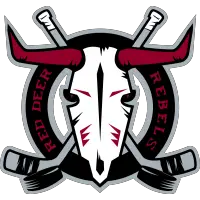 Rebels Select Dynamic Centre Kalan Lind Sixth Overall, Add Local Talent
April 22, 2020 - Western Hockey League (WHL) - Red Deer Rebels News Release



With five picks in the first three rounds of the WHL bantam draft on Wednesday, the Red Deer Rebels were in great shape to garner some high calibre talent.
Assistant GM and director of player personnel Shaun Sutter is confident the Rebels did just that. Red Deer snagged dynamic centre Kalan Lind of Shaunavon, Sask., sixth overall, and then continued to add quality skill with second-rounders centre Talon Brigley of Sylvan Lake, towering defenceman Matteo Fabrizi of St. Albert, and tall centre Arjun Bawa of Richmond, B.C.
Another big rearguard, Luke Ashton of North Vancouver, was taken in the third round.
"We were real pumped about it," said Sutter. "We knew we'd get a real good player at sixth overall, especially in a year like this with a lot of top end players.
"We started off real good with taking Kalan, then just kept moving. When you have five picks in the top 50 you know you're going to get good players. We were pretty fortunate. We got some good players and good people too."
Lind, who stands five-foot-10 and weighs 145 pounds according to the information provided on the WHL draft tracker, put up some eye-popping numbers with the Swift Current bantam AA Broncos (bantam AA in Saskatchewan is the equivalent of AAA in the other western provinces) during the 2019-20 season, scoring 68 goals and adding 52 assists for 120 points in 27 games.
"He's a real good player offensively who has very good instincts and is a real smart player," said Sutter. "He's really skilled in terms of being able to score and make plays, but he's also a guy who's real gritty and greasy.
"He's going to get in your kitchen and get in your face, be a guy who's a pain in the ass to play against. He's a guy we targeted for quite awhile and we were ecstatic to get him at sixth overall."
Lind, reached at home, admitted he had no idea as to which team would draft him.
"It was up in the air. When I got up this morning I was thinking and hoping I could go to a good program, and I did," he said. "That's all that mattered to me.
"It was pretty exciting obviously joining an organization like Red Deer. From what I've heard it's a great group of guys with a good coach in Brent Sutter who has a lot of hockey experience and history."
The younger brother of former Kelowna Rockets star and Vancouver Canucks prospect Kole Lind, the 15-year-old feels he's every bit as much a good distributor of the puck as a shooter.
"I'd say I'm more of a playmaker," said Lind. "When I have the puck I know when to shoot it and when to pass. I can score when I need to and if I have to move it (puck), I'll move it."
And clearly, he's not afraid to get his nose dirty as Sutter stated. Lind racked up 90 minutes in penalties during the past season.
"I'm very competitive, I'll do whatever it takes to win," he said.
Lind is no stranger to Red Deer, having watched his sister Taylor play with Team Saskatchewan at the Centrium during the 2019 Canada Winter Games.
"I also watched my brother play there once. So I got to see the rink and it's a pretty nice facility," he said.
As for comparisons between himself and his older brother Kole . . .
"I'd say I'm much like him. Probably a bit more defensive," said the future Rebel.
Lind (pictured above) played at the bantam AA level for three years, recording 50 points, including 20 goals, as a 12-year-old, then potting 24 goals and adding 33 assists in 24 games in 2018-19.
Brigley, the 24th overall pick, was tickled when he learned his major junior career will start, and hopefully end, with basically his hometown WHL team.
"It's pretty incredible," he said, while admitting he was confident he'd be selected at some point.
"I was, a little bit. I feel like I did the best I could to prove myself and I guess it showed," said the son of former pro player Travis Brigley.
Brigley, five-foot-eight and 140 pounds, scored 13 goals and added 13 assists in 23 games as an assistant captain with the major bantam Red Deer Rebels in 2019-20.
"I feel I play a two-way game. I can take care of both ends of the ice," he said.
"There was some interest in him late in the first round," said Sutter. "We know Talon quite well with him being a local player going back to his first season in bantam.
"This year he dealt with some injuries so I don't think everyone quite saw a healthy Talon Brigley (pictured below). But we know what he's capable of. He's a good two-way player who's smart and skilled. He makes people around him better.
"He's someone to play with Kalan Lind down the road. Two good forwards."
The Rebels landed the six-foot-four, 222-pound Fabrizi with the 31st overall pick. He played this past season with the Yale Academy bantam prep team in Abbotsford, B.C., scoring three goals and recording 18 points in 23 games, along with 82 penalty minutes.
"He's an enormous defenceman, he's huge yet skates very well for a big guy," said Sutter. "He's a real smart player and has some edge to his game. We had him ranked in the first round the whole season so to get him at pick 31 . . . we were licking our chops, surprised that he was still available.
"He's a guy we felt we couldn't pass on with that pick."
The Rebels took Bawa five picks later. The six-foot-one, 160-pound centre is coming off a season in which he put up 41 points (16g,25a) in 29 games with the St. George's bantam prep squad in Vancouver and also had 68 minutes in penalties.
"He's a real tall kid, nearly six-foot-two now," said Sutter. "He has some skill, sees the ice well and can skate. He's a guy with a real high ceiling. "His father is Robin Bawa, who was a real good WHL player and played pro hockey for a long time. We're excited to get another guy with pro upside. We were pretty pumped to get another player we had ranked quite high."
At 50th overall, Ashton was the sixth pick of the third round. The six-foot-four, 191-pound blueliner showed some offensive savvy with the Burnaby Winter Club bantam prep squad this past season, scoring three goals and adding 22 assists in 29 games.
"Luke's a guy we had pretty highly ranked," said Sutter. "He's almost six-foot-five and 200 pounds and for a big guy he's a pretty good offensive player.
"He's got skill and thinks the game real well. There's not that many guys who have that kind of skill set and athleticism for a player that tall. When we got him in the third we felt really good about that."
The Rebels had two extra second-round picks due to previous trades with Moose Jaw, Victoria and Winnipeg (Saskatoon had Red Deer's own second-rounder) to go with their first- and third-round selections, but didn't have a single pick in any of fourth, fifth and sixth rounds.
Red Deer selected winger Ryan Arnold in the seventh round and took centre Carson Birnie in the eighth and winger Ben Roulette and defenceman Boston Harkness in the ninth and 10th rounds.
The Rebels' seventh- to 10th-round selections (size, hometown, 2019-20 statistics and quotes from Shaun Sutter):
Seventh round, 143rd overall
RW Ryan Arnold (5-10, 150 pounds; St. Albert; 29GP, 16G-14A-30 Pts, 19 PIM, North Alberta Xtreme bantam prep)
"We had both him and Carson Birnie as top-three round players. They're both good two-way players who can make plays and do a lot of heavy lifting for people around them. Ryan plays hard at both ends of the rink. He's a really good prospect and we're happy to get him."
Eighth round, 160th overall
C Carson Birnie (5-7, 130; Arcola, Sask; 29-28-39-67-52, Regina Bantam AA Monarchs)
"He's real good without the puck, sees the ice really well and can make plays, but his game without the puck is also very good. Carson is an interesting story. His two linemates went in the first round (Sam Oremba, seventh overall to Seattle, and Brady Birnie, a cousin of Carson, 20th to Swift Current). Both had around 130 points. Carson had 60 some, but if you watched them play Carson is a guy who did a lot of work for those other two to get points. He'll play midget AAA next season."
Ninth round, 182nd overall
RW Ben Roulette (5-10, 145; Rivers, Man.; 16-7-10-17-22, Yellowhead Bantam AAA Chiefs)
"He's a player who broke his ankle last year and missed a considerable amount of time. He has a good skill set and offensive ability. Had he played most of the year he probably wouldn't have slid to where he did. He's a player whom Scott Unger and Sandy Henry, our Manitoba scouts, were banging the table for. They would have been upset with us if we didn't pick him, so we picked him because they believe in him."
10th round, 204th overall
RD Boston Harkness (5-10, 146; White City, Sask.; 31-4-27-31-8, Prairie Storm Bantam AA)
"He's another tall kid who's still growing into his body, we think has a lot growth upside. He's a player who really thinks the game. He's still developing but he has a high hockey IQ. He will play midget AAA in Estevan next year for coach Jeff Smith, a former Rebel."
Notable: Brigley's 2019-20 teammate C Harrison Lodewyk of Red Deer was selected by the Prince Albert Raiders in the second round, 37th overall. Lodewyk, five-foot-eight and 159 pounds, scored 12 goals and collected 30 points in 28 games with the major bantam Rebels . . . In total, six members of the bantam Rebels were taken in the draft . . . Chase Walker of Byemoor went in the fourth round, 70th overall, to the Prince George Cougars. The five-foot-10, 165-pound centre had 18 goals and 30 points in 28 games . . . D Ephran McNutt was picked in the fifth round, 92nd overall, by the Cougars after scoring twice and recording 18 points in 30 games. McNutt, five-foot-nine and 148 pounds, is a Red Deer native . . . G Brock Lott of Red Deer was taken by the Winnipeg Ice in the eighth round, 155th overall. Lott, five-foot-eight and 152 pounds, posted a 1.30 goals-against average and .935 save percentage with four shutouts and a 13-1 record in 2019-20 . . . Finally, Josh Perreault of Red Deer, a five-foot-nine, 156-pound RW, went to the Spokane Chiefs in the eighth round, 162nd overall. He sniped 18 goals and collected 28 points in 33 games . . . On another central Alberta note, D Kaden Phillips of Sundre was selected by the Lethbridge Hurricanes in the ninth round, 192nd overall. Phillips was a member of the bantam AA Olds Grizzlys in 2019-20.
• Discuss this story on the Western Hockey League message board...


Western Hockey League Stories from April 22, 2020
The opinions expressed in this release are those of the organization issuing it, and do not necessarily reflect the thoughts or opinions of OurSports Central or its staff.
Other Recent Red Deer Rebels Stories