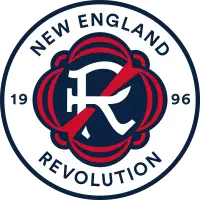 Revolution Rally to 3-3 Draw with Chicago Fire FC in Thriller at Gillette Stadium
May 27, 2023 - Major League Soccer (MLS) - New England Revolution News Release



FOXBOROUGH, Mass. - The New England Revolution (7-3-4; 25 pts.) came from behind to earn a 3-3 draw against Chicago Fire FC (3-4-7, 16 pts.) at Gillette Stadium on Saturday night. After conceding two goals to Chicago in the first 22 minutes, the Revolution came roaring back to equalize through Noel Buck and Bobby Wood before halftime. The visitors regained the lead in the 78th minute, before Jozy Altidore leveled the match at 3-3 in the 83rd minute to secure a point for New England.
Chicago claimed an early lead in the 10th minute when Georgios Koutsias was played in behind New England's backline by Xherdan Shaqiri and slotted his shot past Djordje Petrović for the opening goal. Fire FC then doubled its lead in the 22nd minute on an own goal charged to Andrew Farrell.
In need of a spark, 18-year-old Noel Buck delivered as he uncorked a left-footed shot from outside the area, tucking it inside the post to pull one back for New England in the 38th minute. The goal was the Homegrown Player's second of the season and his third in MLS.
Two minutes later, Bobby Wood nodded home his team-leading fourth goal of the season following a corner kick sent in by Emmanuel Boateng and flicked on by Christian Makoun. Wood also picked up an assist on Buck's goal to give him his second goal-and-assist performance of the season.
Chicago looked to have stolen the match late with a goal by Maren Haile-Selassie in the 78th minute, but New England erased that deficit only five minutes later. Carles Gil, who entered in the 62nd minute as a substitute, delivered a corner kick that was headed on to the far post by Dave Romney and tapped in by Jozy Altidore. The goal was Altidore's first of the season, while the assist was Gil's team-high fifth helper.
New England will play two away matches next week, beginning Wednesday, May 31 at Atlanta United FC. The 7:00 p.m. ET match at Mercedes-Benz Stadium airs nationally on FS1 and on MLS Season Pass on Apple TV in English and Spanish, as well as on the radio at 98.5 The Sports Hub and 1260 AM Nossa Radio in Portuguese. The Revolution will then travel to New York City FC for a Saturday afternoon match on June 3 at 3:30 p.m. ET (MLS Season Pass).
Team Notes
1. The Revolution remain unbeaten at home in the 2023 regular season (4-0-3). 2. New England's tallies in the 38th and 40th minutes marked the team's fastest pair of goals since scoring three minutes apart on Oct. 20, 2021 at D.C. United. 3. New England has scored seven goals in the final 15 minutes of the first half, second-most in MLS. 4. Tonight's match was the 70th regular season meeting between New England and Chicago, the 85th including playoffs. The Revolution's nine-game unbeaten streak against Chicago is the longest in series history.
Individual Notes
1. F Bobby Wood earned his 10th start of the season and scored his fourth goal of the season, most on the team. 2. M Noel Buck, making his 14th appearance and 12th start of the campaign, scored an MLS Goal of the Week candidate with a long-range rocket in the 38th minute to cut Chicago's lead in half. The goal was his second of the season for the Arlington, Mass. native. 3. F Jozy Altidore scored his first goal of the 2023 MLS season, his first goal with New England since March 12, 2022. 4. M Carles Gil entered as a substitute in the 62nd minute and recorded his fifth assist of the season. 5. D DeJuan Jones recorded the 100th start of his MLS regular season career, all with new England. 6. D Dave Romney, who recorded his first Revolution assist, has continued to play all 1,260 minutes of the regular season through 14 games. 7. In tonight's match, D Andrew Farrell became the first Revolution player to surpass 30,000 minutes played in all competitions for the club. 8. D/M Christian Makoun featured on the backline for his third start and fourth appearance of the season, earning an assist on Wood's goal. 9. M Emmanuel Boateng made his sixth consecutive start and recorded his second assist of the campaign.
GAME CAPSULE New England Revolution 3, Chicago Fire FC 3 May 27, 2023 - Gillette Stadium (Foxborough, Mass.)
Referee: Malik Badawi Assistant Referees: Nick Uranga (AR1), Kevin Lock (AR2) Fourth Official: Armando Villareal Video Assistant Referee: Ramy Touchan Assistant Video Assistant Referee: Joshua Patlak Weather: 69 degrees and clear Attendance: 27,293
Scoring Summary: CHI - Georgios Koutsias 3 (Xherdan Shaqiri 1) 10' CHI - Andrew Farrell (Own Goal) 22' NE - Noel Buck 2 (Bobby Wood) 38' NE - Bobby Wood 4 (Christian Makoun 1, Emmanuel Boateng 2) 40' CHI - Maren Haile-Selassi 3 (Kei Kamara 1) 79' NE - Jozy Altidore 1 (Dave Romney 1, Carles Gil 5) 83'
Misconduct Summary: CHI - Jairo Torres (Yellow Card - Tactical Foul) 47' NE - Latif Blessing (Yellow Card - Bad Foul) 50' NE - DeJuan Jones (Yellow Card - Bad Foul) 90' CHI - Chris Brady (Yellow Card - Time Wasting) 90'+2
New England Revolution: Djordje Petrović; Christian Makoun, Dave Romney, Andrew Farrell (c); DeJuan Jones, Noel Buck, Matt Polster, Latif Blessing (Carles Gil 62'), Emmanuel Boateng (Justin Rennicks 82'); Bobby Wood (Jozy Altidore 82'), Giacomo Vrioni
Substitutes Not Used: Earl Edwards Jr., Esmir Bajraktarević, Joshua Bolma, Omar Gonzalez, Jack Panayotou, Ben Sweat
Chicago Fire FC: Chris Brady; Miguel Navarro, Wyatt Omsberg, Mauricio Pineda (Rafael Czichos 62'), Kendall Burks (Arnaud Souquet 72'), Maren Haile-Selassie, Xherdan Shaqiri (c), Jairo Torres, Gaston Gimenez, Kacper Przybylko (Kai Kamara 62'), Georgios Koutsias (Alonso Aceves 72')
Substitutes Not Used: Spencer Richey, Daniel Aceves, Missael Rodriguez, Javier Casas, Alex Monis
New England Revolution Team Statistics Chicago Fire FC 16 (6) Shots (on Target) 9 (3) 5 Blocked Shots 3 2.06 Expected Goals (xG) 0.86 1 Saves 3 9 Corner Kicks 4 1 Offsides 0 14 Fouls 4 499 (84.6%) Passes Attempted (% Completed) 462 (82.9%) 52.5% Possession 47.5%
POSTGAME QUOTES
Revolution Sporting Director and Head Coach Bruce Arena
On tonight's performance and thoughts on the play the of substitutes Carles Gil and Jozy Altidore:
Arena:
"Well, we obviously didn't start well, conceding two goals in I think it was like the first 26 or 27
minutes. Made it real difficult. Noel's [Buck] goal was big. It gave us a lift and I think we played our best
soccer in the first half after 30 minutes, and there's no excuse for that. The second half, I thought we played
well and conceding a third goal was poor on our part. Coming back after that was kind of incredible. So, to
get a point on a night where we just made too many big, costly mistakes, we should feel fortunate to walk
off the field [with a point]. Although, on the evening, we played all right, but just a couple of really lame plays
on our part, to be honest with you. Jozy [Altidore], obviously getting the goal is important, and Carles [Gil]
played like Carles. He contributed quite well."
On why Chicago Fire FC were able to get off to a good start tonight:
Arena:
"I don't know how you answer that question. Good play on the first goal. Good ball by [Xherdan]
Shaqiri. Good finish."
On Noel Buck's performance tonight:
Arena:
"Solid performance. Pretty good over the 90 minutes. He [Buck] continues to grow as a player.
Obviously, the position we played him
in, in the first half, certainly isn't his position. But you know, we are
short numbers and he had to do one for the team."
On Bobby Wood's performance:
Arena:
"Solid. His [Wood] movement off the ball is good. He can hold it up at times. And obviously the goal
was a big goal. We've got to get better play out of our forwards. We have to get better play out of our back
line. We gave us too many poor goals over the last couple of games."
On Christian Makoun's performance at an unnatural position at left back:
Arena:
"He [Makoun] did okay. Yes, it's not natural. He did okay there. In the second half, he played as a
center back, which is a little bit more comfortable for him, but he's capable of playing either position."
On if there are expe
ctations of Carles Gil's minutes increasing:
Arena:
"I don't know. I don't know at this point."
On how he plans to manage the minutes and rotate the players with a busy schedule ahead:
Arena:
"We'll figure that out as we go. Right now, we can't make those decisions. Over the next couple of
days, we will."
Revolution Midfielder Latif Blessing
On team's slow start to the game:
Blessing:
"I think we didn't start good. [We] started slow. I think at home games you have to get three
points, but it didn't go that way for us. I think we have got to do a better job in training and keep going. It's
part of the game, so I think we have to do a better job at training, and we'll get three points in
Atlanta."
On why team struggled in the first half:
Blessing:
"I think we have to do a better job. Game by game, we have to do what we have to do, because
three games right now we [haven't won]. We don't want it to happen that way, but it happened. So, I think
we have to do a better job and we have to keep going. If we want to win the championship, every game
you have to play your best. I think we need to work on our passes and better shooting and talking to each
other, and I think we are going to be better."
On spark Noel Buck's goal gave the team:
Blessing:
"When he [Buck] scored, I think it kept us going and kept us playing better. So, I think we want
to put that one aside and focus on Atlanta [United FC]."
Revolution Midfielder Noel Buck
On scoring his second goal of the season:
Buck:
"Once I hit it, I knew it was going in. They gave me too much space, and if you give me that much
space, I have the ability to do that, and it came up."
On choosing "Fire" by Kasabian as his goal song:
Buck:
"My dad's a huge fan of a lot of music. I think I have a massive music repertoire, but you got to
switch up. It can't be Taylor Swift all the time."
On Chicago's fast start to the match:
Buck:
"We have a habit of starting off slow, that was basically it. We were late to second balls, and just a
little bit behind the pace. It shows what these teams can do: put us down quickly at the beginning of the
game."
On the crowd's energy:
Buck:
"It was really loud. A few of the guys were noticing a lot of noise. It was obviously great support,
especially towards the end of the game when we were pushing for a winning goal. It's always a little extra
boost that can help us win the game."
On the most vocal player in the locker room recently:
Buck:
I'd say [Matt] Polster. I think he's done a great job at getting everyone going. He's a player I look
up to and try to model my game after. He's been a great leader in the locker room."
• Discuss this story on the Major League Soccer message board...


Major League Soccer Stories from May 27, 2023
The opinions expressed in this release are those of the organization issuing it, and do not necessarily reflect the thoughts or opinions of OurSports Central or its staff.
Other Recent New England Revolution Stories