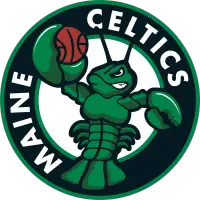 Red Claws Rally to Win on the Road
January 5, 2019 - NBA G League (G League) - Maine Celtics News Release



Grand Rapids, MI -The Maine Red Claws, presented by Unum, erased a 13-point deficit and used a strong second half to defeat the Grand Rapids Drive Saturday night, 109-102.
Maine (8-15) was led by Justin Bibbs with 23 points and Archie Goodwin with 22 points off the bench to go with 6 rebounds and 5 assists. Boston Celtics Two-Way Player P.J. Dozier added 17 points, 6 boards and 6 assists, Andrew White added 14 points, and Vitto Brown scored 13 in the win.
Grand Rapids (9-13) got balanced scoring in the loss. Mike Bethea led the Drive with 22 points, while Johnny Hamilton and Marcus Thornton each scored 19 points in defeat.
The Red Claws didn't score in the first 3:00 of the game, before Bibbs rattled in a long three. Bibbs scored 10 of Maine's first 13 points, as the Claws took a 13-6 early lead. Former Red Claws draft pick Adam Woodbury scored a pair of layups to get Grand Rapids back within 3. John Bohannon's athletic alley-oop gave Maine a 17-12 lead. After a low-scoring affair, the Red Claws led 19-14.
In the 2nd, Todd Withers buried a three to make it a 2 point game. Marcus Thornton followed that up with a trey to tie the game at 20. The Drive went on a 11-2 run to take a 28-22 lead. Shep Garner buried three deep three-pointers, and suddenly Grand Rapids was up 11. Sheldon Jeter dropped in back-to-back three's to get it back to 7. Archie Goodwin took over in the second half of the quarter, and at the half, the Red Claws trailed 45-43. Bibbs had 14 points at the break, but Maine was shooting only 38% (15-40) from the field. Thornton led Grand Rapids with 12 points, while the Drive shot 46% (18-39) from the floor in the first half.
Grand Rapids scored 6 quick points to open the 3rd, taking a 51-45 lead. Vitto Brown heated up from the outside, nailing two straight from downtown. Dozier followed that up with a three, and suddenly the Red Claws had a 61-60 lead. Goodwin's three-point play gave Maine a 2 point lead. The Red Claws held a 75-74 lead after 3.
Goodwin opened the 4th with a bucket on the Red Claws' first possession. Bibbs buried a three to make it 82=76 Maine. Mike Bethea buried a long three to get it back to within 1. Dozier and Goodwin made back-to-back three's to go up 91-86. Thornton hit a corner three to get it back to 1. Andrew White scored 6 straight for Maine, as the Red Claws' lead extended to 103-95 with 2:05 to go. The Drive scored 5 straight to make it a 103-100 game with 1:00 to go. Brown's tip-in made it a two possession game. Dozier's strong drive put the game away. Maine out-scored Grand Rapids 66-57 in the second half.
After the slow offensive start, Maine shot 48% (40-84) from the field, 35% (15-43) from three-point range, and 14-19 from the free throw line. Grand Rapids shot 47% (40-85) from the floor, 42% (14-33) from downtown, and 8-9 from the charity stripe.
The Red Claws return to action Thursday, Jan. 10 against Long Island. Tickets are on sale now by calling 207-210-6655 or visiting MaineRedClaws.com.
• Discuss this story on the NBA G League message board...


NBA G League Stories from January 5, 2019
The opinions expressed in this release are those of the organization issuing it, and do not necessarily reflect the thoughts or opinions of OurSports Central or its staff.