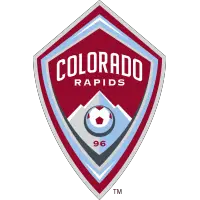 Rapids Top FC Tucson, LA Galaxy II in Midweek Scrimmage
March 31, 2021 - Major League Soccer (MLS) - Colorado Rapids News Release



Andre Shinyashiki's goal and assist powered the Colorado Rapids to a 2-1 win over USL League One side FC Tucson in the first half of today's scrimmage. The 2019 MLS Rookie of the Year centered the ball to the far post for Keegan Rosenberry to slam home for the opening goal. Shinyashiki then scored an a thunderous header from a Jack Price corner delivery. In the second half against LA Galaxy II, Collen Warner found Nicolás Mezquida for three goals as the Rapids defeated the USL Championship side 3-0. The Rapids remain unbeaten this preseason, outscoring opponents 11-1 in 350 minutes of action.
Play by Play
Follow the play by play LIVE during every preseason matchup right here on ColoradoRapids.com
Today's Starting XI: Clint Irwin, Auston Trusty, Lalas Abubakar, Danny Wilson, Steven Beitashour, Keegan Rosenberry, Jack Price, Younes Namli, Cole Bassett, Michael Barrios, Andre Shinyashiki
1' - Aaaand they're off!
3' - Tucson gets away with a handball at midfield, and he's off to the races. Wilson chases him down and regains the ball.
5' - Rosenberry slips it through for Barrios in behind, he's brought down, and it's a corner. Price's outswinger is headed away. Rosenberry collects, and we reset.
8' - Good work on the press, Tucson can do nothing but launch it from their corner flag, and Wilson resets at midfield.
10' - GOAL - Rapids get caught pressing way high, and then Tucson gains possession in midfield. Two passes and a left-footed hit from the wing beats Irwin far post. Tucson leads 1-0.
12' - Trusty and Bassett combining up the left, Shinyashiki shimmies through the box, works it to Bassett and over to Barrios, but his hit is blocked.
17' - Shinyashiki plays it to Bassett on the left wing. He chips it for Rosenberry, whose volley bounces over the bar. Would've been a spectacular combination for Colorado.
19' - Shinyashiki chips it up to Barrios, and he's in. Flies by Bassett, and Beitashour's side footer is blocked. Really nice play from Shinyashiki to get Barrios in behind to start it.
22' - Namli steals at midfield and he's fouled within striking distance. Bassett and Namli line up to strike it as the Tucson 'keeper yells at his wall to not jump. Namli curls it to the near post, but the 'keeper catches.
23' - Tucson runner opens up space on the left. Another hit from 18 yards out is knocked of the park... given that this is an old baseball field and all.
26' - GOAL - Beitashour to throw. Shinyashiki turns his guy and runs up the line. He plays the ball across the box to Rosenberry, and he slams it home far post. Rapids equalize, 1-1. Shinyashiki beat his guy one-on-one, and Rosenberry made a perfect run. Shinyashiki has been solid today.
30' - Abubakar working his way into the box with the ball in open play, you love to see it.
31' - GOAL - Namli finds Rosenberry over the top, and it's a corner. Price takes an outswinger, and, of course, it's Shinyashiki. He powers the header down and in. Rapids lead 2-1.
35' - Bassett shows skill, and he's got acres of space. He plays a beautiful curling ball for Barrios, but it's just beyond his reach.
36' - Price takes another corner. Trusty connects, but it skims over the near post.
38' - Tucson free kick on the left wing from 30 yards. Lefty kicks it in, and Price rejects him. Another attempt and Abubakar says no. Shinyashiki fantastic hold up play, and Barrios is away.
40' - Rapids 2 | FC Tucson 1
Second half lineup: Clint Irwin, Auston Trusty, Drew Moor, Kortne Ford, Steven Beitashour, Collen Warner, Cam Wilkerson, Sam Bassett, Oliver Larraz, Nicolas Mezquida, Nicolas Benezet
This half, the score is reset, and the Rapids are taking on LA Galaxy II. The Rapids change from their practice grays to their burgundy kits to go against the Galaxy II's all-whites.
1' - Aaand we're off.
2' - GOAL - Quick as lightning. Warner slips it to Mezquida, and he finishes far post. Beautiful play. Rapids lead 1-0.
11' - Larraz looking strong in tight spaces off the bat.
12' - Moor makes a hard tackle and he's fouled. LA gets a yellow card.
14' - Deep ball over the top takes a short bounce over Moor, but Warner is there to clean it up.
15' - LA adds another yellow card.
18' - Larraz turns two guys and slips it to Benezet, but he's offside.
19' - Wilkerson presses the 'keeper, the blast hits him, but it doesn't go in. Solid effort, though.
24' - Benezet drives the box from the left and curls one to Mezquida, but it's over his head.
26' - Mezquida lining up a free kick from midfield. He plays to Ford, and it rattles out for a goal kick.
28' - There's a good ball over the top for LA and some dancing at the flag. More play up the right, and Ford heads it away at the far post. Trusty clears.
29' - GOAL - Warner with another good ball, and Mezquida sends his guy flying, takes a curler from the 18-yard box into the upper 90, far post. 2-0 Rapids.
31' - GOAL - Warner hits Mezquida in the chest, he controls and fires. Now it's 3-0 Rapids.
34' - Moor an important header out for a corner for LA. The Galaxy player hits an inswinger, very high. Beitashour heads to safety and the Nico's are off.
37' - Larraz with a deep switch to Benezet. Great ball. Benezet curls it for Mezquida and a glancing header gets a glancing save, but he's offside.
40' - Rapids 3 | LA Galaxy II 0
• Discuss this story on the Major League Soccer message board...


Major League Soccer Stories from March 31, 2021
The opinions expressed in this release are those of the organization issuing it, and do not necessarily reflect the thoughts or opinions of OurSports Central or its staff.