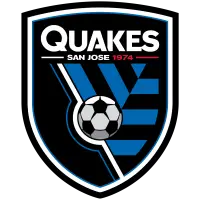 Quakes win fourth of last five
October 15, 2020 - Major League Soccer (MLS) - San Jose Earthquakes News Release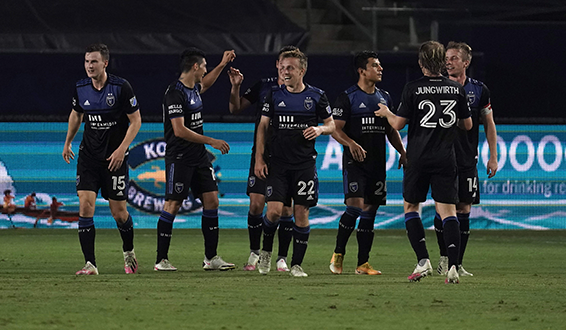 The San Jose Earthquakes celebrate one of their four goals vs. the LA Galaxy on Wednesday
(San Jose Earthquakes)
CARSON, Calif. - The San Jose Earthquakes defeated the LA Galaxy 4-0 on Wednesday evening at Dignity Health Sports Park. The Quakes are now 4-1-0 in their last five matches, with only Toronto FC holding a better record in that span (4-0-1).
San Jose took the lead just moments before halftime through Nick Lima. The Earthquakes would then add goals by Andy Rios and Tommy Thompson to pull away in the second half, before Lima scored his second of the night three minutes into stoppage time.
The Earthquakes will now return to San Jose to host the reigning MLS Cup champions Seattle Sounders FC on Sunday, Oct. 18, presented by the City of San Jose. Kickoff from Earthquakes Stadium is set for 7:30 p.m. PT and the match will be broadcast on NBC Sports California, KNBR 1050 and 1370 KZSF.
GAME NOTES
San Jose now holds a 6-7-5 record in the 2020 regular season and sit above the playoff line in seventh place, just one point out of fourth place.
The Earthquakes now hold a 4-1-0 record in their last five matches, scoring 11 goals in that span.
With Nick Lima and Tommy Thompson each scoring their first goals of the season, 15 different players have now scored for San Jose in 2020, the third most in a single season in Quakes history despite having played just 18 games to date.
Homegrown goalkeeper JT Marcinkowski secured his second shutout of the season and third of his MLS career. Marcinkowski now holds a 4-1-1 record in six starts this season.
San Jose holds a 6-2-2 record against the Galaxy in their last 10 meetings, winning this year's regular season series (2-1-1). The Quakes now hold a 3-2-0 away record in their last five matches against the SoCal side, marking the best five game run at LA in club history. The 4-0 win also marked the largest margin of victory for San Jose over LA in 74 regular season matches to date.
Defender Nick Lima scored his first and second goals of the season and sixth and seventh of his MLS career. It marked the first multi-goal game of his MLS career and he has now scored at least once in each of his four seasons as a professional. It also marked his first game-winning goal of the season and third of his MLS career.
Defender Tommy Thompson scored his first goal of the season and fourth of his MLS career.
Forward Andy Rios scored his team-leading fifth goal of the season and sixth of his MLS career. He has now scored a goal in three of the last four matches. Rios was also credited with an assist on Lima's first goal, marking the first assist of his MLS career.
Midfielder Carlos Fierro was credited with the assist on Rios' goal, marking his third assist of the season and third of his MLS career.
Forward Cade Cowell was credited with the assist on Lima's second goal, marking the first assist of his MLS career.
MLS Regular Season
LA Galaxy 0 - 4 San Jose Earthquakes
Oct. 14, 2020 - Dignity Health Sports Park in Carson, California
Man of the Match: Nick Lima
Scoring Summary: SJ - Nick Lima (Andy Rios) 44; SJ - Andy Rios (Carlos Fierro) 52; SJ - Tommy Thompson (unassisted) 79; SJ - Nick Lima (Cade Cowell) 90+3.
Misconduct Summary: LA - Emiliano Insua (caution) 47; LA - Julian Araujo (caution) 61.
SAN JOSE EARTHQUAKES: JT Marcinkowski, Nick Lima, Florian Jungwirth, Tanner Beason, Tommy Thompson (Paul Marie 77); Carlos Fierro (Cade Cowell 84), Judson, Jackson Yueill, Cristian Espinoza (Siad Haji 84); Andy Rios (Luis Felipe 84), Chris Wondolowski (Shea Salinas 72).
Substitutes not used: Oswaldo Alanis, Jacob Akanyirige, Eric Calvillo, Daniel Vega.
SHOTS: 19, SHOTS ON GOAL: 10; SAVES: 3; FOULS: 9; CORNER KICKS: 5, OFFSIDES: 1.
LA GALAXY: Jonathan Klinsmann; Emiliano Insua (Diedie Traore 55), Daniel Steres, Nick DePuy, Julian Araujo, Perry Kitchen; Sacha Kljestan (Carlos Harvey 74), Sebastian Lletget (Emil Cuello 84); Cristian Pavon, Yony Gonzalez (Ethan Zubak 84), Javier Hernandez (Efrain Alvarez 54).
Substitutes not used: David Bingham, Cameron Dunbar, Giancarlo Gonzalez, Carlos Harvey, Gordon Wild.
SHOTS: 8; SHOTS ON GOAL: 3; SAVES: 7; FOULS: 10; CORNER KICKS: 4, OFFSIDES: 0.
SAN JOSE EARTHQUAKES HEAD COACH MATIAS ALMEYDA
On potentially making the playoffs:
"I'm the same as when we were losing. Calm, being conscious of our day to day. Today's difference from those days is that I'm really happy. But the happiness only lasts until tomorrow. Tomorrow we get back to work and prepare for what's to come. We are going game after game. The only thing that interests me is that after our negative situation, we stuck to our game, doubled down and got out of that place. I am really happy for the players and everyone who works for the San Jose Earthquakes. Most of all, I am happy for the fans because we were able to give them joy of winning a derby during a pandemic."
On Nick Lima and Tommy Thompson's performances:
"I think we have repeated this type of performance many times in the past, except without the goals. Even when things were going badly, we always had this system of play. A few times we were able to achieve this offensive system. We are happy with today's victory. However, we are not surprised that Nick [Lima] and Tommy [Thompson] scored tonight. 10 days ago, Paul Marie scored a goal and 15 days ago, Marco Lopez also scored a goal. It's nice when we are able to finish the play but it's not surprising because that's always what we're aiming for."
On Andy Rios filling Magnus Eriksson's position:
"I think like everyone it takes time to adapt. I think Magnus [Eriksson] was the only player that played every game with me. With the change, we knew it would take time. We knew that change would take time. I think Rios has different characteristics than Magnus, because he's still a striker that gets in the box aggressively. He has a great vision for spreading the field. He's a fighter like Magnus and it was always going to take some time for him to adapt. I think today we see the Andy that we wanted to sign. The same with [Carlos] Fierro, Judson, and Jackson [Yueill]. I think it's that time and I think we need even more time still, because we cannot forget we are living in a pandemic where it's difficult to train. I see a team that can win, draw, or lose. But overall, we were able to achieve for the players to respect the jersey they are playing for. For San Jose. They are playing with identity."
SAN JOSE EARTHQUAKES FORWARD CHRIS WONDOLOWSKI
On the team's ability to build confidence after last month:
"Yeah, absolutely. I think that, to be honest, the message, and I remember talking to you guys, our plan isn't going to change. We understand we need to fix a lot of things and fix some major problems, but we're going to stay the course. We had belief, and we still do have belief that we're going to make a deep run, making the playoffs, and make a run in the playoffs. That belief has never wavered. It's very nice to get some of the results, so that it snowballs and really you can have tangible points that you're getting and see where you are making the corrections. I think that we still have a ways to go, but I think that we corrected a few of the things."
On the performances of Carlos Fierro and Andy Rios:
"I think that they're important pieces, and I'm so happy. They've put in so much work. I'm so happy to see a lot of that hard work pay off, and to see them get the results, the goals, and the assists that I know they've been working hard to get. I think a lot of that has to do with our play in general. I think that so much of our success is built into how we press and where we win the ball, but also how we possess the ball and create chances. I think that when we went through a spell where we weren't doing things defensively, a lot of it was because we weren't doing things offensively. I think they went hand-in-hand, and the struggles fed off of each other. I think that once we corrected one, the other one was able to come around. I think that these guys have been able to benefit from a lot of the hard work all over the field."
On the team's confidence to make the playoffs:
"I think that the team is very confident, and we want to make a push. I think that making the playoffs is first and foremost. We want to do that. We want to do that any way, shape, or form. I think that we learned a lot from last year, and I'm hoping we learned a lot from our mistakes. We can't rely and depend on the last day. We have to put everything against the wall. We have to be smart. We have to get points where we can. That being said, we want to host. We want to be in the top four. I think that's our sights right now, where we want to be, and where we think we can be. We have a lot of work that we still need to do. I still think there's a lot of points out there, but I think that's a reasonable goal. I think that's something we're shooting for, but first and foremost, we've got to get into those playoffs. Once we do, we know we can make a run."
SAN JOSE EARTHQUAKES FORWARD ANDY RIOS
On his positive form:
"I am very happy at the moment, but I am also thankful and excited for what we're doing as a team. We are all growing and I think it's not only reflective in tonight's victory, but also in our overall recent performances. We will work hard to continue this run."
On taking on multiple responsibilities in the midfield:
"I played in this position years ago. In my style of play, having more contact with the ball makes me more comfortable and secure. It's obvious that there are good and bad times during the game. But we are going through a good run. In that position, I feel responsible for having to go inside the box, so maybe staying in a more defensive position during a counterattack at times is also working for me. I feel really good and I think we're all growing."
On his chemistry with Carlos Fierro:
"Carlos and I have a good relationship beyond the pitch. We got to know each other well even though I got to play a little more than he did last year due to his injuries. Regardless he's doing really well now, he's fit. We are both doing very well physically. We always want to combine with one another and having good movement on the field creates a good connection. He's doing really well in having the ability to cross the ball accurately to players inside the box. He's always looking for a teammate and doesn't do it blindly. His game is noticeable now and is important to our game."
Images from this story
• Discuss this story on the Major League Soccer message board...


Major League Soccer Stories from October 15, 2020
The opinions expressed in this release are those of the organization issuing it, and do not necessarily reflect the thoughts or opinions of OurSports Central or its staff.