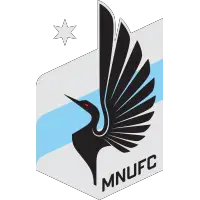 MNUFC Scores Three in First Road Win at la Galaxy
June 30, 2022 - Major League Soccer (MLS) - Minnesota United FC News Release



CARSON, Calif. - When Minnesota United play the LA Galaxy, there is hardly a dull moment. The latest edition of this matchup lived up to the reputation, seeing the visitors come out on top with a 3-2 victory. The Loons snapped their losing streak with an emphatic, dominant first-half display that proved too much for the Galaxy to recover from.
From the very beginning, this game had an edge to it. In just the 2nd minute of play, midfielder Kervin Arriaga was stretchered off the pitch with an apparent ankle injury. Despite this unfortunate start, the Loons were hungry.
Minnesota United won the ball just a few minutes later and quickly launched a counter-attack. Emmanuel Reynoso found himself with the ball on the right side of the field, just beyond the penalty area. After a quick cut to put the ball on his magical left foot, Reynoso scored a GOLAZO, nestling the ball into the side netting and leaving Galaxy goalkeeper Jonathan Bond with no chance.
This only served to inject even more energy into the contest, as fans were treated to a wonderful display of end-to-end soccer for the next 15 minutes. This looked as though it would continue all game long, until the 25th minute when Galaxy winger Kevin Cabral's foot caught Minnesota goalkeeper Dayne St. Clair in the head. Cabral would be shown a red card for the contact, putting the Galaxy down a man.
From that point on, LA appeared to be dead in the water. Creative play from the Loons stretched the field and scrambled the opposition. After some beautiful one-touch combination play from Minnesota led to a pinpoint, first-time cross from Kemar Lawrence. The cross found Franco Fragapane at the back post, where he promptly hammered the ball into the top of the goal to put his team up 2-0.
Just before half, the Loons struck again. A great chip pass from DJ Taylor connected with a fantastic run by substitute Bongokuhle Hlongwane down the right side of the field. Hlongwane's cut back and cross put the ball on a platter for Reynoso, who took the shot cool as you like for his fifth goal of the MLS season.
Coming out of the break, LA found new life from substitute Efraín Álvarez. The Galaxy got their reward though in the 60th minute, when the dynamic play of Álvarez drew a foul from Wil Trapp in the box. The ensuing penalty kick was converted by Mark Delgado, pulling one back for the Galaxy.
As Minnesota began to condense the field and absorb pressure later in the second half, the Galaxy brought on more attacking substitutes in Douglas Costa and Dejan Joveljić in an attempt to spark something special.
In the remaining minutes of the match, the Loons created a few chances to put the game to bed, but ultimately failed to score number four. In the 3rd minute of stoppage time, Joveljić ended up finding the back of the net after a decent Galaxy attack, putting a bit of zip and uncertainty into the final moments of the match.
Immediately following the final whistle, a post-game scuffle broke out near midfield. Referee Ted Unkel was close to the action, ultimately giving out a second yellow to Joseph Rosales and a straight red to Douglas Costa after the dust settled. Both players will be suspended for their next matches.
Ultimately, the game finished 3-2 in favor of the Loons. While the score line flattered the Galaxy, a few mistakes in the second half from Minnesota is what ultimately allowed LA back into the game. Despite the mistakes, the Loons appeared to be in control for most of the match.
MNUFC will take their three points and head home for their next match, their first league game at Allianz Field since May 28 against NYCFC. Minnesota will be looking to take advantage of the Wonderwall's support this Sunday and try to start a new streak.
BELL BANK MAN OF THE MATCH: Emanuel Reynoso
LINEUPS:
Minnesota United XI: Dayne St. Clair; D Bakaye Dibassy, Michael Boxall, Kemar Lawrence; M Franco Fragapane, Emanuel Reynoso, Robin Lod, Wil Trapp (c), DJ Taylor, Kervin Arriaga; F Luis Amarilla
Bench: GK Tyler Miller; D Brent Kallman, Oniel Fisher, Nabi Kibunguchy; M Jacori Hayes, Joseph Rosales; F Abu Danaldi, Bongokuhle Hlongwange, Justin McMaster
LA Galaxy XI: GK Jonathan Bond; D Julian Araujo, Derrick Williams, Nick DePuy, Raheem Edwards; M Victor Vazquez, Marky Delgado, Daniel Aguirre; F Kevin Cabral, Samuel Grandsir, Javier Hernandez (c)
Bench: GK Jonathan Klinsmann; D Sega Coulibaly, Kelvin Leerdam, Eriq Zavaleta; M Efrain Alvarez, Sacha Kljestan, Rayan Raveloson; F Douglas Costa, Dejan Joveljic
UP NEXT:
MINNESOTA UNITED FC vs. REAL SALT LAKE
Allianz Field | St. Paul, Minnesota
07.03.2022 | MLS 2022 Regular Season | Week 18
7:00 pm CT (BSN EXTRA/CW Twin Cities/1500 ESPN)
MINNESOTA UNITED POST GAME QUOTE SHEET
HEAD COACH ADRIAN HEATH
On how satisfying this win is after the last two games...
"Sometimes you get things in games, maybe, sometimes you don't. I thought our play in the first half... I don't care if we're playing against 10 men, it was outstanding, our decision making. I said at halftime, 'Listen, we've all played in games where if you concede the next couple of goals then we're in for a long haul. The crowd starts to get back into the game. Then the fact of the matter is we're a little bit fragile at the minute. When we made... Then the lead goes to 3-1. Then we'll start to try to play safe. Then we started playing square and backwards because you don't want to turn the ball over and then you start inviting pressure on to you. Then you end up giving it to the goalkeeper to play the kick long and then you start again. We made a lot of really poor decisions in the second half in terms of when to play, when to play long, when to play short and we invited a lot of pressure."
On the build up of the second goal...
"We had a litany of passes leading up to the goal. It was plenty. That's the perfect way to play against 10 men when you know you're getting down one side, distract them over and then starting to keep possession. Switch the point of attack and that's what we did. We got Kemar [Lawrence] in on the overload and then we got numbers in the box. That's what we should've done the whole second half, but we were, at times, too afraid to play into people when it's tight, but that's what you have to do to suck them in and then get the ball switched and get your overloads and get your spare man off the ball. We didn't do a good enough job of that in the second half. When we did, we looked like we might score."
On the quality of the goals scored...
"They were all really, really good goals. You've heard me for the last 18 months, Rey [Emanuel Reynoso] has to shoot more. I see it every day in training. I know what he's got. I know how he can finish. Especially coming in from the right-hand side. He's got a wand of a left foot. So then that will enable him to get another pass because people will start to pressure the ball because they know he's got a good finish in him. Hopefully that might be a lesson learned for him this evening."
On Kervin Arriaga's early exit due to injury...
"He went over on his ankle. It's very, very swollen at this moment, but not as bad as we first feared. I had visions it had been his Achilles, which means season-ending, which is the last thing we can afford to do with Hassani [Dotson] down as well. But he's not too bad. It's swollen and we'll need plenty of time getting fit for the weekend because at the end of the game there was all the...I don't know what happened, but Joseph [Rosales] ended up getting another yellow card, so that turned into a red card eventually, so he will not be available for the weekend. It's stupidity personified. He's a young midfielder. Got an opportunity with the team, and then he goes and gets himself sent off."
On the early substitution for Luis Amarilla being injury related...
"Yeah, adductor. I thought that he didn't want to make it worse."
On the success of the team's counter-attack...
"I did say to the players you look at our last three games we do match up well. We always look dangerous on the counter-attack playing back to the last couple of times we've played here. The way that they play... they've [LA Galaxy] got really good attacking players but they do leave themselves a little bit vulnerable at times. We just said if we can get Rey [Emanuel Reynoso] in good spots and pick the right moments and break forward and pick the right moments for the right pass, make forward runs, run without the ball, then you'll get opportunities and that's what happened."
On the Adrien Hunou transfer...
"I spoke to him before he left. As I always say, we wish him the best. It's not turned out the way we it was going to be, not the way I thought it was going to be or the way the club thought it was going to be. It opens up a spot for us now and we've been looking for a while for a couple of areas we would like to try and fill. Later on down the road with a couple of things hopefully we'll be able to pull that off and add another couple of quality pieces to the group we've got because, I might be a lone voice in this moment in time, but this team is very, very close to being very, very good."
On if there are players out there with DP quality...
"Yes."
On the penalty kick given against MNUFC and the non handball against Raheem Edwards...
"I need to see it full again. He made contact with Dayne [St. Clair]. I don't know about how forceful it was, but he did make contact. Really then the referee doesn't have much...he has no other way, he has to send him off. He hit him in the head. The penalty? I don't know. I'm probably 70, 80 yards away from where the penalty was. I've got a lot of bodies in front of me, so I will not comment on it until I see it properly."
MIDFIELDER WIL TRAPP
On the impact of getting three points at LA Galaxy on Wednesday...
"The second half was chaotic, Andy [Greder, Pioneer Press], but I think Gaff [Adrian Heath] said at the end, had we gone on this road trip and gotten one point each game, a draw in each game, we'd be pretty happy, so coming away with three tonight was really important. Really important for our group in the sense of we just needed to find a way to win, even if it was ugly, even if it's chaotic a bit. I think to get over the line is important. To see Rey [Emanuel Reynoso] score, to see Fraga [Franco Fragapane] score, that was important. Those guys getting them going a little bit more I think will help us."
On the quality of MNUFC's three goals...
"Excellent. Rey [Emanuel Reynoso] starts off with a beautiful strike. I think the second goal, from Fraga [Franco Fragapane], is just excellent play, honestly and a great ball-in from Kemar [Lawrence] and a great finish, not an easy finish. Then the last one Bongi [Bongokuhle Hlongwane] does a great job cutting inside and laying it off. I think in the second half, we just needed to be a little more clinical in the couple of moments we did have. I raised my hand for the penalty, it's a bad penalty to give away; it really sets a poor tone for our guys in the second half. Ultimately, like I said, the three points, we'll take it and move on."
On multiple guys contributing to the second goal...
"The difference in that goal was the speed of play, skipping guys out and breaking lines. You think about 'I play a pass to Rey [Emanuel Reynoso], they're [LA Galaxy] sucked in on Rey, we play to Joseph [Rosales], Joseph breaks line into Robin [Lod], he lays it off, we play Kemar [Lawrence] in and that's a great cross. Ultimately, those are the types of patterns we work on and to execute in the game was excellent."
On which halves or the three points he'll remember...
"Jerry [Zgoda, Star Tribune], I think we're just going to remember the three points because it's a quick turnaround; we've got a big game against a good team on Sunday."
On cautiousness in the second half...
"Decision making, especially when you're up a man and they [LA Galaxy] are building confidence, right, the more you play backwards and square, the more they can just stay in our half. And ultimately the couple of times that we did turn and play forward, it's one-v-ones, it's two-v-twos with the entire second half of the field to run into. So, I don't think we did a great job of recognizing those moments playing quickly out of pressure just kind of complacent on the ball and getting turned over. Now, the numbers can be even when those situations happen. I think for us it's recognizing where we're at in the game and making clean and sharp decisions to run forward and continue to work them."
On the LA Galaxy red card's impact...
"We did well to capitalize on the up-a-man situation whereas you think about times last year, these games were the opposite way. I thinkt the fact that we got the two goals after the red card was important, but we could have been better, like I said, with our decision making."
On Douglas Costa's elbow at Joseph Rosales near the end of the match...
"I didn't get to see a ton of it, Andy. The way Joe reacted makes me think something happened because he's not necessarily one of those types of people that reacts that emotionally when it's just a shoving match, so to speak. But, there must have been something more sinister and I think Ted [Unkel] went over and checked the VAR and there was."
On relief knowing Kervin Arriaga may have avoided serious injury...
"I'm not sure to what extent his injury is, but of course he's a huge part of us, so hopefully it's not something serious."
On bouncing back from Inter Miami CF loss last weekend...
"We had a team meeting here in LA. We sat down as players just to understand what are we committed to? Are we committed to winning, are we committed to turning this around? We're not a bad team, not at all. We know that, we see that, and teams we play against say that. But it's about mentality. It's about us understanding who we are and who we need to show up as. I think that was a galvanizing point for us to understand one thing, for example, to focus on and for us, we did it in extremely well fashion in the first half, is denying central passes and making the play go wide. I think our defensive shape was excellent. You could see us win balls and run forward and really that gave our group a lot of confidence. So I think that meeting, guys taking the responsibility and understanding when we're getting on each other, it's not personal. We're trying to get better, we're trying to learn, we're trying to win. I think the group really took that to heart and we have to just move on from this game and three points are good, but we have to get three points at home as well."
On returning home again this weekend...
"Yeah, it'll be nice. It's a big celebration of course with the Fourth of July and getting our fans a win on the Third will be really important."
GOALKEEPER DAYNE ST. CLAIR
On his thoughts on LA Galaxy's red card play...
"He [Kevin Cabral] contacted my head and one of the points of emphasis of the league, it takes concussions very seriously. So, that's why the red was given and I think no matter the amount of contact, any foot to the head, the league is going to give a red for that."
On getting three points...
"It's huge. To come to LA is never an easy thing to do and after letting three points slip from us last game, we came out with the mindset that we needed three points in this game. We as a team knew that we needed them and [the points] are crucial, and now we're looking to turn the tide to build upon this result. We're not just happy with getting one, we know we need to keep building upon these performances."
On the quality of MNUFC's three goals...
"We know, as the guys in the back, we know those guys are capable of doing it and it was nice to see it come to fruition in games."
On his takeaways from the team meeting ahead of the LA Galaxy match...
"We know we're a good team and the results haven't gone our way. Then, we just need to dig a little bit deeper because we've been in positions to win these games and we've let some slip away. So just having a stronger mentality is something that we talked about."
On how playing up a man affected the game...
"Anytime you can play 11-v-10, I think every team would want to do that if possible. Getting their guy sent off early on was important and allowed us to play our [game] because they can't cover all of us when we have the ball."
On Mark Delgado taking the penalty kick against him...
"A little surprised but we know that they have some other takers. I think this might be his first one for them so a little bit surprised but, again, disappointed that I didn't at least dive the right way."
• Discuss this story on the Major League Soccer message board...


Major League Soccer Stories from June 30, 2022
The opinions expressed in this release are those of the organization issuing it, and do not necessarily reflect the thoughts or opinions of OurSports Central or its staff.