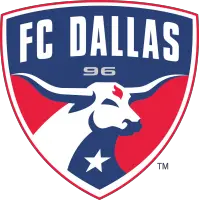 Major League Soccer Supports Childhood Cancer Awareness Month with 6th Annual Kick Childhood Cancer Campaign
August 29, 2019 - Major League Soccer (MLS) - FC Dallas News Release



NEW YORK - MLS WORKS, Major League Soccer's social responsibility platform, will launch its 6th annual Kick Childhood Cancer campaign benefitting Children's Oncology Group (COG), on Saturday, August 31 as part of childhood cancer awareness month. Supported by all 24 Major League Soccer (MLS) clubs, the month-long campaign will feature a commemorative gold adidas Nativo Questra 2019 Official Match Ball to be used during all matches as well as gold corner flags and goal nets. Kick Childhood Cancer gold captain's armbands and gold ribbon jersey patches will be worn by the players, while coaches and technical staff will wear Kick Childhood Cancer pins and New Era caps on the sideline.
Fans are encouraged to support the campaign by using #KickChildhoodCancer on social media. For each post, that includes the hashtag, MLS will donate $1 to Children's Oncology Group. New for 2019, players will wear special edition adidas Kick Childhood Cancer training tops during procession and national anthem, which are available on MLSstore.com and in team shops beginning Friday, August 30. Kick Childhood Cancer New Era caps will also be available on MLSstore.com and team shops. Proceeds will benefit Children's Oncology Group.
Fans will also have the opportunity to win Kick Childhood Cancer adidas training tops throughout the month by entering MLS WORKS' sweepstakes on Instagram. To enter, comment #KickChildhoodCancer and #Sweepstakes, follow @MLSWORKS and tag two or more friends.
Children's Oncology Group is the world's largest organization devoted exclusively to childhood and adolescent cancer research, uniting more than 10,000 experts in childhood cancer at more than 200 leading children's hospitals around the world. Funds raised from the Kick Childhood Cancer campaign over the last five years have enabled Children's Oncology Group to strengthen research efforts across the entire spectrum of pediatric cancers, including Project:EveryChild - a unique project aiming to capture the biology and outcome data of every child diagnosed with cancer. The cost of a single enrollment into a clinical trial such as Project:EveryChild can approach $10,000 per patient. MLS has helped to offset the costs of more than 17,000 enrollments to-date, with an expected 25,000 to be enrolled by the end of 2019. Fans can also donate directly to Children's Oncology Group by visiting http://soc.cr/lbNv30lAEf8.
Autographed, game-used, memorabilia will be auctioned off online from September 23 to October 7 and as part of MLS WORKS holiday auction from November 25 to December 9.
Campaign elements will also take place in-stadium, on league social and digital channels, and national and regional broadcasts. For more information on Kick Childhood Cancer, Children's Oncology Group or other MLS WORKS initiatives, visit MLSsoccer.com/mlsworks.
TEAM KICK CHILDHOOD CANCER ACTIVATION
ATLANTA UNITED Atlanta United will kick off their annual Unite & Conquer Cancer Campaign with a visit to Children's Healthcare of Atlanta to visit patients and distribute our 2019 Team Blankets that include personal messages from 1st team players and the team's Scarf of the Month - designed by a Children's patient. Additional events include visits to other Children's campuses, pediatric nurse appreciation meals, and exclusive VIP events for special Conquer Kids that are currently fighting pediatric cancer. The highlight of the campaign will take place during the Sept. 14 home match in which 200 pediatric cancer fighters/survivors and their guest will attend the first-ever Gold Squad Tailgate hosted in partnership with the Atlanta United Supporters Groups prior to the match. More than 400 fighters, survivors, and their families will create a human pediatric cancer ribbon on-field during the anthem ceremonies.
CHICAGO FIRE Hosting Kick Childhood Cancer Night on Sept.14. Players will wear KCC training tops during warmups and pregame procession and technical staff will wear KCC pins.
COLORADO RAPIDS The Colorado Rapids have selected Reyna Rosenbeck, a patient at Rocky Mountain Hospital for Children, to be their "Kid Captain" for their Kick Childhood Cancer Night on Wednesday, Sept. 11. In addition, Rapids players will wear KCC training tops during warmups and the pregame procession, and technical staff will wear KCC pins and caps. The player-worn warmup tops will be autographed and auctioned off online starting 9/11-9/23, and all proceeds from the auction will benefit Rocky Mountain Children's Health Foundation. Lastly, the Colorado Rapids are supporters of the 2019 Curesearch Walk, which is taking place Saturday, Sept. 14 at DICK'S Sporting Goods Park. The family-friendly and superhero theme event honors kids with cancer and raises funds for children's cancer research.
COLUMBUS CREW SC Crew SC will host a Kick Childhood Cancer Fantasy Camp for up to 150 pediatric cancer survivors at MAPFRE Stadium featuring First Team players on Sept. 3. On Sept. 16, the Club is teaming up with NC4K - a nonprofit organization that provides support for kids fighting cancer - and Rule 3 to host a Bowling Event and Pizza Party for pediatric cancer patients/survivors and their families featuring Crew SC players. On Sept. 29, the Crew is partnering with Jessie Rees Foundation: Never Ever Give Up! to provide a unique matchday experience for a current pediatric cancer patient during the Club's home match against the Philadelphia Union.
D.C. UNITED In conjunction with Children's National Hospital and Leukemia & Lymphoma Society, D.C. United will host Kick Childhood Cancer Night on Sept. 22. The match will include a VIP experience for LLS Honored Heroes and their immediate families. Chris Odoi-Atsem, United player and blood cancer survivor, and his story will be highlighted during the game. Additionally, the club will work with Hope for Henry to bring a Black-and-Red party and players to pediatric cancer patients.
FC CINCINNATI Cancer Free Kids is the community partner of the Sept. 7 Kick Childhood Cancer match. Survivors will participate in a shoot-out with Gary (FCC mascot) and Cancer Free Kids mascot at halftime. FCC players will visit Cancer Free Kids supporters at Braxton Brewing on Sept. 5.
FC DALLAS FC Dallas will sign 10-year-old soccer player Brynn Moore from Diamond Wishes Children's Charity to a two-day contract with the team. She will be named co-captain for FC Dallas' Kick Childhood Cancer match against FC Cincinnati on Saturday, August 31.
Brynn will visit sign her contract and visit FC Dallas training on Friday, August 30. Please contact Gina Miller (GMiller@FCDallas.com for more information).
In addition, the players will wear KCC training tops during procession and the national anthem that will be autographed and auctioned off through the DASH app from 8/30 through 9/6 with all proceeds benefitting the Children's Cancer Fund. Also, FC Dallas will be participating in the second annual Pulling Together event (a Texas-sized tug-of-war) to fight pediatric cancer on Sept. 14. Lastly, FC Dallas players will visit with patients at a local children's hospital on Sept. 24.
HOUSTON DYNAMO MD Anderson patients who participate in the therapy art program will paint a picture that will be turned into a mini 10'x16' tifo. The tifo will be displayed pre-game at Houston's Kick Childhood Cancer Match against Orlando on Saturday, Sept. 21. The Dynamo are also selecting 11 kids who are currently battling cancer or who are in remission to be the Starting XI. Each child will get to design a super hero cape on their own and Dynamo players will also have capes.
LOS ANGELES FC Cancer patients and their families will visit LAFC's training center leading up to the team's Kick Childhood Cancer Match on Sept. 21. Additionally, players will visit Kaiser's pediatric oncology unit.
LA GALAXY The LA Galaxy will recognize community partner Gift of Life by welcoming bone marrow recipients and donors to the game for an on-field presentation in honor of World Marrow Donor Day on Sept. 21. The LA Galaxy Foundation will also invite pediatric cancer patients and their families to attend training sessions during the month of September.
MINNESOTA UNITED Minnesota United will include a child, either with cancer or who has been impacted by cancer, in every element of the game for Kick Childhood Cancer Night on September 15 - from a junior broadcaster to coin toss and more - in partnership with Children's Cancer Research Fund, Masonic Cancer Center and Austen Everett Foundation. Additionally, in conjunction with Children's Cancer Research Fund, players will be serving lunch to 150 patients and families in the pediatric cancer center at Masonic Cancer Center.
MONTREAL IMPACT The 2019 Shaved Head Challenge campaign launched on July 22. President Kevin Gilmore, players from the Academy and Pre-Academy, members of the front office staff as well as supporters will participate in the annual fundraiser for Leucan. They will shave their hair during the Sept. 29 game (Kick Childhood Cancer Night) in front of the crowd during HT. The IMFC team is open to everyone that wants to help. The team objective is to raise $20, 190.
NEW ENGLAND REVOLUTION The Revolution are supporting Massachusetts-based Binkeez for Comfort, as several players will visit the organization's headquarters to learn about the creation of Binkeez blankets, which are donated to families impacted by childhood cancer. The design of each Binkeez for Comfort blanket have been thoughtfully thought out and designed by child life specialists, input from Medical Doctors and most important those that have cared for ill family members and loved ones. The club also hosted families for the Binkeez for Comfort Boxcar Movie Night on August 5.
NEW YORK CITY FC NYCFC will recognize community partner Hope and Heroes by welcoming former patients and staff to every game in September for an on-field presentation. NYCFC will also auction off Kick Childhood Cancer month player signed and match worn jerseys and training tops from the match on Sept. 11 in support of Childhood Cancer Awareness. We will also select a former cancer patient to be our community kick off kid.
NEW YORK RED BULLS The New York Red Bulls again team up with Hackensack Meridian Health (HMH) and their Tackle Kids Cancer Foundation. RBNY will have patients escort the players out onto to the field and additional on-field activations including "Tackle Kids Cancer" banners during procession on Sept. 29 against D.C. United. For the second-straight year, the Red Bulls will wear custom boots for warmups of the September 29 match. Throughout the year, HMH patients have been paired with Red Bulls players, and the player and patient have designed their boots together over lunch during visits to the Red Bulls Training Facility. The patients and their families will be on-hand at the match, and will reconnect with players post-game to receive one of their custom boots, hand-painted by a local artist, while the player keeps the other. The club will also be hosting an online auction on the DASH app platform throughout the month of September to raise money for Tackle Kids Cancer.
ORLANDO CITY SC As a part of the Kick Childhood Cancer Night on Sept. 7, players will wear the KCC training tops during warm-ups and procession, and Orlando City will introduce the Starting XI Against Cancer as a part of the pregame announcements. The Starting XI Against Cancer will honor and recognize eleven children that are currently battling cancer or are in remission. In addition, Club staff will wear yellow ribbons to recognize the cause. The Club's beneficiary is Orlando Health | Arnold Palmer Hospital.
PHILADELPHIA UNION The Union will continue their yearly tradition of teaming up childhood cancer patients and athletes to design custom cleats and apparel to be worn during warm-ups for the annual Childhood Cancer Awareness Night. The 2019 program will celebrate that tradition, and this year's program will be even bigger as Union athletes and select athletes from other Philly teams will unite around the cause. This year, the club has partnered with Kisses For Kyle to work with 43 childhood cancer patients in the Greater Philadelphia area. Young artists will be the guests of honor at the club's Pediatric Cancer Awareness match on Sept. 14. The club will also be participating in a pregame fashion show on the stadium plaza that night in partnership with Mascots for a Cure & A Moment of Magic.
PORTLAND TIMBERS The Portland Timbers collaborated with the Children's Cancer Association to have three kids design a t-shirt that will be signed and auctioned off to benefit CCA. The families will also enjoy pre-game warmups while sitting on the Timbers bench on Sept. 15. The Timbers are also collaborating with Kindness 911 to welcome Camden - a four-year-old who has a non-operative brainstem tumor - to the Sept. 15 Timbers match.
REAL SALT LAKE The RSL Foundation hosted 12 kids and their families currently fighting Pediatric Cancer at "Meet the Team" night on August 27 to kick off Kick Childhood Cancer month. The families got to have dinner, take pictures and hang out with the players. The club's Kick Childhood Cancer Night will be on Sept. 25 benefiting Primary Children's Hospital.
SAN JOSE EARTHQUAKES Quakes will feature an Honorary Captain for their September 29 match. The child has been selected by the Austin Everett Foundation, and will join practice the week of the game to watch. The child and his family will get special game access and experiences and he will also sign an honorary 1-day contract with the Quakes.
SEATTLE SOUNDERS FC At the Kick Childhood Cancer Match on Sept. 18 the dream team will feature 22 kids battling cancer and their siblings and the Honorary Team Captain will receive an enhanced team training and locker room experience. Throughout September, fans can nominate a kid battling cancer (or in remission) to receive a custom video from a Sounders FC player; fans can give blood at one of three "Out for Blood with Zach Scott" blood drives; the team will host a special training session with over 100 youth battling cancer and their families on Sept. 4; and Zulily is collaborating with the team to host sample sale for season ticket members where all proceeds benefit Strong Against Cancer at Seattle Children's Hospital.
SPORTING KANSAS CITY Hosting a Kick Childhood Cancer Match on Sept. 21 at Children's Mercy Park that will feature players wearing KCC training tops, a special on-field recognition of children battling cancer and a tifo made by supporters. Children and families affected by cancer will also be invited to a tailgate organized by The Victory Project, and Hallmark will provide greeting cards for fans to write messages of encouragement.
TORONTO FC Hosting Kick Childhood Cancer Night on Oct. 6. Players will wear KCC training tops during warmups and pregame procession and technical staff will wear KCC pins and caps.
VANCOUVER WHITECAPS FC Vancouver Whitecaps FC will host the third annual Legends & Stars charity match on Sept. 14 with BC Children's Hospital (BCCH) patients participating in the player walkout. The ongoing Kid Captain program will also feature BCCH oncology patients at every home match in September.
• Discuss this story on the Major League Soccer message board...


Major League Soccer Stories from August 29, 2019
The opinions expressed in this release are those of the organization issuing it, and do not necessarily reflect the thoughts or opinions of OurSports Central or its staff.