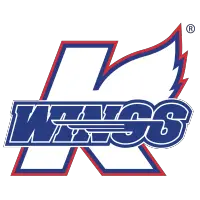 K-Wings Nominated for Six ECHL Team Awards
June 5, 2023 - ECHL (ECHL) - Kalamazoo Wings News Release



KALAMAZOO, MI - The Kalamazoo Wings, proud ECHL affiliate of the National Hockey League's Columbus Blue Jackets, have earned six (6) nominations at the upcoming 2022-23 ECHL Team Awards on June 28 in Las Vegas presented by SponsorCX.
Kalamazoo's award nominations include ECHL Executive of the Year, Inclusive Spirit Award, Most Creative Ticket Package, Group Sales (year-over-year), Sales Rookie of the Year, and Media/PR Director of the Year.
Winners will be announced at the 2023 ECHL Hockey Summer Meetings in Las Vegas on June 28 and can be streamed at 7 p.m. EST on the ECHL's Facebook that same day.
K-Wings ECHL Award Nominations
ECHL Executive of the Year: Toni Will is in her eighth season with the K-Wings and led the team to a 6% growth in total attendance and a 9.6% growth in walk-up ticket sales in 2022-23. Will's now increased Wings Event Center crowds in every season at the organization's helm. Most importantly, Will's dedication to diversity, equity and inclusion (DEI) paved the way toward over $340 thousand dollars raised for Southwest Michigan charitable organizations this past season. Initiatives like Rainbow Ice, Hockey For Her, Black Heritage Celebration and Autism Awareness also mark a few of Will's successful forward-thinking initiatives on display last season. Will also spoke as a presenter for the National Sports Forum on DEI and breaking 'Hockey's Glass Cieling' this past Fall. Will is recognized as one of the sport's first female executives. The K-Wings' GM is also the first woman ever to be elected to the ECHL's Board of Governors Executive Committee, chairs the ECHL's 'Team Services Committee' and serves as a member of the league's 'Hockey is for Everyone' committee. The award is announced privately during the ECHL Board of Governors meeting at the end of June.
ECHL Media/PR Director of the Year: Chris Cadeau worked tirelessly to ensure Kalamazoo's efforts, both on the Hockey Operations & Front Office sides, was presented tastefully to the fanbase and Media around the world. Cadeau's responsibilities ranged from hockey operations coverage, website management, all social media, Local/Regional/National Media collaboration, sales launches, original content and more. For his efforts, the K-Wings brand took the National stage 19 times this past season, touching outlets like NHL Network, NHL.com and TSN multiple times. Cadeau's social media management also helped to set franchise records in following growth (+11.71%, +5.5K followers), impressions (23.3 million), video views (2.7 million) and engagement rate (5.3%). Chris receives the nomination in just his first full season with Kalamazoo.
ECHL Sales Rookie of the Year: TJ Scott is a standout member of the K-Wings Sales team and contributed in a big way this past season. Scott was responsible for 32% of the team's ticket sales in the FSE category, along with 34% of the team's total Group Sales in 2022-23. TJ made the leap into sales, after coming up through the ranks as a K-Wings Gameday Operations intern, and had little sales experience before moving into his current role with the team. Scott is beloved by his Season Ticket Holders, Group leaders and the entire K-Wings staff!
ECHL Inclusive Spirit Award: The K-Wings hosted seven 'Cause Games' that ranged from Cancer Awareness, Autism Awareness, Black Heritage, LBGTQ+, Hockey for Her, and more this past season. Each initiative was strategically partnered with local nonprofits that aligned with each cause, resulting in nearly 300k raised and returned to the community. Focused on all-out game presentation and its 'why' for sprinting down roads that others tread carefully, Kalamazoo was highlighted worldwide multiple times due to its efforts.
ECHL Ticket Package of the Year: The K-Wings' painted ice tradition now dates back over four decades with the hockey's original painted ice surface in Green Ice. With a lineup that features five painted ice games each season, Kalamazoo offered fans the opportunity to attend all five potential sell-out games packaged with concession vouchers, guaranteed promotional giveaways and a Kids Club Membership. For the team's efforts, it enjoyed 200% growth year-over-year in package sales.
ECHL Group Sales (Growth): This award recognizes the ECHL's top teams in year-over-year growth percentage for Group Sales. Kalamazoo's team utilized stuck to its tradition of providing world-class customer service and enjoyed a 21.39% uptick in year-over-year growth compared to 2021-22. To put that percentage in perspective, the K-Wings hosted enough groups to sellout Wings Event Center (5,000+ tickets) last season.
- The Kalamazoo Wings are a professional hockey team located in southwest Michigan that has been a staple in the Kalamazoo, MI professional sports landscape since 1974. The K-Wings compete in the ECHL and are the AA affiliate of the National Hockey League's Columbus Blue Jackets and the American Hockey League's Cleveland Monsters. Kalamazoo plays their 36 regular season home games at Wings Event Center from October through April.
• Discuss this story on the ECHL message board...


ECHL Stories from June 5, 2023
The opinions expressed in this release are those of the organization issuing it, and do not necessarily reflect the thoughts or opinions of OurSports Central or its staff.