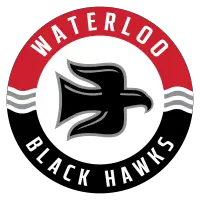 Hawks Snag 16 in Phase II Draft
May 27, 2021 - United States Hockey League (USHL) - Waterloo Black Hawks News Release



Waterloo, Iowa - The Waterloo Black Hawks completed the 2021 United States Hockey League Draft with 16 Thursday selections, led by veteran USHL forward Jeremy Wilmer.
Over the past two seasons, Wilmer has played in 49 league games as a member of USA Hockey's National Team Development Program. In that time, he has produced eight goals and 22 assists. In addition, Wilmer also skated during the Biosteel All-American Game in April, notching an assist versus a squad of top professional prospects from the rest of the league. Wilmer himself is ranked 194th among North American skaters eligible for this summer's NHL Draft. His selection follows other notable Hawks acquisitions from the NTDP in recent USHL Drafts, including Joe Cassetti (2017) and Ryder Rolston (2019). Wilmer is committed to Boston University.
Each of Waterloo's next four choices make their home at or behind the blue line. Defenseman Sam Rinzel was Chaska (Minnesota) High School's third-leading scorer, averaging over a point per game in 2020/21. Meanwhile fellow defenseman Adam Cardona played for the same Lac St-Louis Lions program which helped develop 2020/21 Waterloo forwards Michael LaStarza and Jake Rozzi.
Due to the COVID-19 pandemic, the Hawks did not have any European players in 2020/21. However, the team hopes for renewed success from the Old World with the additions of Patrick Hamrla from Czech Republic and Simon Groch of Slovakia. Like Wilmer, both are candidates for the 2021 NHL Draft, with Hamrla ranked third among draft-eligible European goalies and Groch (a defenseman) slotted 42nd among skaters on lists released by NHL Central Scouting earlier today.
Most of the players selected Thursday will seek a place on Waterloo's roster for the 2021/22 season. The Black Hawks' complete draft list during Phase II included:
Name Rd/Pick Position D.O.B 2020/21 Team
Jeremy Wilmer 1st/3rd Forward August 16, 2003 USA Hockey NTDP U18s
Sam Rinzel 2nd/18th Defenseman June 25, 2004 Chaska (MN) HS
Adam Cardona 4th/48th Defenseman October 5, 2003 Lac St-Louis Lions
Patrik Hamrla 6th/79th Goalie May 21, 2003 HC Energie (Czech Republic)
Simon Groch 7th/95th Defenseman March 10, 2003 Olomouc Jr. (Slovakia)
Grayson Badger 8th/110th Forward May 9, 2004 Dexter Southfield School
Ben Brunette 8th/120th Defenseman August 1, 2002 Powell River Kings
Ryan Comny 9th/125th Forward October 23, 2004 Bishop Kearney Selects U16s
Hunter Jones 10th/140th Forward July 13, 2002 Wichita Falls Warriors
Hayden Nichol 11th/165th Forward June 30, 2003 Nashville Jr. Predators U18s
Anthony Calafiore 12th/170th Forward April 6, 2002 New Jersey Titans
Michael Bashaw 13th/185th Goalie July 29, 2004 Green Bay Jr. Gamblers U16s
Wes Berg 14th/200th Forward April 12, 2005 Gentry Academy JV
Mason McCormick 15th/215th Forward May 25, 2001 Shreveport Mudbugs
Jacob Schneider 16th/230th Forward December 24, 2002 Wayzata (MN) HS
J.J. Grainda 17th/245th Forward August 1, 2002 Indy Jr. Fuel U18s
The 2021/22 campaign will be the 60th consecutive season of hockey in the Cedar Valley. It will also be President and Head Coach P.K. O'Handley's 20th year with the organization. Season tickets for 2021/22 are on sale now at tickets.waterlooblackhawks.com or by calling (319) 232-3444.
• Discuss this story on the United States Hockey League message board...


United States Hockey League Stories from May 27, 2021
The opinions expressed in this release are those of the organization issuing it, and do not necessarily reflect the thoughts or opinions of OurSports Central or its staff.
Other Recent Waterloo Black Hawks Stories